Flowers are a big part of your wedding decor and style. The debate between whether it's better to use artificial or real flowers has been going on for years. The trouble is that there are plenty of benefits to using both. Depending on what you expect out of your wedding decor, brides are left to choose between two reasonable options.
Brides that are on a budget may want the look of real flowers but are reluctant to dedicate such a large part of their budget to a florist. Outfitting your ceremony and reception along with a variety of real flowers can be very expensive, even if you scale back your decorations.
Much of the hesitation in the past surrounding fake flowers has been a look that is less than authentic. Modern silk flowers have come a long way. Many flower creations are so realistic-looking that it is impossible to tell the difference, especially from a distance.
When working with a professional florist like Juniper Flowers, it's essential to review what you need for all the different areas of your wedding. You will need flowers for your bouquets, your bridal party, and groomsmen, decorating your ceremony and your reception. If you are trying to keep your budget in check, you may want to consider switching out some of your flowers for an artificial alternative.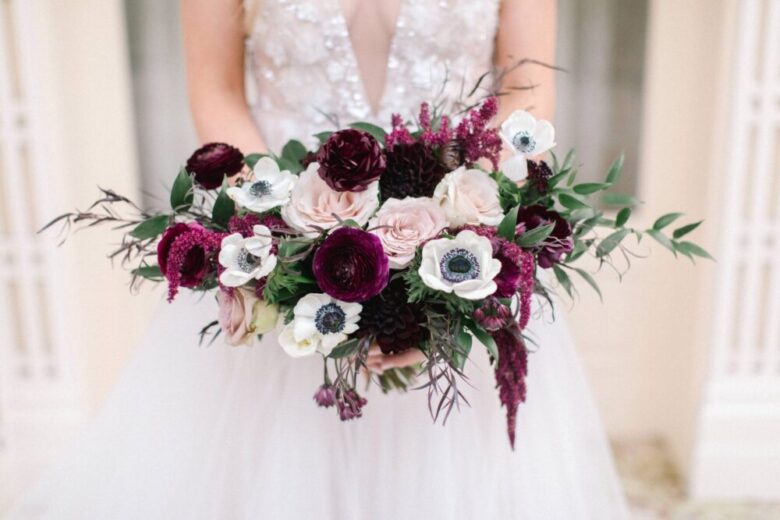 The Pros
There are plenty of reasons why a bride would choose to go with either artificial or real flowers. Let's take a look at the advantages of both choices.
Artificial
They will stay fresh-looking and alive for the whole day without looking wilted.
Cold temperatures during transportation will not be an issue.
You don't need to make sure that your flowers are properly watered and transported.
They are a more affordable option.
Arrangements can be repurposed for other projects or celebrations.
Artificial bouquets are easy to preserve as a wedding keepsake.
Real
Real flowers are more authentic looking at close range.
The shapes and sizes of real flowers are varied, making them look more natural.
Real flowers have a luxurious scent.
The more traditional choice
Your florist will handle all the arrangements, leaving you to deal with other projects.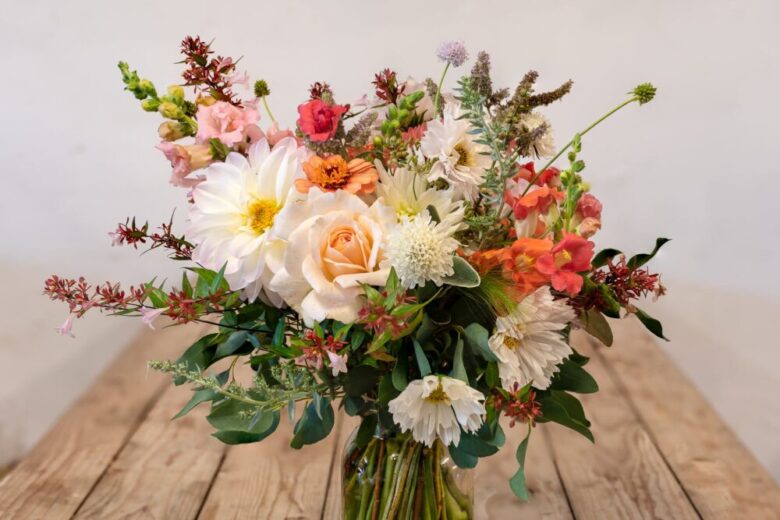 Mix And Match
If you can't decide whether to go with a wedding full of real or artificial flowers, the good news is that you don't have to choose. Many brides are going with a combination of both real and fake flowers. This combination allows you to have the authenticity of real flowers where it counts without all the expense. Let's take a look at a few tips on how you can split up your flower selections throughout your wedding.
Bouquets & Personal Flowers
You will be carrying your bouquet with you during your wedding's most important moments so you may want to go with real flowers. They will have more vibrant colors and natural shaping than you can expect from artificial flowers. Your bouquet will get a lot of attention and will be present in many of your pictures, so you will want it to look spectacular.
Your bridal party flowers, including bouquets, boutonnieres, and corsages, should also be made with real flowers. They will add a soft and delicate touch to the details of your outfits.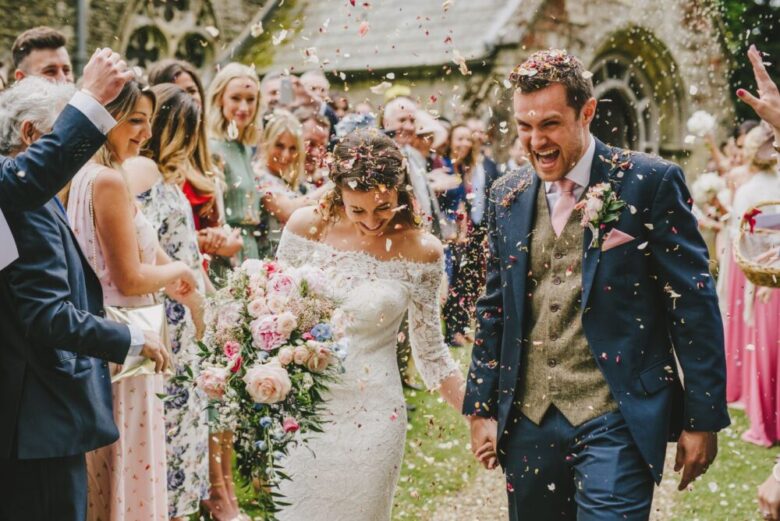 Headpiece
You may want to try your headpiece on well before your wedding to judge the style and effect. It's best to go with artificial flowers to have them at your disposal before the wedding. Headpieces need to be custom-fitted, and if you choose real flowers and it doesn't look right, you could be in trouble and have an issue with making adjustments.
Ceremony Flowers
Decorating your ceremony venue can add a special touch to your wedding. If you want to have a lavishly decorated ceremony, you may want to go with artificial flowers. From altar arrangements to pew decorations, you could spend a fortune on real flowers.
The advantage of decorating parts of your ceremony with artificial flowers is that you can have them ready in advance instead of waiting until the last minute when the florist truck arrives. Let's take a quick look at what types of flowers you should use in the different areas of your ceremony.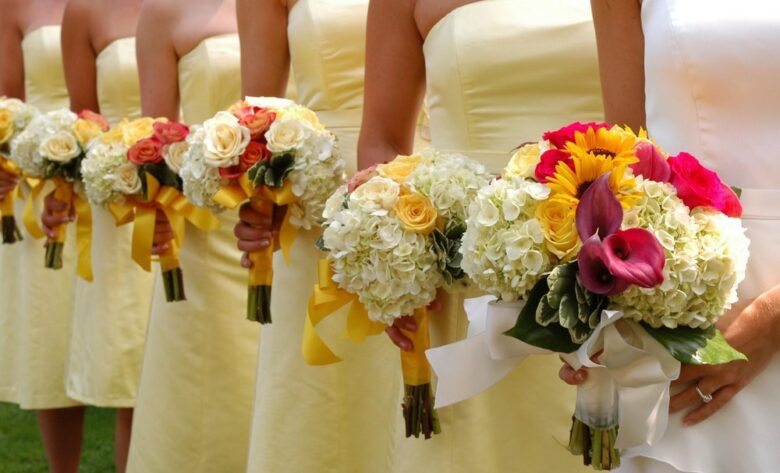 Real                                                                                  Artificial
– altar arrangements                                                   – pew floral arrangements
– signing table                                                             – flower girl petals for throwing
Reception Flowers
Reception halls may not give you much to work with on their own. Brides often have to use a variety of decorating techniques to create the look and feel that they want for their wedding reception. Combining a mixture of flowers and greenery can make a huge difference in the look of a plain reception hall.
The sheer volume of flowers required to make your reception shine can come with a considerable price tag. Using a combination of real and artificial flowers can help you create the mood that you want without breaking the bank. Let's take a look at where you should use real and fake flowers at your reception.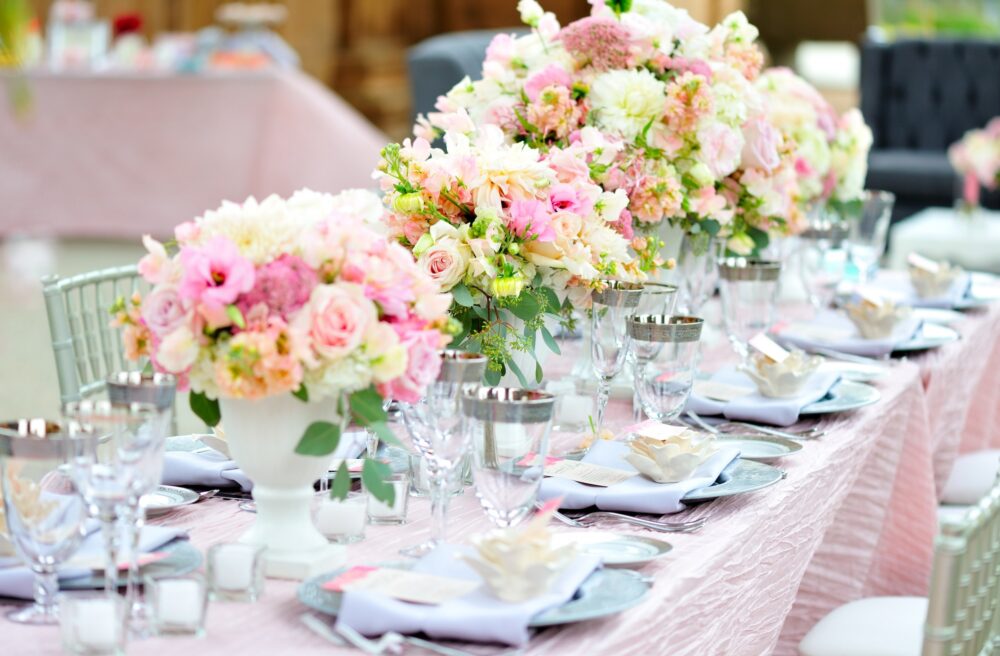 Table Settings
Real flowers give an elegant touch to any table centerpiece. Keep in mind that if you have any guests with allergies, it's good to switch out your table flowers with an artificial centerpiece.
Cake Table
Very few of your guests will have an up-close view of your cake table, so it's okay to go with an artificial flower arrangement.
Head Table
A combination of real and artificial flowers can work perfectly on your head table. You can use artificial greenery as a garland around the tables and go for real flower centerpieces to soften the look. You can also use your bridal bouquet on the head table to give it more shine.
Backdrop
Keep in mind that decorative flowers are often charged by the bloom or the dozen. If you are planning on having an elaborate backdrop at your reception, you may want to go with artificial flowers. You can save money, and the flowers will hold up well throughout the whole day.
Guestbook Table
You should use real flowers to decorate your signing table. Each of your guests will be taking a moment to stop and sign your guestbook, and you will want to greet them with a glorious display and the sweet smell of fresh flowers.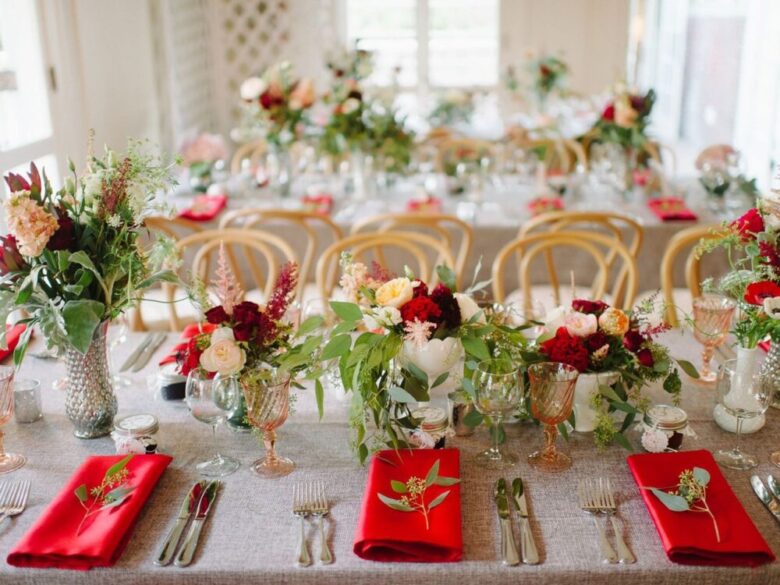 It takes time and planning to organize all of your wedding flowers. Creating the wedding of your dreams can be easier when you stay flexible. There may be great arguments for choosing either real or artificial flowers, but using a combination of authentic and artificial flowers can be a stunning and affordable choice.