Every girl in this world knows who is Vera Wang, and knows her work because she made the most beautiful wedding dresses in the whole world. She has a unique style, romantic dresses with the dash of magic. Many of the celebrities such as Victoria Beckham, Ivanka Trump, Kim Kardashian, and others wore Vera Wang's dress on their special day. Vera Wang makes dresses for almost 30 years, and her work is full of exclusive gowns. In the article down below you can read about the most beautiful wedding dresses made by Vera Wang.
Why is Vera Wang so Popular?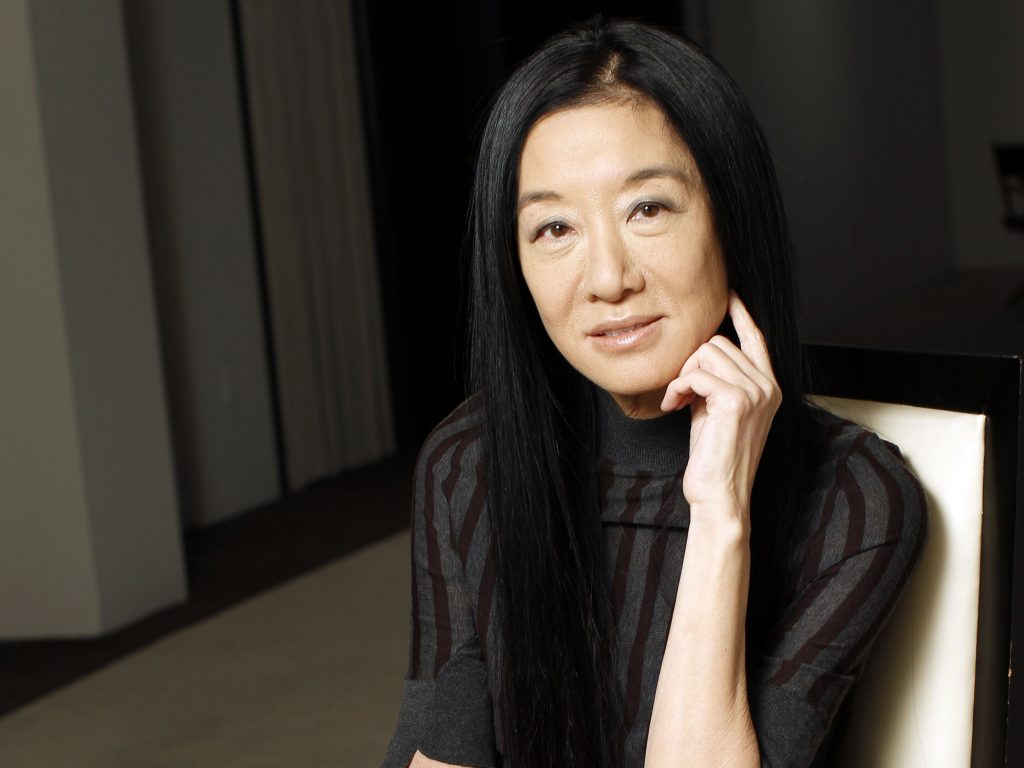 Vera Wang appeared in the fashion industry in 1990, and she immediately attracted attention because her work was delicate, and classy, and above all unique. She makes mermaid wedding dresses, A-line, and ball gowns, and they are all state-of-the-art.
Some of the features of Vera Wang's style are organza, chiffon, tulle, and guipure lace then swirling and flared skirts, and bows in contrasting colors.
Many of the dresses of Vera Wang ended up in the movies and series like Bride Wars, Gossip Girl, Ugly Betty, and others. Also, many Hollywood stars wore Vera Wang's dress on their wedding day.
The dresses are made of high-quality materials and they worth every penny. She also creates wedding dresses in different colors, she even made a black one. Her dresses are very modern but she captured the traditional spirit of the bridal look. The wedding dresses are very expensive, and the price range is from $6,000 to $20,000. There are cheaper versions for $2,000- 7,000.
''There is a real creative process that goes into it. And I think I'm a fashion designer who designs wedding gowns, as opposed to a bridal designer. I came in with no knowledge- I had knowledge of fashion and no knowledge of bridal per se, so I think I brought a sense of freedom and rule-breaking without even knowing it. And it was sort of instinctive, it was whatever I felt and what I thought girls should want to wear or be available to them if they wanted to. It was that freedom and that fashion edge that really changed the industry,'' explained Vera Wang.
In David's Bridal store you can buy from 2011 Vera Wang's dresses, and they are very affordable for $600-1,400.
5 Iconic Wedding Dresses by Vera Wang
1. Gemma Wedding Dress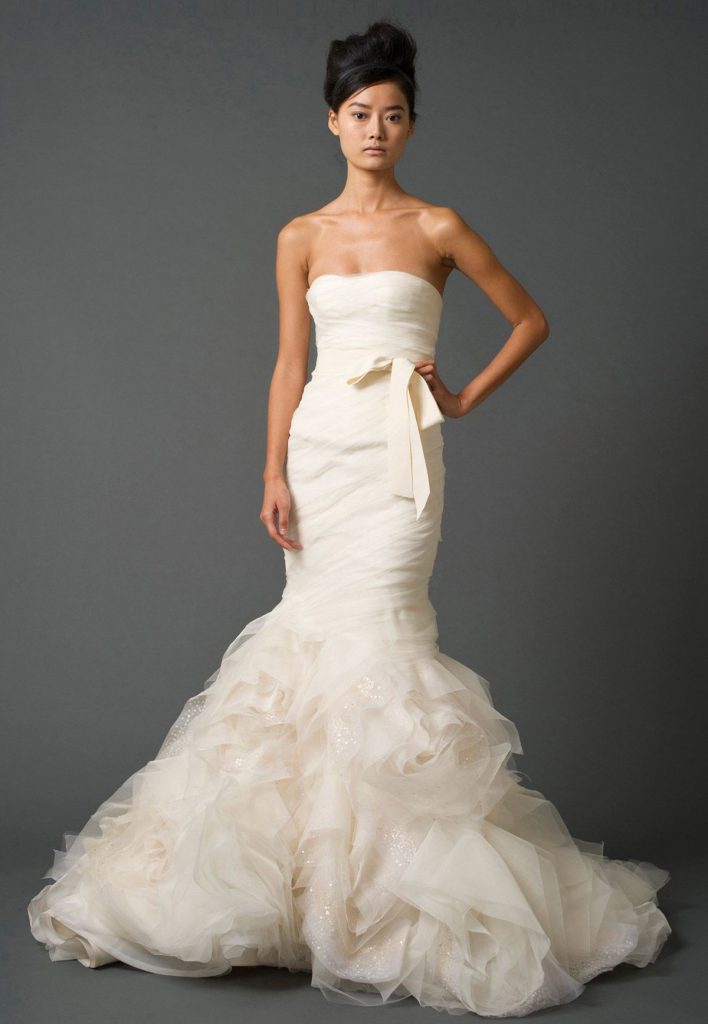 Gemma wedding dress is one of the most popular Vera Wang's dresses with a sweetheart neckline. It is the mermaid type of the dress without straps, with asymmetrical draperies. The wow effect is made by organza blossom, and every girl with an hour-glass body will be the perfect type for this dress.
2. Eliza Wedding Dress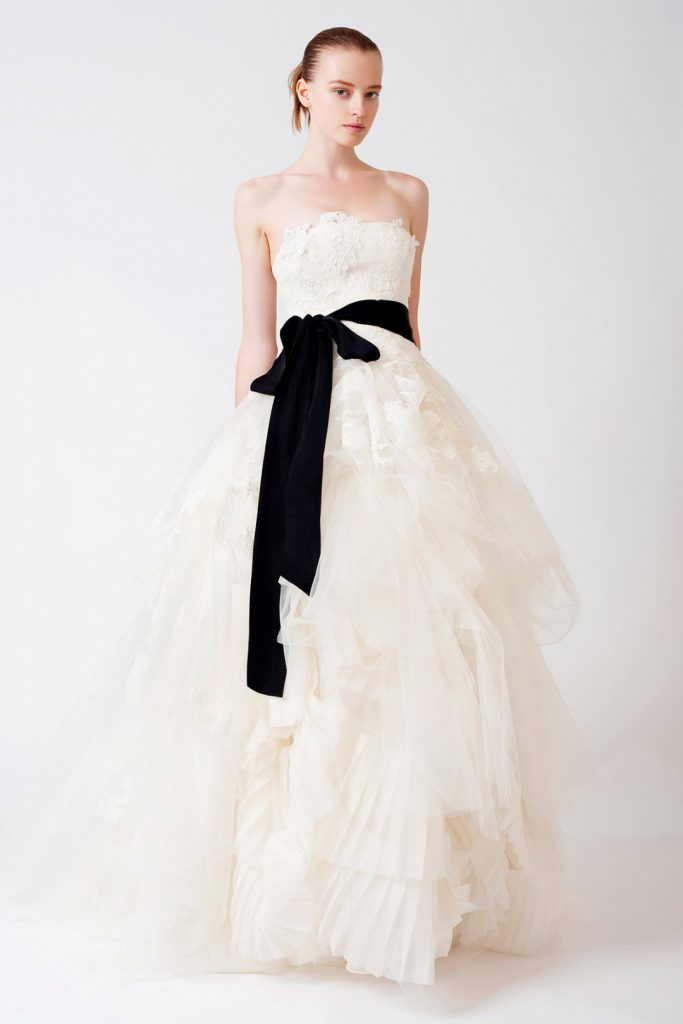 Eliza wedding dress is a beautiful tulle gown with A-line silhouette, and the bodice is enclosed with Chantilly and Alencon lace. This strapless gown has a tulle skirt with lace and organza, and the black bow is a specific signature of Vera Wang's style. This is the type of dress which can wear any all girls with any type of body.
3. Hannah Wedding Dress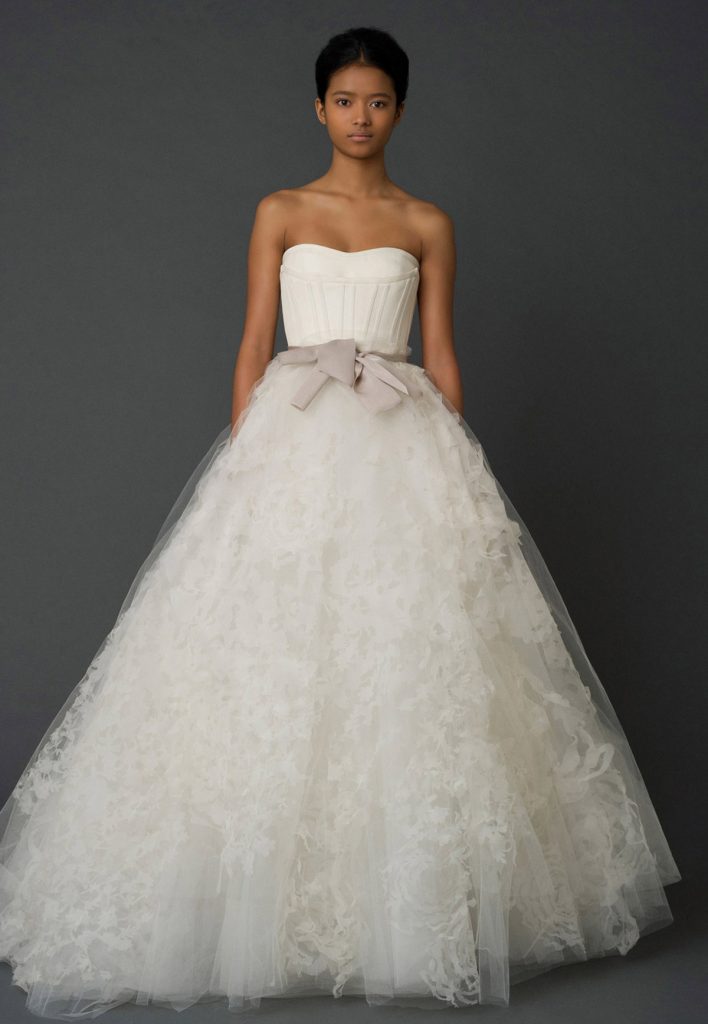 This is a stunning ball gown, classy and modern at the same time. The tulle skirt is made of floral laser cut organza and looks very beautiful. This dress can be perfect for petite brides, and hourglass shaped girls, and pear-shaped girls, but if you have not got a slim waist this is not a dress for you.
4. Joelle Wedding Dress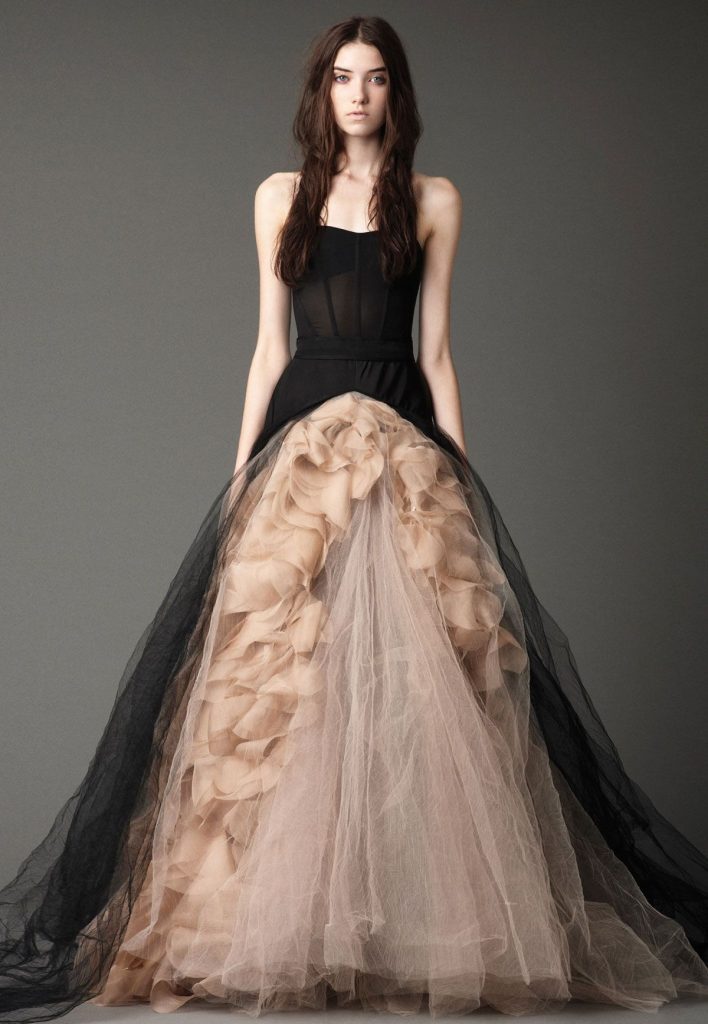 Black wedding dresses are signature dresses of Vera Wang, they made her famous and popular. This is a strapless corset wedding dress with organza skirt. This dress is a mix of black and nude color, and it can be available in the ivory color. It is made for almost every type of figure, even a plus size brides.
5. Katarina Wedding Dress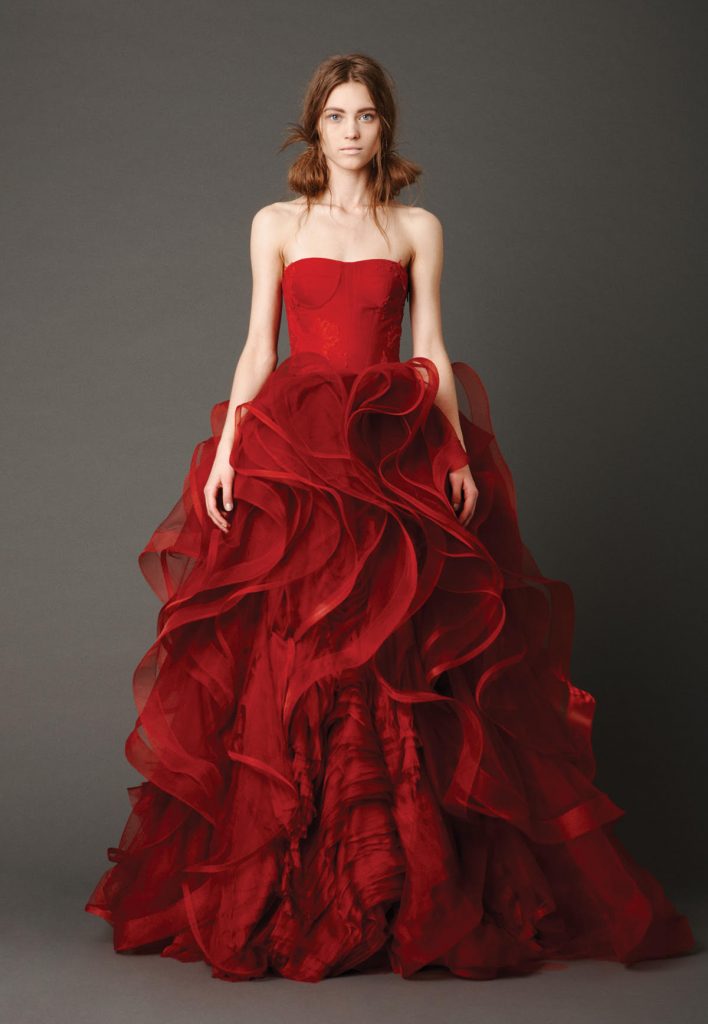 Katarina wedding gown is the iconic wedding dress in red color, it is a strapless corset ball gown with a ruffled skirt. This is the perfect choice for the girls with a tall and slim figure, and it can be available in the ivory color.
These are not just the dresses, they are a dream for every girl out there.