For most women, hair is one of the things they swear by – piles and piles of money are irretrievably left in studios and salons, and in return they get tidiness and beauty. It could be said – the main key to self-confidence, in addition to healthy skin and a killer body. Can you then imagine how crucial and noteworthy is to opt for the flawless hairstyle on a day when all eyes will be on you and when everything must be in its place?
That's right – your wedding is, in addition to being the most joyful day of your whole life, also an opportunity to shine bright and feel great in your skin. And if there is anything that might be crucial in that whole story, it's the fact that this aesthetic aspect, just like your wedding dress, must reflect your personal style and your uniqueness.
We've compiled a short, but sweet list containing the most lovely ideas for styles that would leave everybody breathless.
1. Greek bun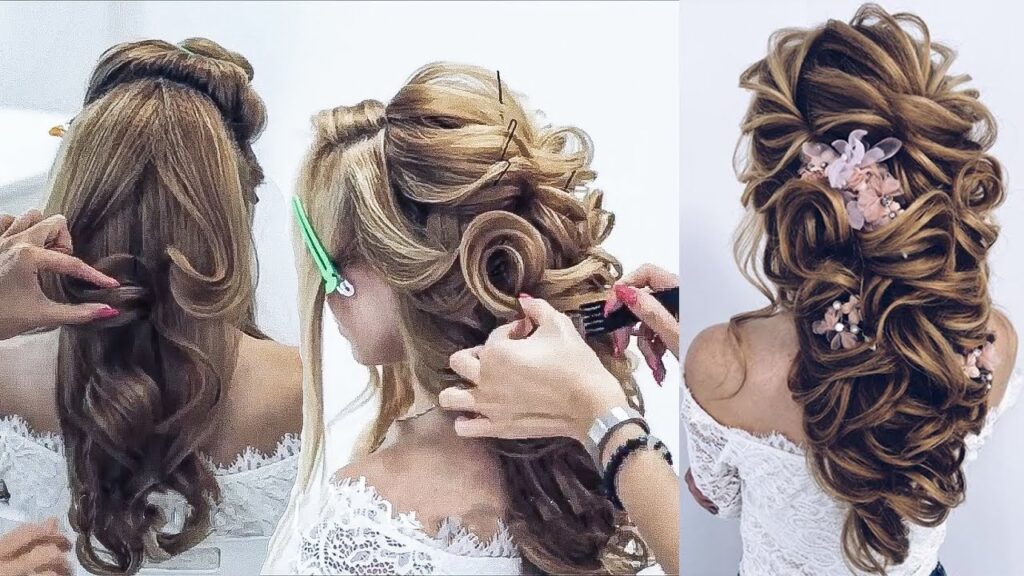 No matter how much the classic buns are one of the most frequent options that brides-to-be choose thanks to their romantic and gentle vibe, we could say that they got quite a strong competition – Greek buns. Although they have been present since old times and tales, from the time of empresses and legends about ancient goddesses, which may seem quite absorbing to girls, they're only now gaining such a wide distribution.
The secret is in making equal braids on both sides of the head and fastening them with bobby pins, and in the end, the rest of the strands being pulled around them on the back of the head, forming an irresistible bun. For a slightly looser effect, it's enough to slacken it while pulling the strands over and under the braids. Of course, accessories can complete and enrich this dreamy style to a greater or lesser extent  – remember those cute buckles in the shape of a laurel wreath? With motifs of flowers and leaves? Teeny tiny crowns? Admit it – this proposal has just become your favorite!
2. Hair band (or headband) with elegant ponytail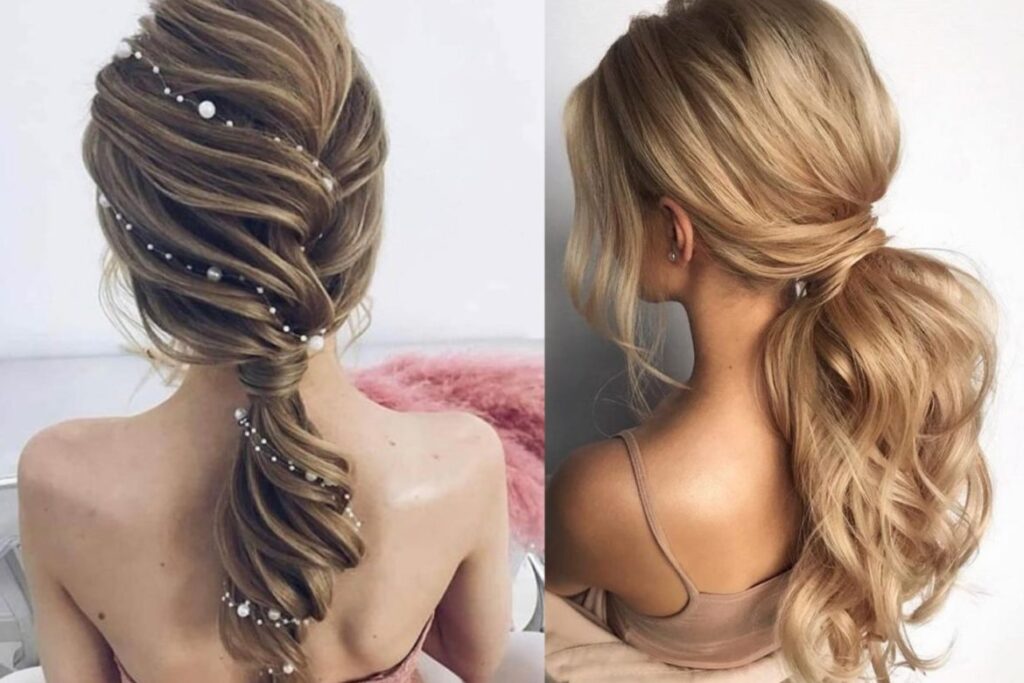 You're probably aware that the boho style has entered the big door when it comes to weddings celebrations and ceremonies. Not only are future brides around the world delighted with floral, flimsy dresses worthy of mountain fairies, but they are increasingly smitten with gentle waves and messy ponytails. That's the point –  a little bit chaotic, but sleek and fairy-tale-like at the same time.
Indeed, the option we suggest consists of two elements – a low ponytail with optional decorations made of real or artificial flowers and a glamorous hair band with convenient details. The type of tape depends on your personal preferences – criss-cross, braided ones, the ones interwoven with tiny diamonds or zircons… The sky's the limit. The only thing worth taking into account is avoiding exaggeration – a single prominent accessory will be enough. Avoid the combination of an ornate band and a vivid flowerish hair wrap.
3. Straight and smooth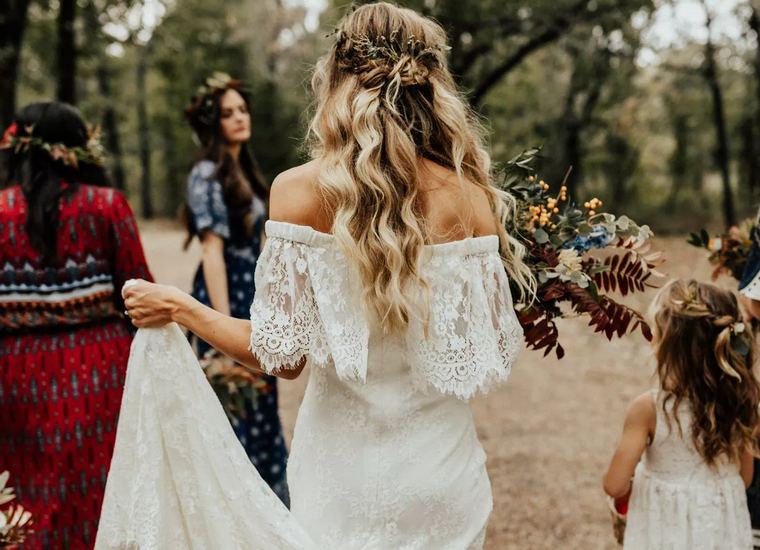 Can you believe it? Yes, it sounds unbelievable- somehow this option seems more like a part of the everyday styling you wear to work when you go to the store or… in any other routine. That is why it's an astonishing fact that an extraordinary increase in interest is predicted when it comes to it. However, if you think about it a little better, that version brings with it many potential combinations. Some girls just don't imagine their dream hairstyle as a bunch of curls, or they like them, but their hair is too heavy for the curls to hold on to.
A variety of ribbons and adornments are also considered here, for example, a side hair clip or a striking comb. Shorter hair looks especially outstanding with such accessories, while long ones can be decorated with mini flowers scattered all over them, tiny butterflies and other similar sweet details..
4. Large flower crowns and waves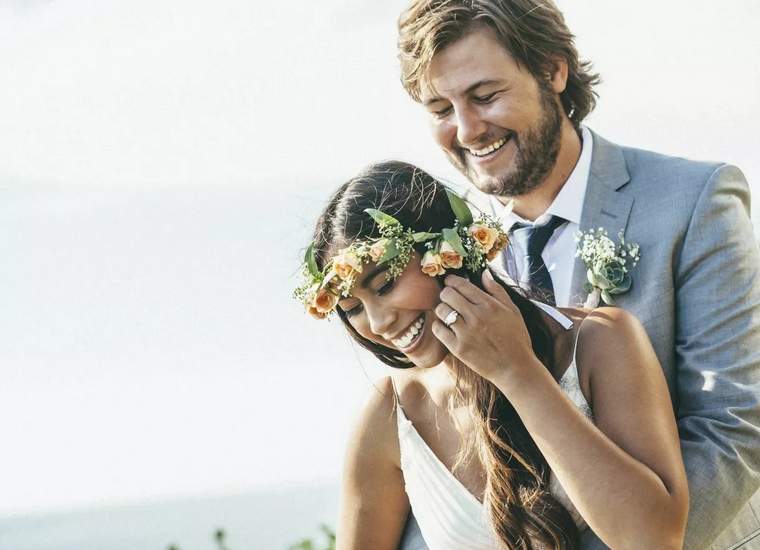 Remember Lana del Rey sitting on her throne with a big bunch of white and blue roses on her head and breathtaking snow white dress in her famous video for the song 'Born to Die'? There was almost no person who didn't take a sigh at the very sight of the beautiful contrast of the two shades of blue and its harmony with the whiteness of the outfit and her dark red lips.
Although it doesn't really look like a classic wedding look, you'll admit that the idea of sticking a lush wreath to a whole nest of curls looks rather charming. So… why not use it as another cool idea? It often goes absolutely great with boho style wedding dresses and jewelry, however, even if you opt for a lovely mermaid gown or the princess one, this item might go lovely with your pretty head!
5. Finger wave curls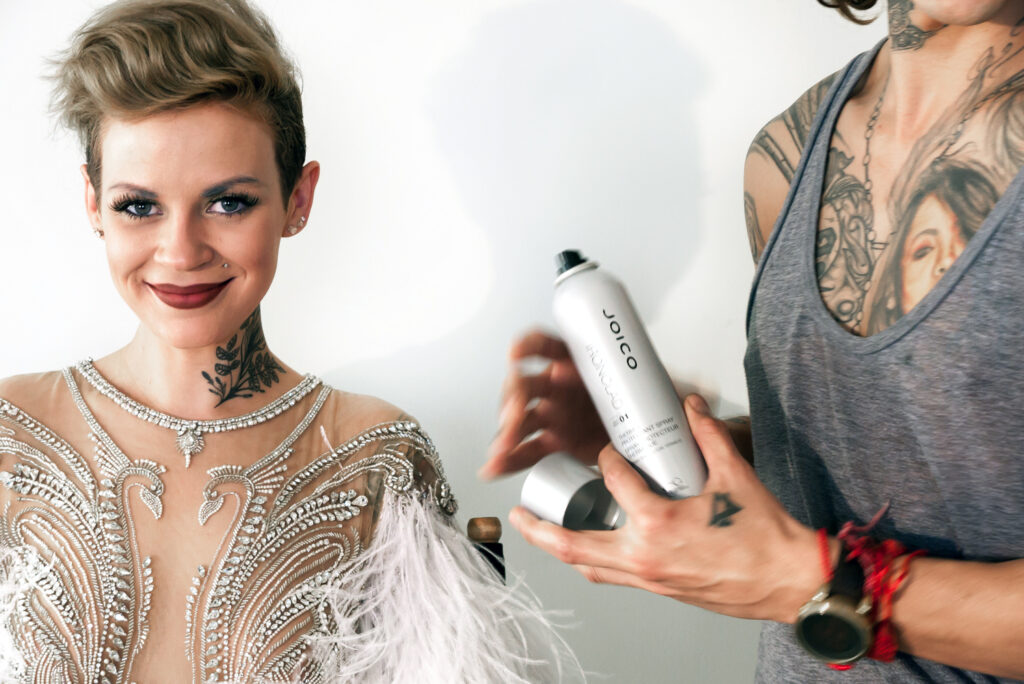 You wanna rock that pinup style, right? Or you wanna look like those pretty ladies from the 1920s or celebs like Bette Davis? Ah, those were the days, my friend… All girl fans of this elegant, but somewhat daring style can probably already see themselves in smokin' hot chic knee-length dress and these bouncy curls all around.
Or maybe they don't need to be bouncy at all – all the strands can be tightly fixed with bobby pins on the side or in the shape of a low bun. Or a low ponytail. Or basically anything that comes to their mind. Although curls and waves are often jiggly and lush, they can be 'calmed' and look quite sleek this way. Of course, success of the process will depend on the shape and type of your hair, but luckily it's easy to find tutorials all over YouTube or Pinterest, or websites similar to ringmyfashion.com.
Let's hope that this tiny idea list of these modish miracles has made your choice at least a little bit easier. Now, there goes the most amazing part – making it true and letting yourself shine through the night of your life!