Pearl wedding dresses are a massive trend in 2023. We saw the bridal fashion shows, and we decided to gather all the best pearl wedding dresses and create a list for you, the future bride. You will find various designers and their creations, and we hope that you will find something you like. Take a look.
1. Lela Rose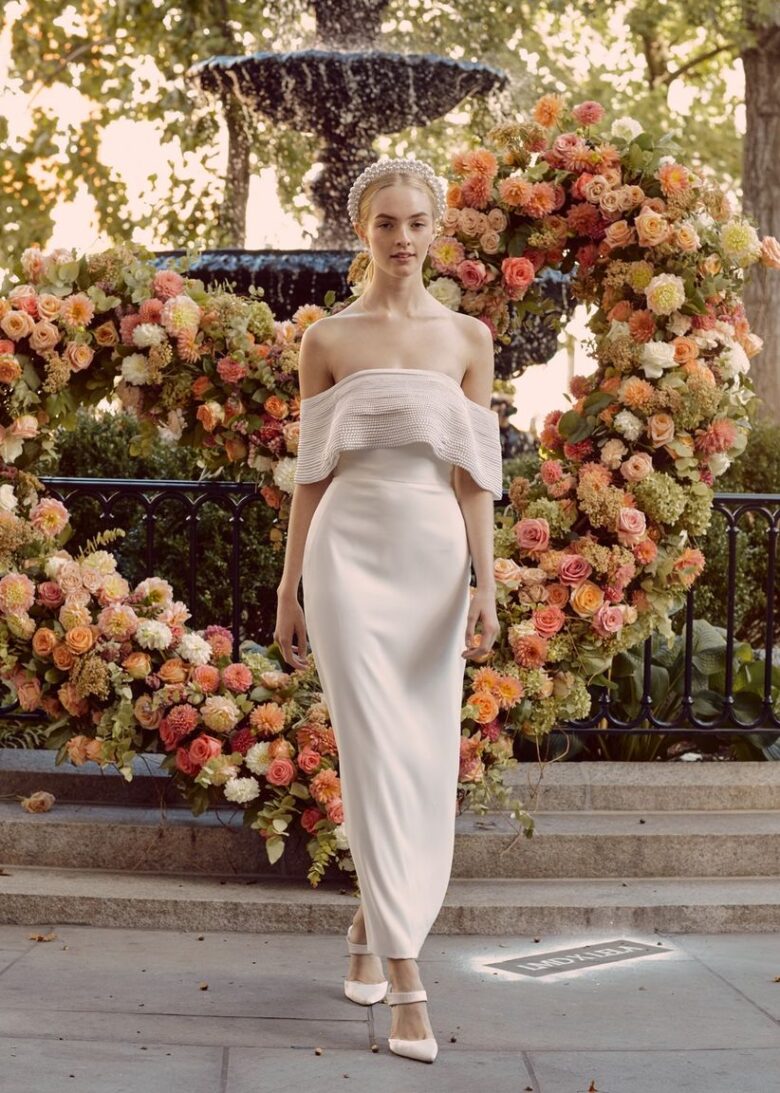 This Lela Rose creation has pearls stacked in such a way so that you have an off the shoulder pearl wedding dress. They made this dress very classy and unique, and if you thought how numerous pearls could make your wedding dress look cheap, this is the perfect example of how it can't. The rest of the dress is plain and straightforward, and the added pearls are making up for simplicity.
2. Amsale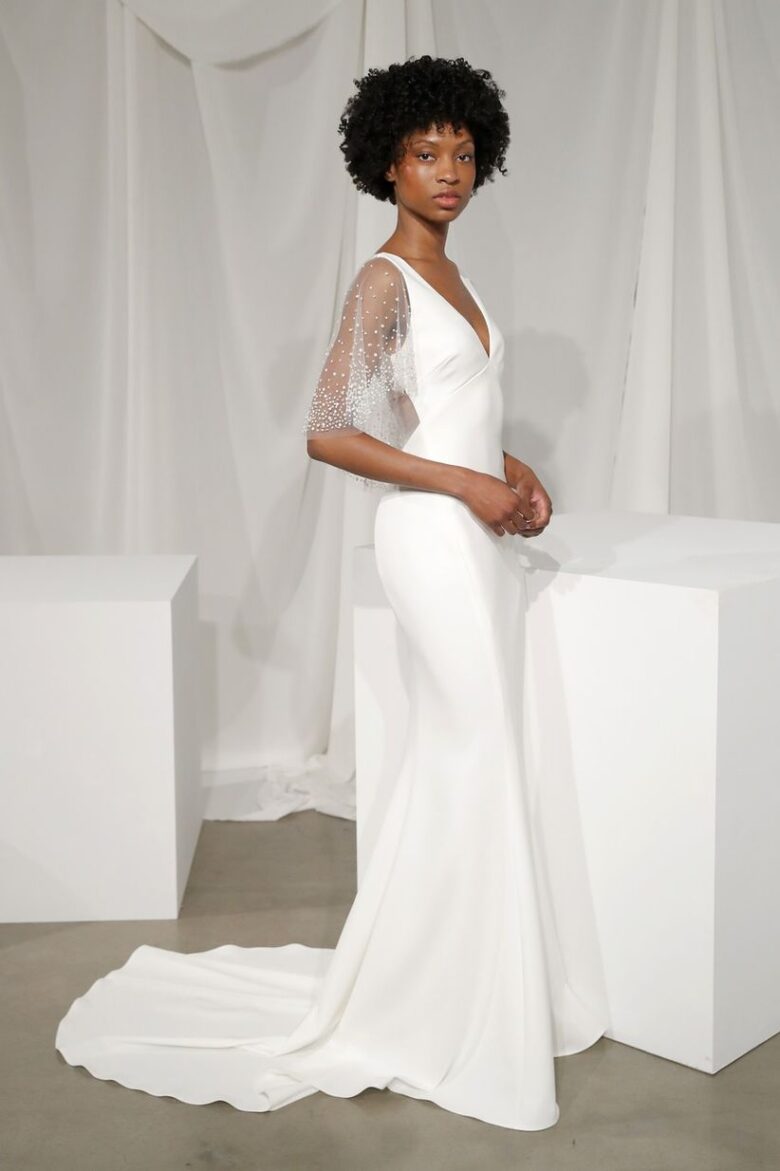 A fabulous wedding dress that will emphasize your gorgeous figure and the pearls added on the cape sleeves are screaming elegance. In addition to beads, there are sequins added too, and that makes the overall bridal look seem very expensive, elegant and yet simple.
3. Justin Alexander Signature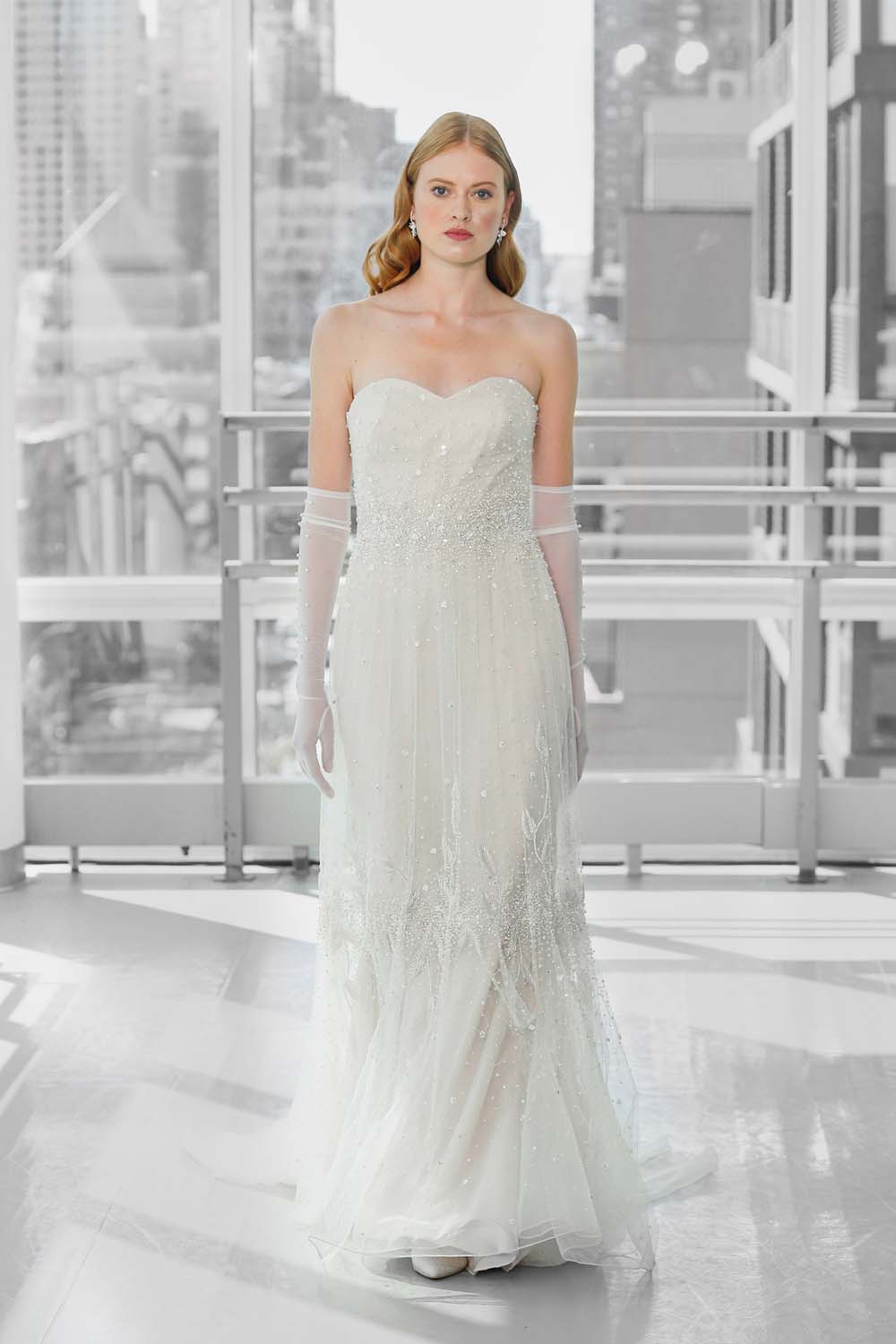 Justin Alexander Signature has created this beautiful A-line wedding dress that seems inspired by the classic, and very popular TV show Downtown Abbey. For all of those who like the old-fashioned way and retro clothing, this wedding dress is impeccable. Pearls are found scattered on the bodice, skirt, and the clear gloves are just adding to the overall look a beautiful signature.
4. Hayley Paige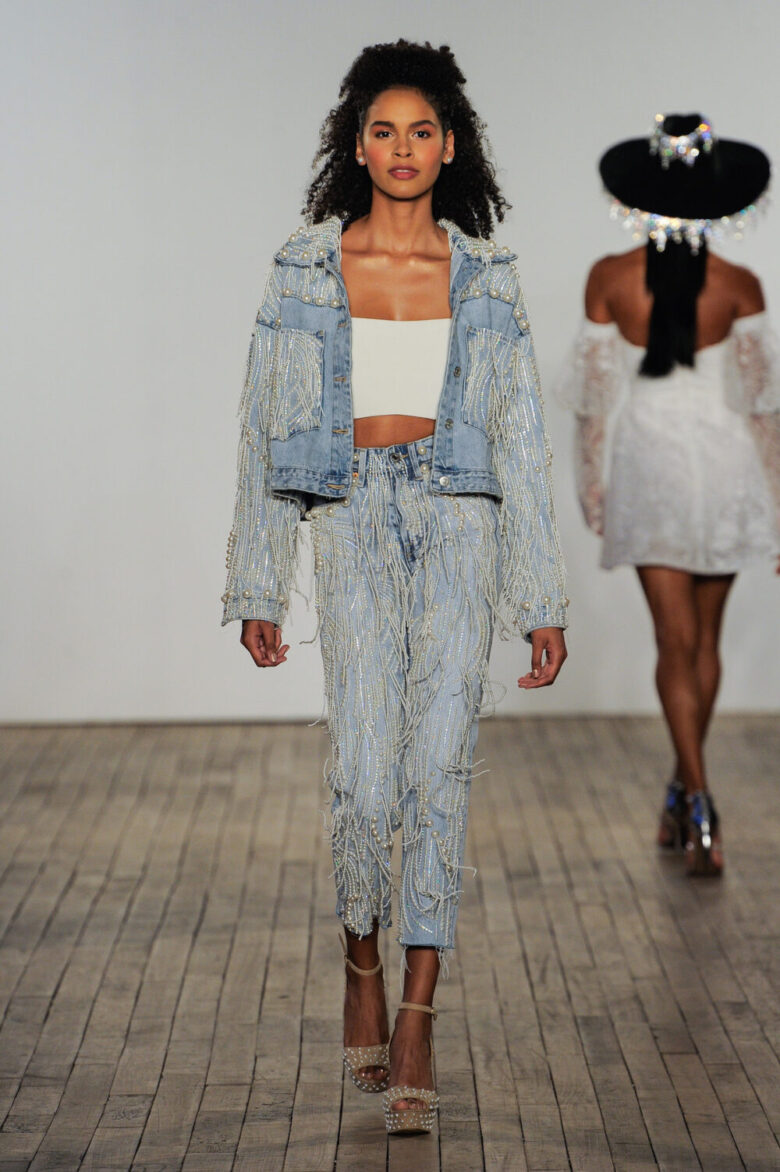 Did you know that denim is also a trend when it comes to the 2023 bridal fashion collection? Hayley Paige is the designer behind this distinctive look, and pearls are found all over the denim jacket and jeans. If you don't like this as a wedding ceremony outfit, a wedding reception or even a bachelorette party will make you stand out in the crowd, and every future bride will want a piece of pearled denim for herself!
5. Lee Petra Grebenau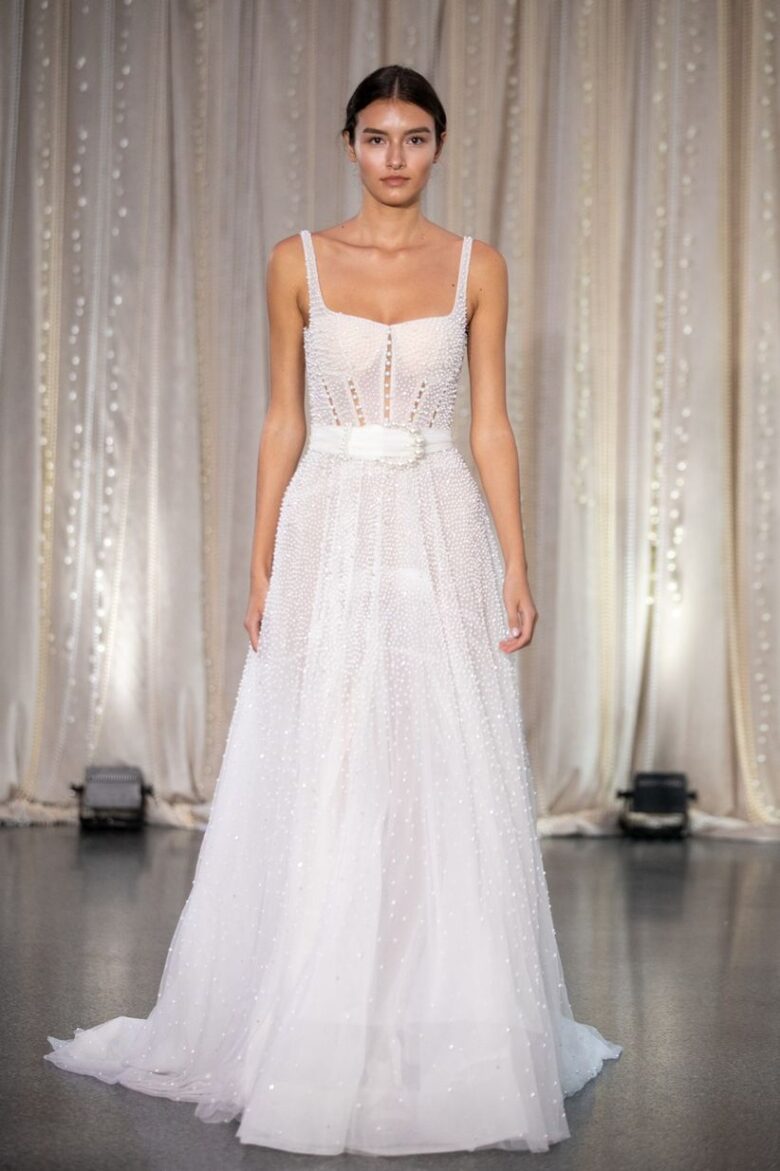 Another A-line wedding dress, this seems a little more traditional. However, the pearls on the bodice and at the beginning of the skirt are not as traditional, so if you want something a little more different, this is the wedding dress for you. You will keep that traditional side, and add a personal signature that only you can pull off.
6. Madeline Gardner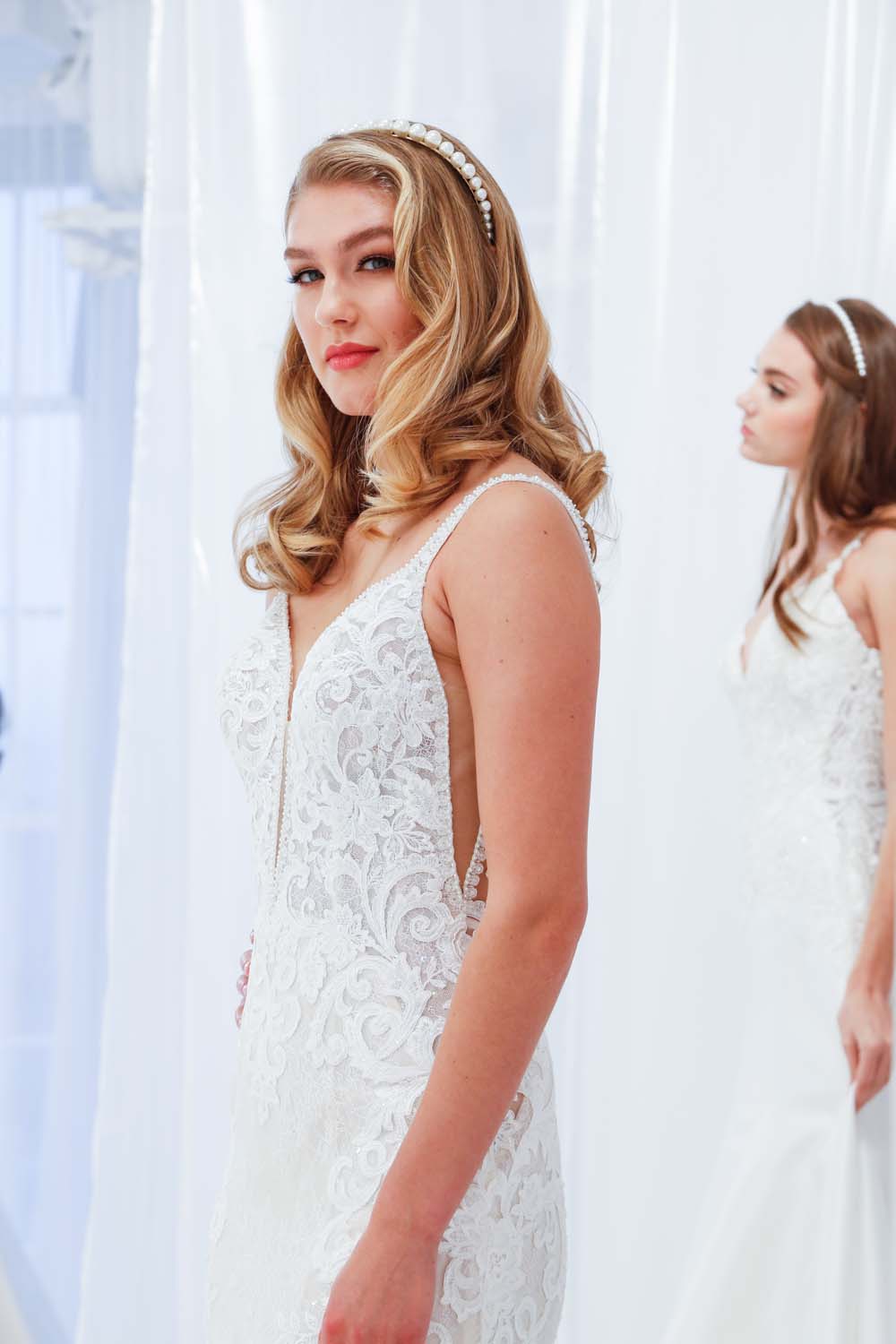 For those brides who don't like pearls as much, here is a dress that you might like. Lace is the main fabric, and pearls are found on the straps of the dress.
7. Karen Willis Holmes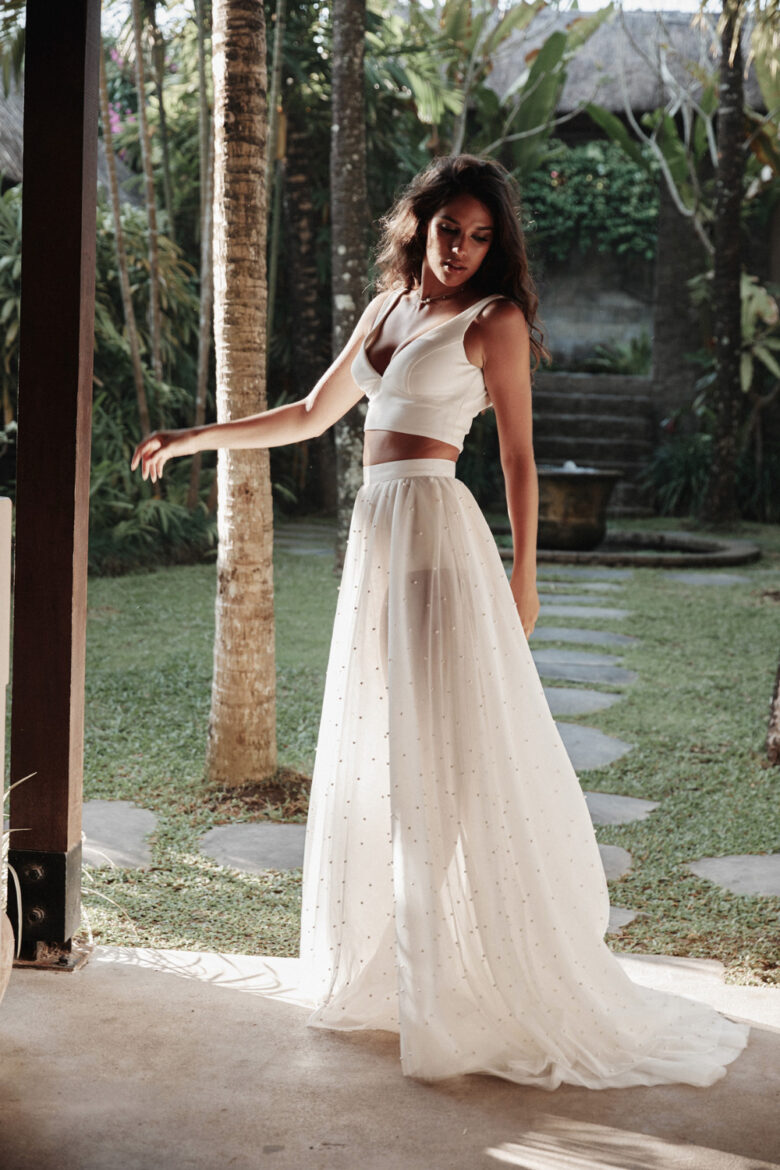 Two-piece is still a significant trend, and this design by Karen Willis Holmes has pearls on the bottom part. The top crop part is adding elegance and playfulness to the look, and the pearled skirt is modern and fun.
8. Anne Barge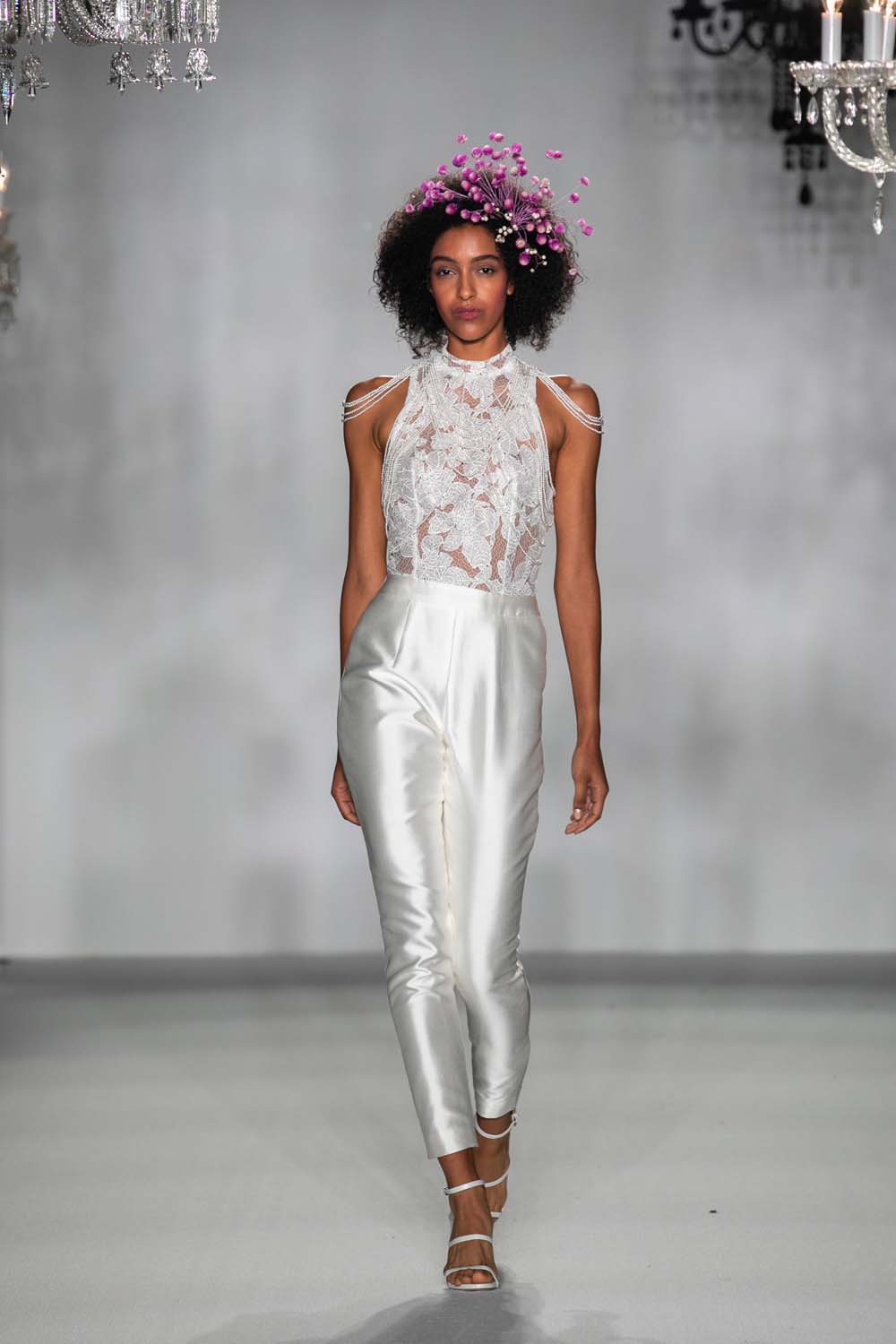 Jumpsuits are also trendy in 2023 bridal fashion. If you want something different for your wedding day attire, try giving this jumpsuit a go. It is created out of silk and lace, and pearls are placed to drip from your shoulders.
9. Julie Vino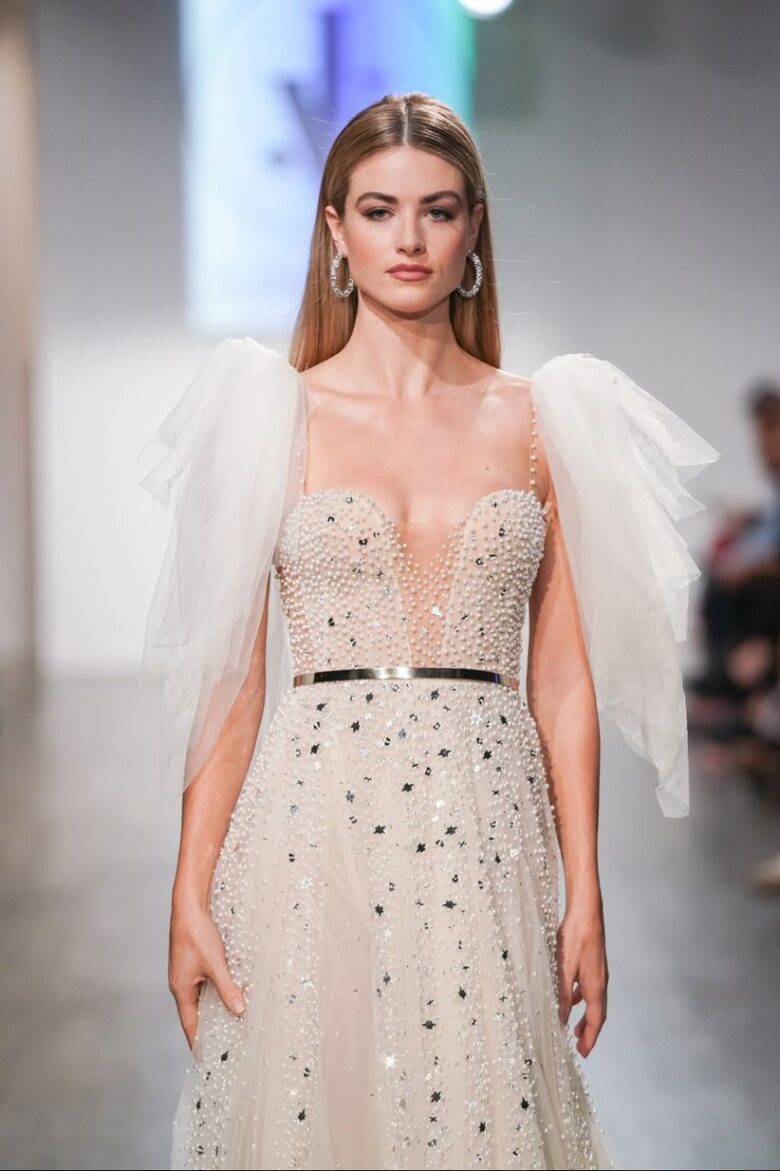 This wedding dress seems like it is out of this planet. From the color to the pearls, it is perfect for someone who likes to stand out and be noticed. White pearls are located all over the dress, and the silver-plated starburst combined with blush tulle are making this dress a dream come true.
10. Marchesa Bridal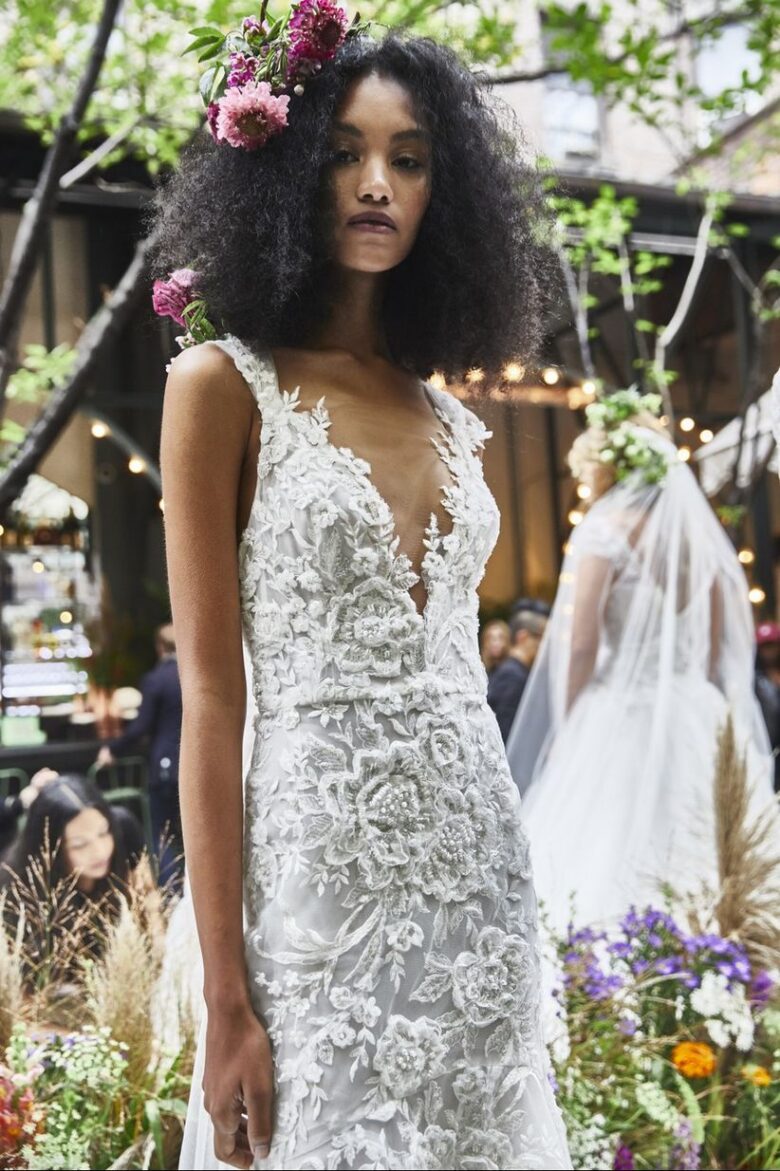 For a 2023 fall bridal collection, a Japanese flower called Ikebana served as an inspiration. This creation by Marchesa Bridal created a perfect combination of pearls and flowers, and beads on the embellished tulle are making this dress impeccable.
11. The Atelier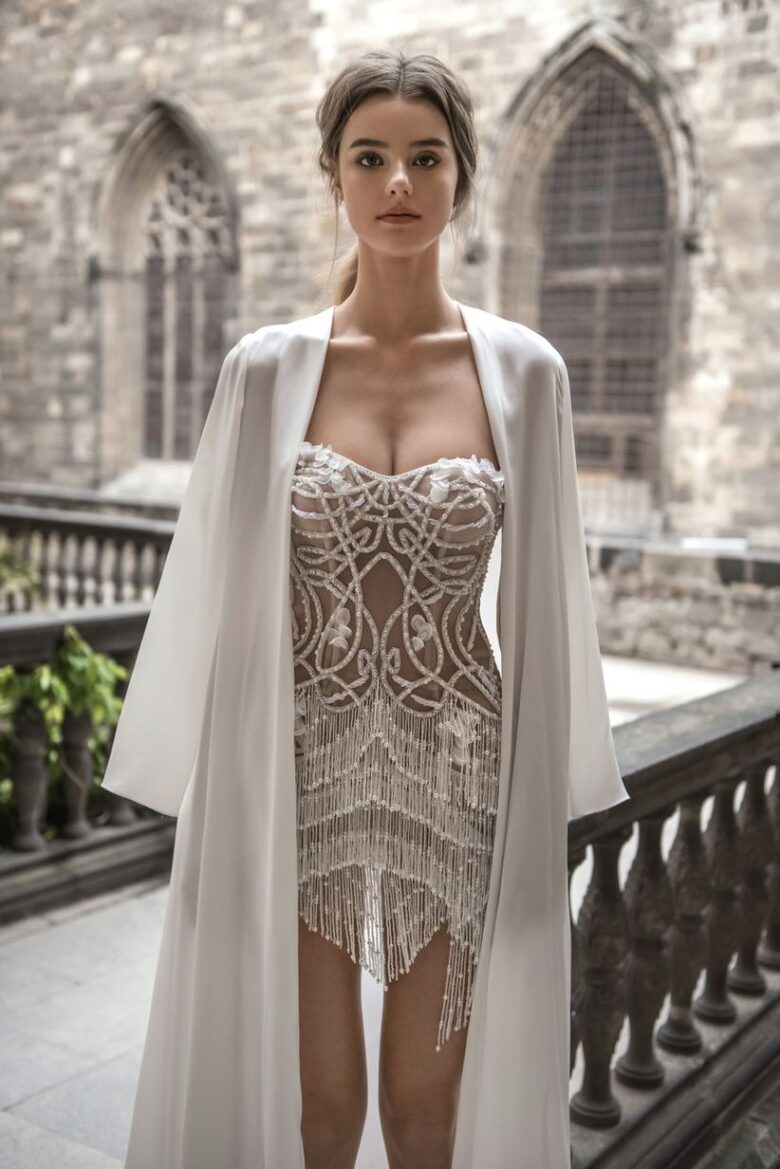 Are you a brave and daring bride? Take a look at this short white dress. If you don't want to present yourself like this on the day of your wedding, rehearsal dinner or a bachelorette party is just perfect for it. Pearls are dripping off your body, and this cape is just a must to wear on this design. It will add some elegance while you remain fun and dramatic.
12. THEIA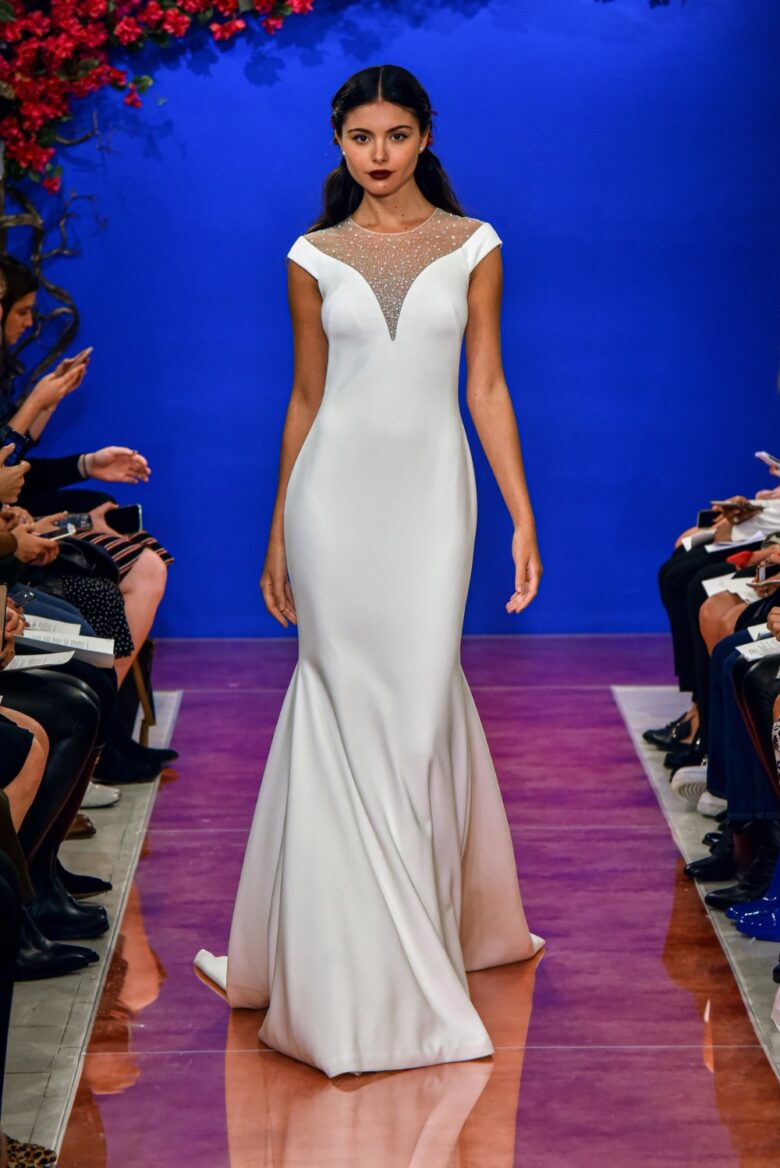 There is something for those traditional brides. This minimalistic and straightforward wedding gown has a pearled illusion neckline that will break off that overall classic wedding look.
13. Allison Webb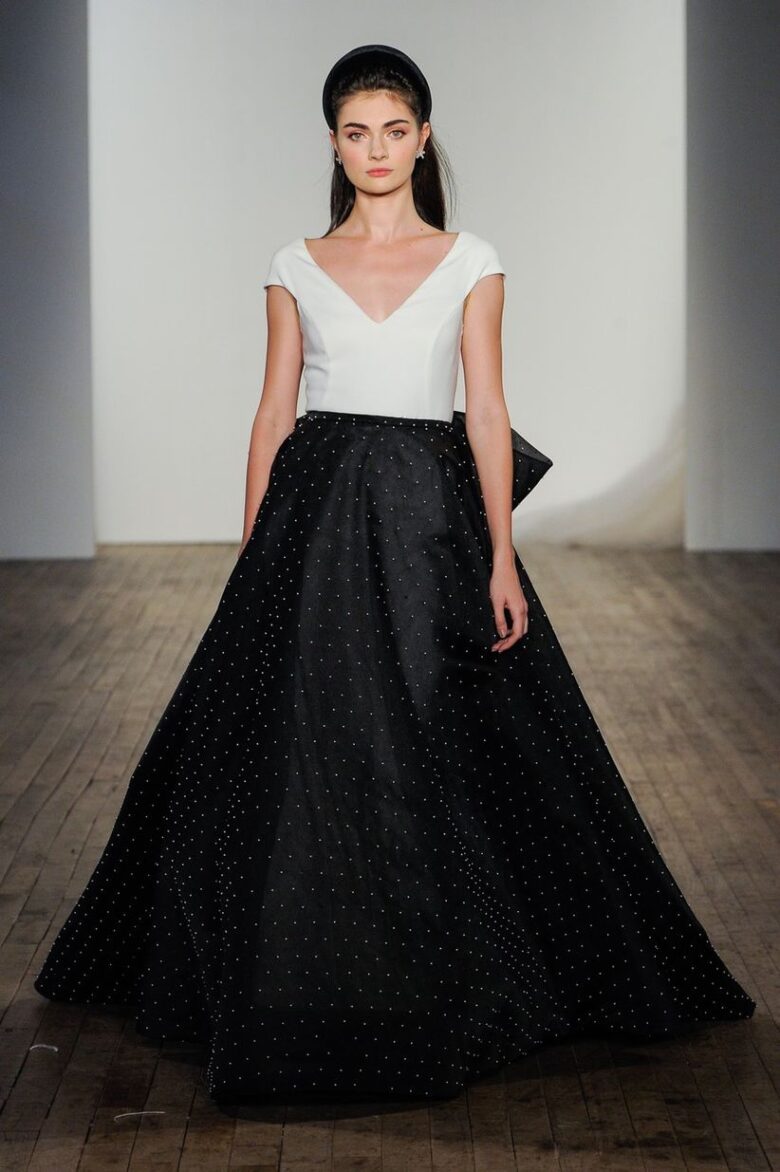 To break off from that classic white wedding gown here is something completely different. Black pearled skirt with a traditional white top part is unique and elegant.
14. Lee Petra Grebenau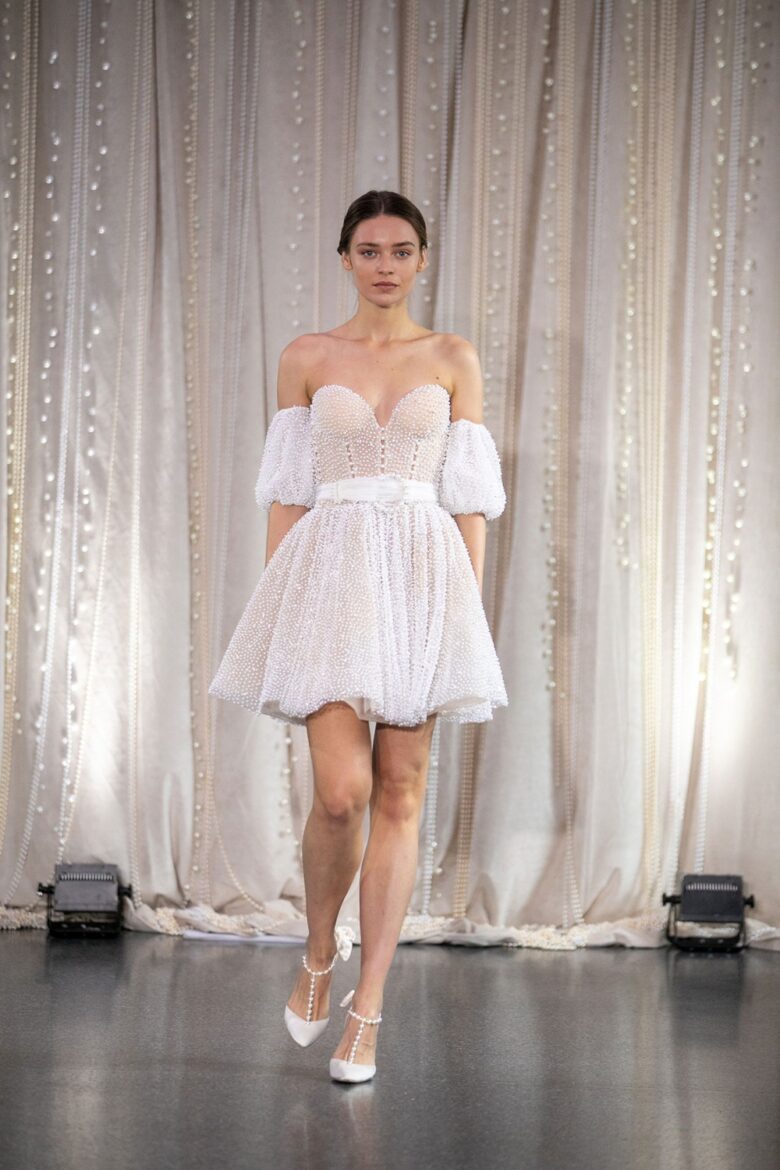 Another Lee Petra Grebenau design, this is something a little different than the design above. An off-the-shoulder mini wedding dress all beaded in pearls is amusing and appealing to wear.
15. Costarellos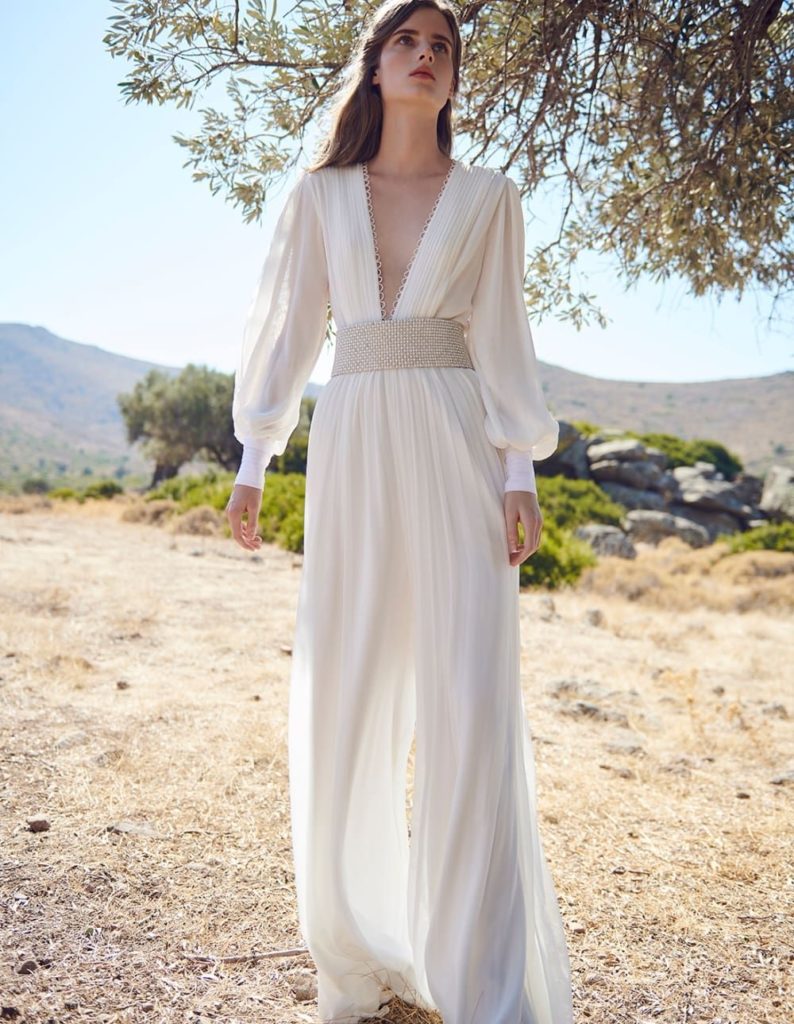 A flowy jumpsuit with a pearl belt is fantastic, and you will feel very comfortable on your wedding day. It is ideal for a spring wedding when everything starts to bloom, and you will look radiant like the sun in the spring during your wedding day.