Your wedding is a sacred and important occasion and for many brides, it's important to reflect the seriousness of the rites of marriage in their choice of dress. It may be personal taste or respect for your religious beliefs that lead you to a modest wedding dress to wear on your special day.
Brides that are older and walking down the aisle for the second time might also choose a modest dress. Choosing a modest wedding gown doesn't mean that you have to be covered from head to toe in a gown that looks like a sack. Nor does it mean that you can't look and feel like a princess on your wedding day.
In some cases, brides are looking for a more modest dress to save money on their wedding budget. Detailed and embellished dresses are often much more expensive than dresses that are a bit more plain with a simpler design. Even the simplest dress can be dressed up with accessories and small details that will make it sparkle.
There is more to complete your bridal look than just choosing a dress. To find the right accessories you can click here to help you pull your whole outfit together and create a look that is unique with just the right touch of modesty for you.
Belts & Sashes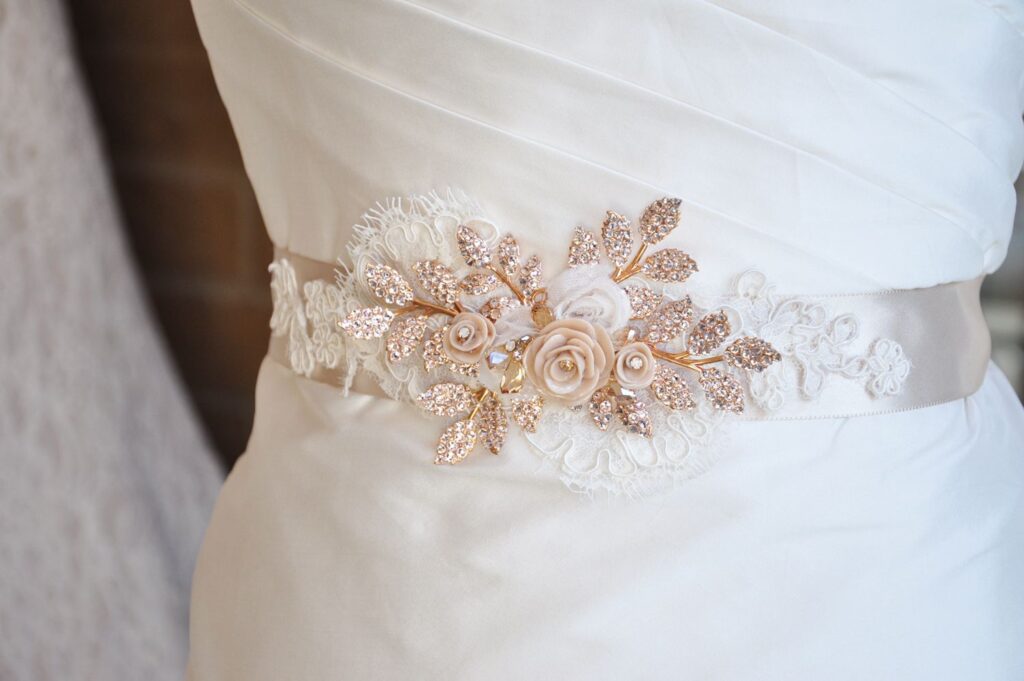 If your dress is on the plainer side, you may want to brighten it up with an embellished or crystalized belt. These convenient garment pieces are sold in a variety of sizes and styles to match the look that you are going for. A sparkling belt can help you accentuate the outline of your dress and add a bit of bling to your look.
Even the simplest and most modest wedding dress can instantly be transformed into a gown with a designer look by adding a simple sash. Choose something that is lacey for an elegant and feminine look or, add a pop of color to brighten up your dress and match the rest of your wedding party.
Gloves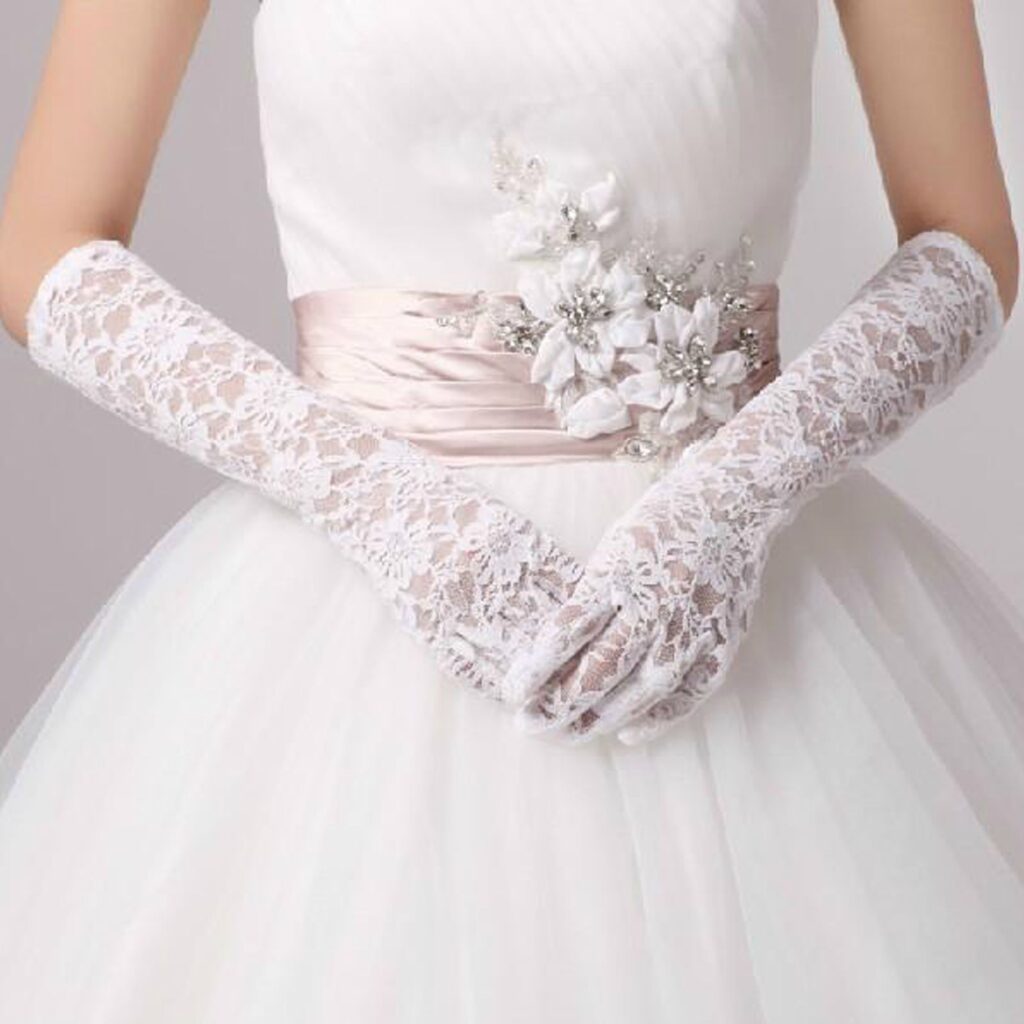 It is truly only in the past quarter-century that brides have stopped wearing gloves with their wedding attire. If you would like to wear a short-sleeved or sleeveless dress but are concerned about your arms being bare, a pair of gloves can be the perfect solution.
Play around with a few different styles of gloves to find the right fit and comfort. You can find full ballroom gloves that will pull up past your elbows or a shorter wrist glove to cover just your hands and add a demure touch to your outfit. You can also experiment with different colors and fabrics until you find the right combination.
Wedding Shoes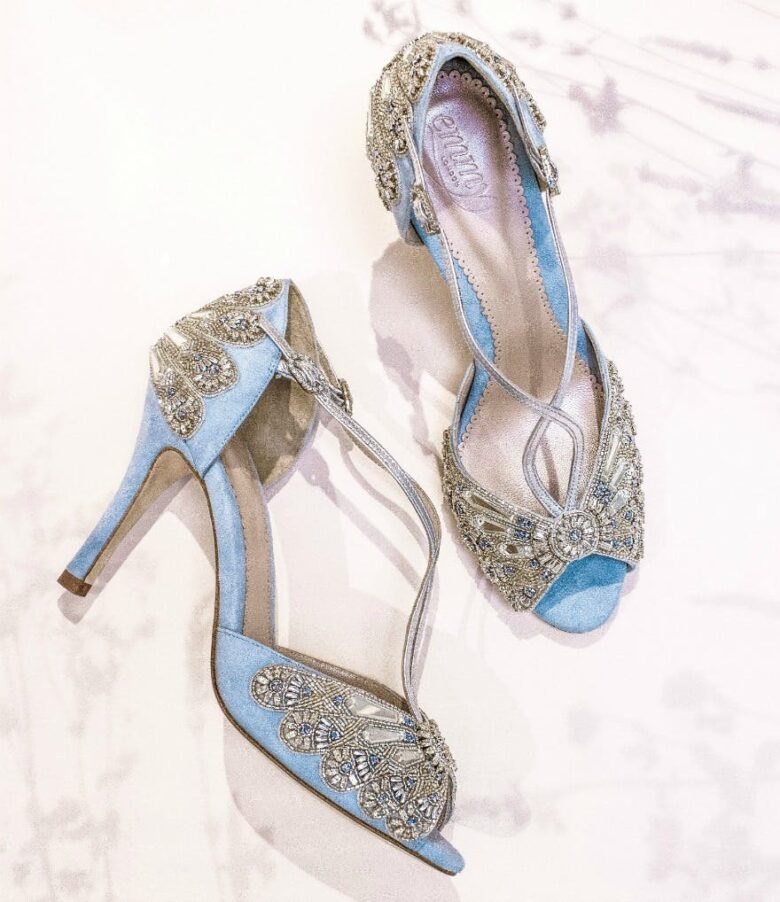 One of the main factors that should go into choosing your bridal shoes is comfort. You will spend a lot of time during your wedding day in your shoes so it's important to get the right fit and style to help you make it through the day without sore feet.
Lower or chunkier heeled shoes can be very practical and pretty. A higher and thinner spiked-heel may not be appropriate or comfortable for the modest bride. You can also choose from a variety of wedding boots if you want to add a bit of Victorian flair to your wedding outfit.
For modest dresses, you will want to stay away from any styles that have a high spiked heel, a platform sole, or an open toe. A rounded or closed-toe shoe will match better with the modest look that you are going for. You can choose from a satin or lace fabric finish for the most elegant look.
Veil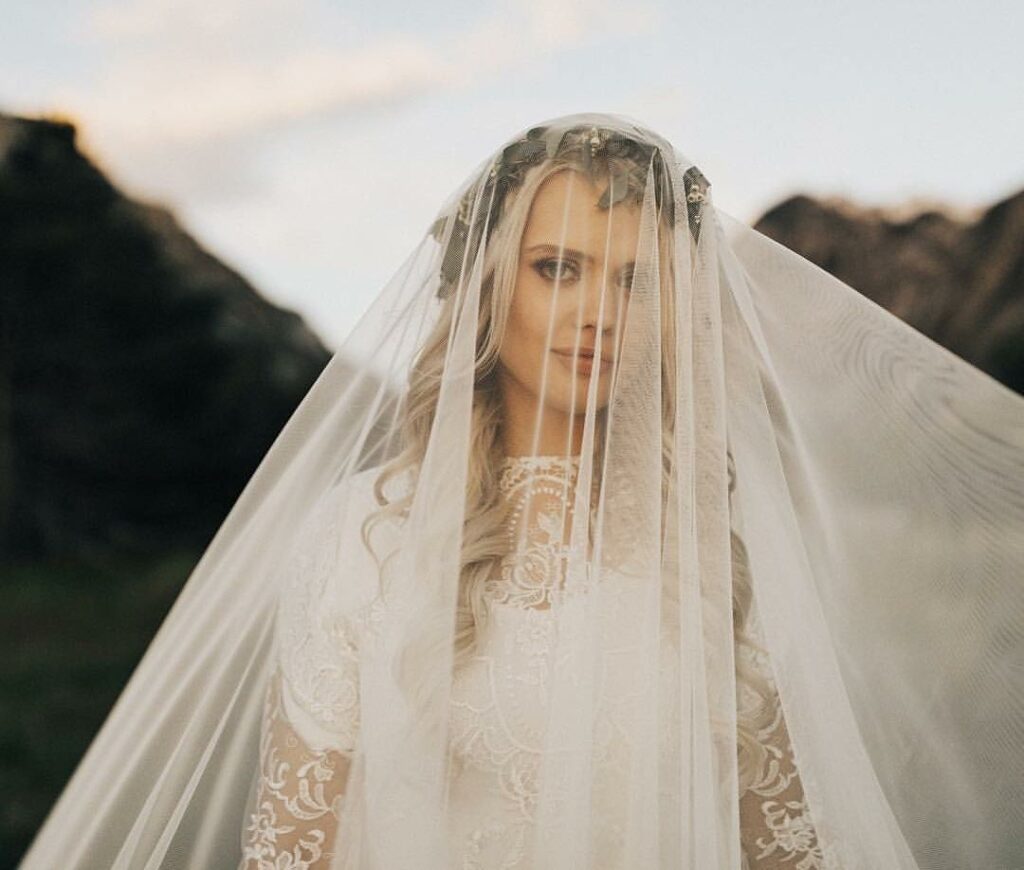 A modest bride would never walk down the aisle without a veil. Depending on the length and the style of your dress you can find a veil that will match it perfectly.
From a casual length that stops at your mid-waist to a flowing cathedral-length veil that will flow down the aisle behind you, a veil adds the innocence and class that a modest bride dreams of for their wedding day. Your veil can be removed or shortened after the ceremony for your comfort and convenience.
Headpiece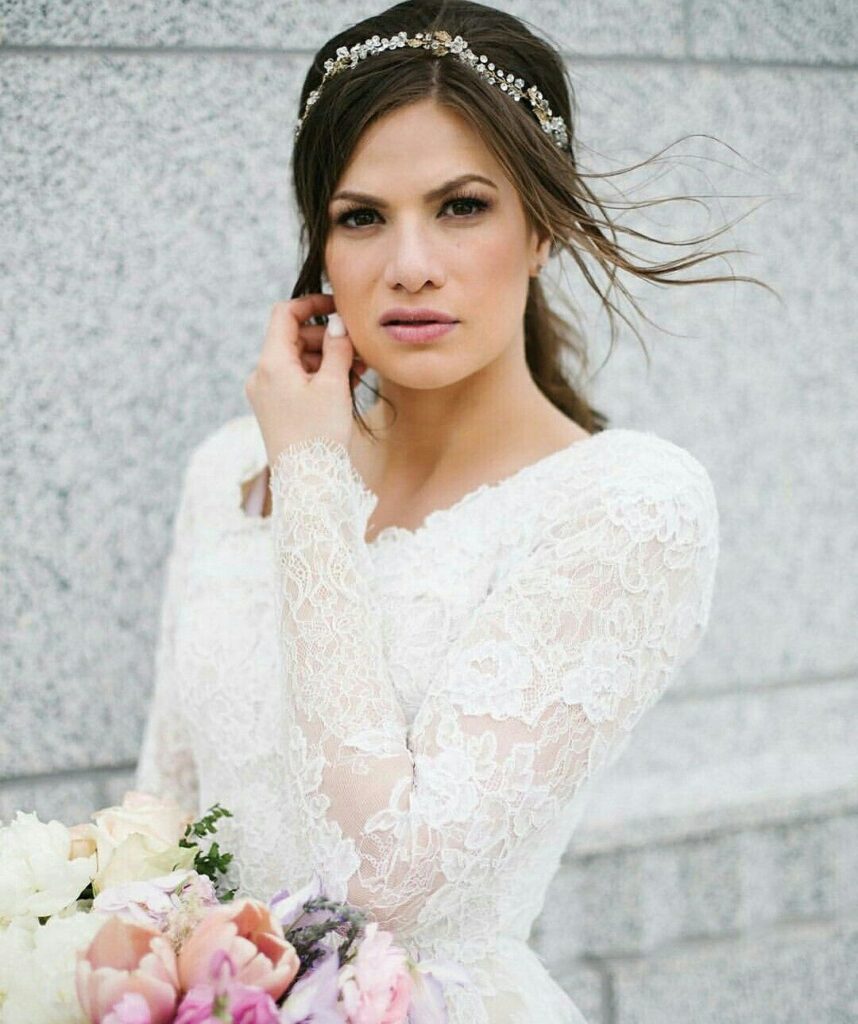 A classic tiara may be a bit much for a modest wedding gown but, there are many simple and elegant headpieces that you can add for a unique look. A headpiece can stand on its own or as a part of your veil. If your veil will be removed after the ceremony, a headpiece can still act as decoration to your wedding hairstyle.
Choose a flower, crystal, or pearl headpiece to match the style and details of your other dress accessories. Headpieces come in a clip-on or comb style for easy application. You may also choose to wear a halo of flowers that can simply be placed on the head and secured with a few pins.
Pearls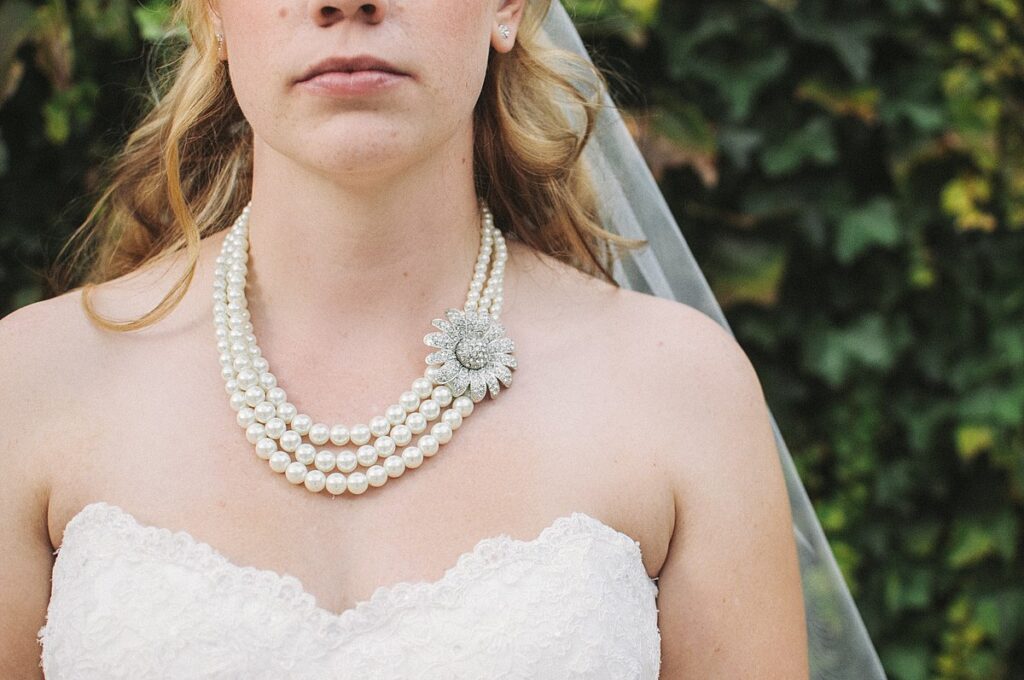 A classic bridal look almost always involves pearl jewelry. If you are looking for an elegant and simple style as a modest bride, you can't go wrong with choosing pearls for your wedding adornment. A simple string of pearls around the neck and a pair of matching simple pearl earrings can be the perfect touch of modest elegance for your wedding day. When using pearls, make sure to match your other accessories as well, including your belt and headpiece.
Bouquet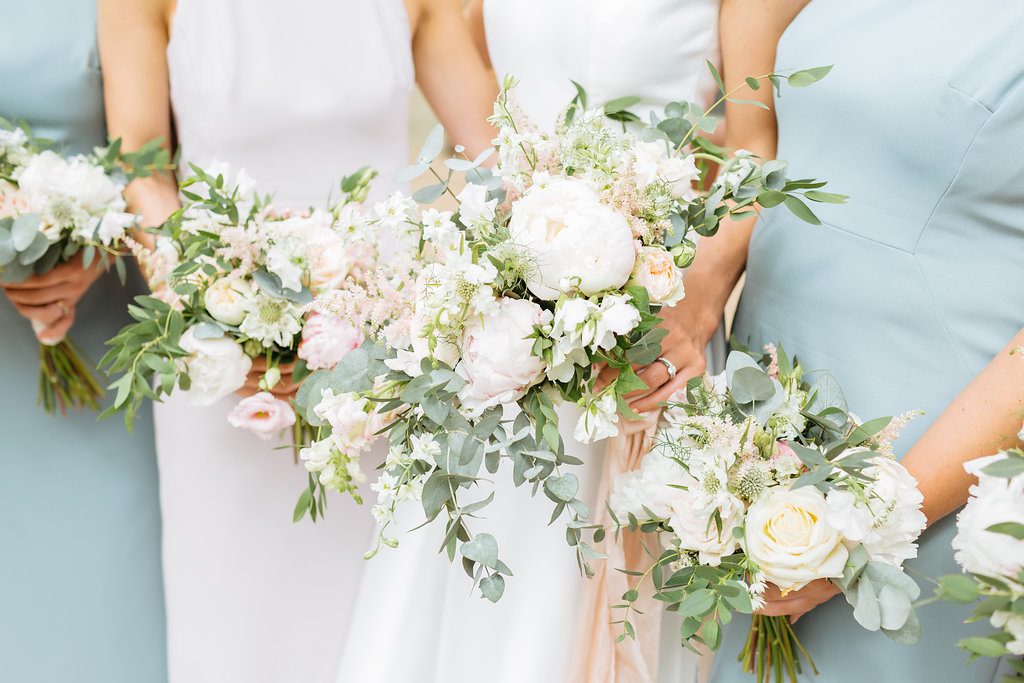 If you are trying to stay on a tight wedding budget, you may have to get creative with your wedding accessories including your bouquet. Whatever embellishments that a more modest wedding dress may lack can be replaced by a stunning bouquet. Have some fun with an elaborate group of flowers that will be stunning and add some excitement to your whole look.
Every bride dreams of the perfect wedding day including walking down the aisle in style and class. If you have already found the right affordable dress for your modest taste, think about completing your outfit with some of these beautiful and elegant accessories.