Variety is the spice of life, especially in the wedding industry. This monumental event is often telling of the different celebrations that cultures use to mark this occasion. It's fascinating to see how people tie the knot around the world.
A lot of people think of white dresses and tuxedos when they think about their wedding. Here are ten incredible looks and trends for bridal parties and wedding guests from around the world to give you a new perspective.
1. Fascinators – The U.K.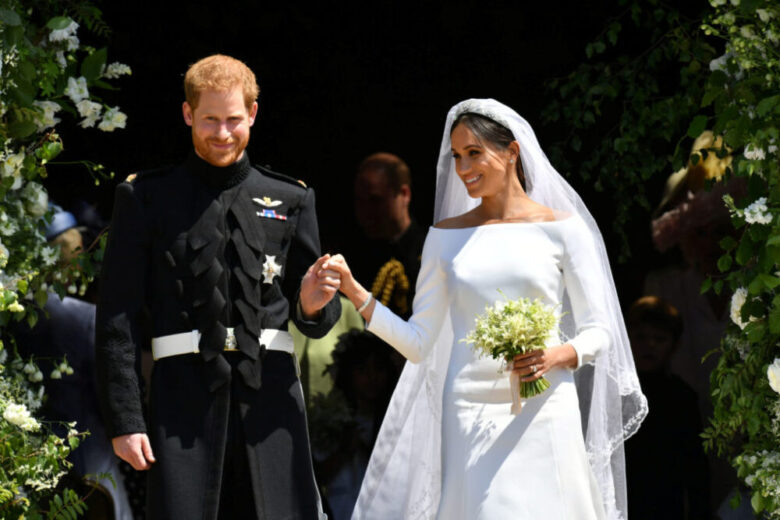 The whole world turned its head toward the U.K. in 2011 for the royal wedding, then again in 2018. At that point, millions of people around the world were introduced to fascinators for the first time.
Believe it or not, the name doesn't come from the fascinating colors and elaborate designs this headwear is known for. The name is derived from the word "fasten" as they are fastened to one's head.
This traditional headwear used to be quite different than it is today, comprising of subtle veils that were designed to add an air of mystery and intrigue while protecting a woman's privacy. Over time they evolved into the eye-catching works of art they are today and became a fun fashion trend in U.K. wedding attire.
2. Deel – Mongolia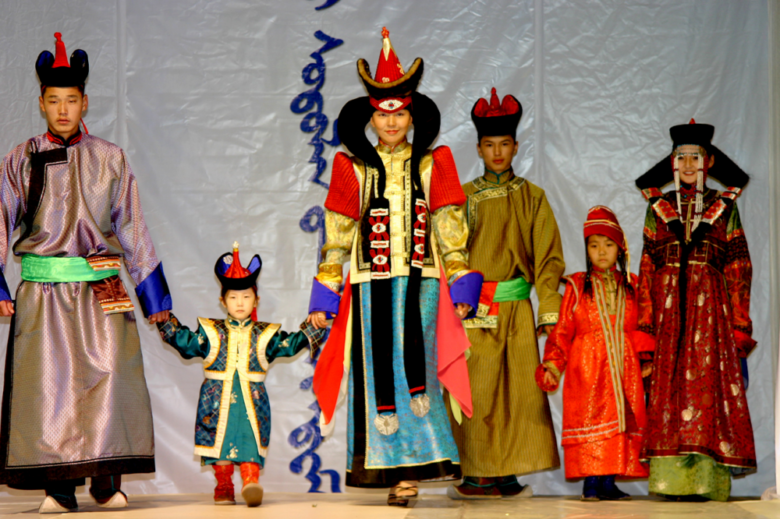 In Western culture, the idea of a bride and groom wearing matching outfits might seem odd, but it's quite common in other parts of the world.
In Mongolia, the happy couple is often adorned in a deel. This tunic-like outfit offers full-body coverage and often boasts bright colors and patterns. The deel is usually accessorized with an elaborate headdress that varies from area to area.
It's not uncommon for the bride and groom to change a few times during the wedding. Some of this stems from tradition, while the fact that the deel is large and heavy also plays a part. As the wedding ceremony and ritual can last up to six hours, it's no wonder why the couple might want to put on something a little more comfortable.
3. Shades of Red – India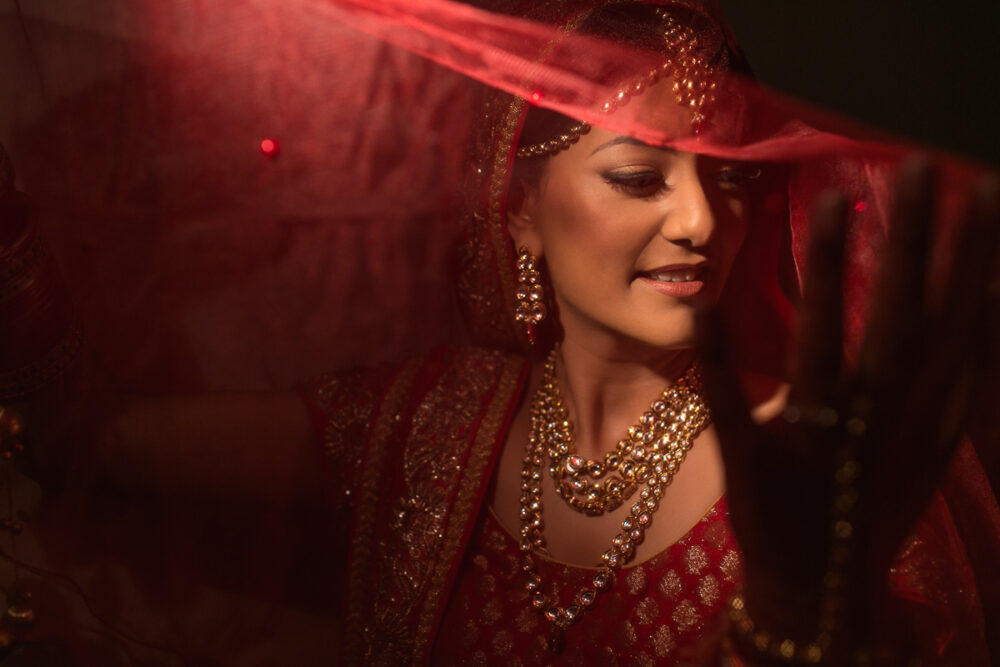 Indian weddings are gorgeous affairs that span over hours and even days. Unlike Western civilization, Indian brides often wear rich shades of red and gold with the groom in a regal sherwani. Those same colors are a recurring theme in the decor.
Indian brides are also adorned with henna during a traditional Mehndi ceremony the night before the wedding. This ceremony is often performed by the bride's grandmother and is meant to convey good fortune in the marriage. Also, according to NihalFashions.com, many female guests will sport richly toned Salwar kameez, adding to the overall spectacle of the event.
4. The Saukele – Kazakhstan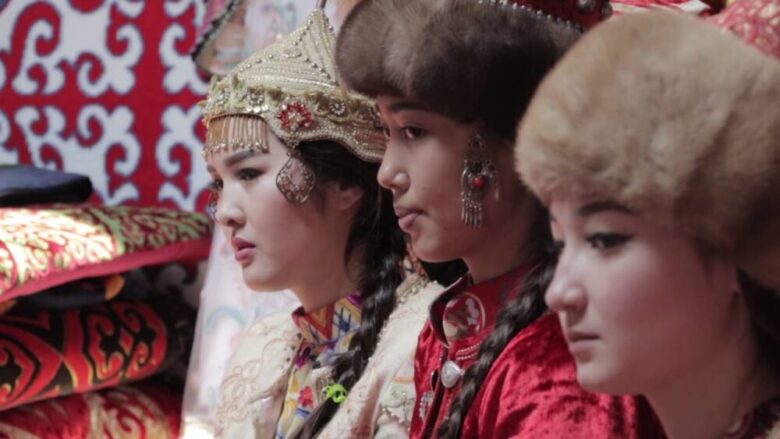 Kazakh brides are also known for wearing elaborate headdresses. The Saukele is a large pointed hat, often with fabric and beading flowing from the top. It's similar to the iconic princess hat that was often depicted in fairy tale illustrations.
The traditional saukele took over a year to create. The entirety of a bride's engagement was determined by how long the construction of her headdress would be. It's worth noting that the saukele is similar to the traditional helmet and armor worn by Kazakh soldiers. This is to symbolize the strength of women in the Kazakh culture and show that a woman is evenly matched to her husband.
5. Family Pattern – Ghana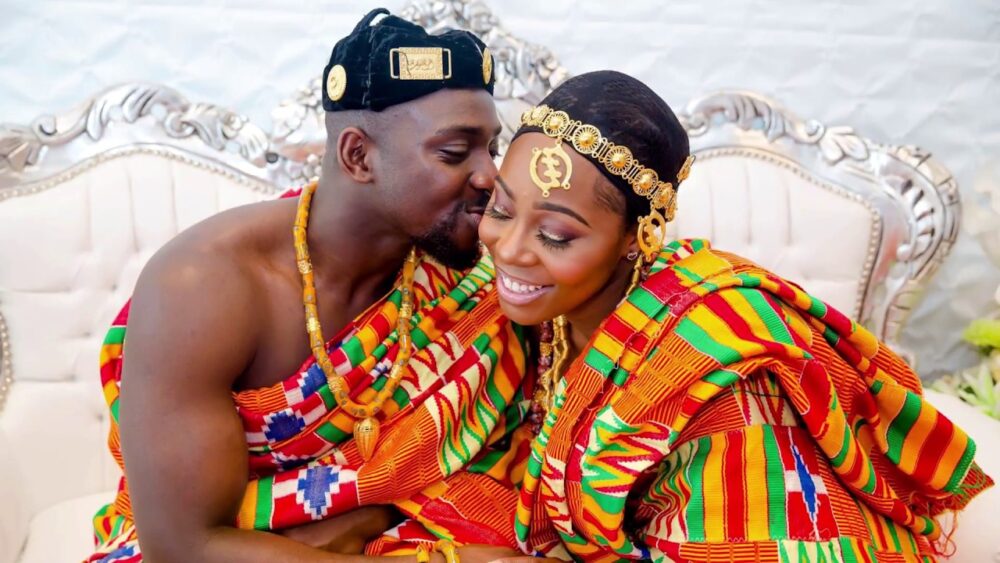 Weddings in Ghana are a colorful affair. Brides and grooms are often in matching shades of orange, yellow, red, green, and bold blue patterns. The patterns themselves are unique to the groom's family, similar to a tartan, which we'll dive into later.
The wedding itself is family-oriented with a series of fun rituals. First, a series of fake brides will be presented to the groom to ensure he knows who he is marrying. The families will also banter and negotiate the terms of the marriage during the ceremony. While many modern Ghanaian weddings include these traditional rites, they're all in good fun.
6. Kimonos – Japan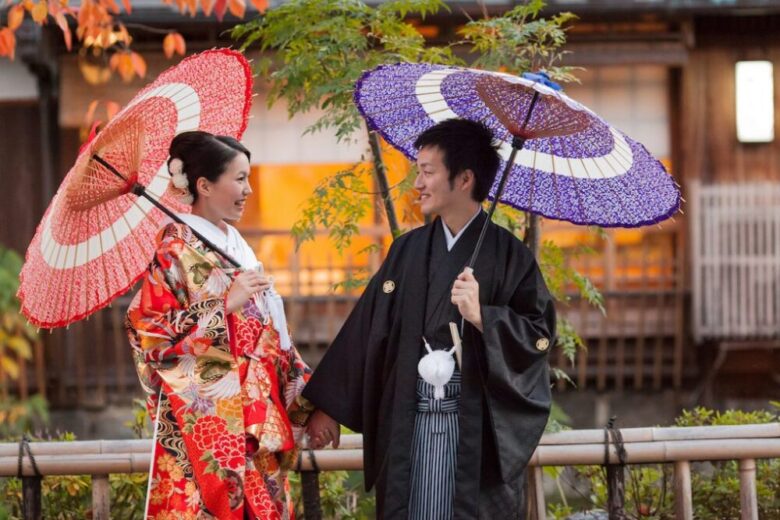 Brides in Japan often wear pure white while the groom wears black, much like in Western traditions. Both the bride and groom, however, wear kimonos rather than a dress and a tux.
The bride's dazzling white kimono is known as an "uchikake." It's bulky and meant to hide her "horns," indicating that she'll be an agreeable wife. After the ceremony, the bride usually changes into a more comfortable red kimono to symbolize good luck in the marriage. The groom's black and white kimono is often emblazoned with symbols referring to his family.
7. Tartan Kilts – Scotland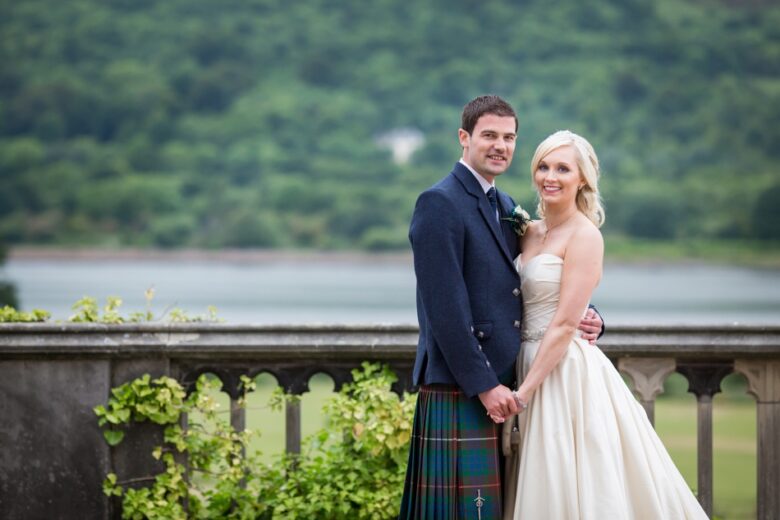 Despite being from very different backgrounds, there are some similarities between traditional weddings in Ghana and Scotland. Like in Ghana, the groom's family tartan often plays a central role in wedding attire. The groom will often adorn a kilt showing the pattern of his clan. The bride might have subtle tartan elements, such as a shawl.
Along with the kilt, Scottish grooms often adorns knee-high socks and a sporran— a pouch that makes up for the fact that kilts don't have pockets. Male guests will often wear kilts as well.
8. Bunad – Norway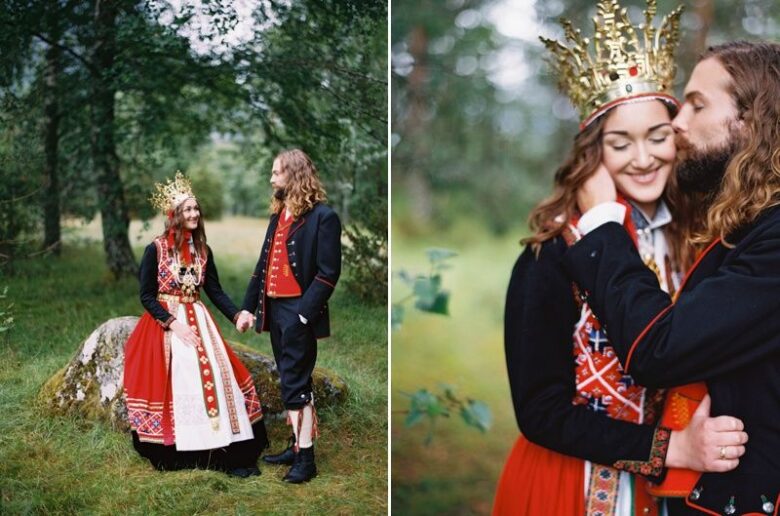 The Norwegian Bunad is a traditional costume that's often worn for special occasions, such as festivals and weddings. They're constructed of natural materials, such as wool and cotton, and adorned with metal clips and embroidery.
There are different variations of this outfit, depending on the region in Norway. The Bunad is often paired with a Huesølvet, a gold or silver headdress that's similar to a crown.
9. Shades of Purple – Malaysia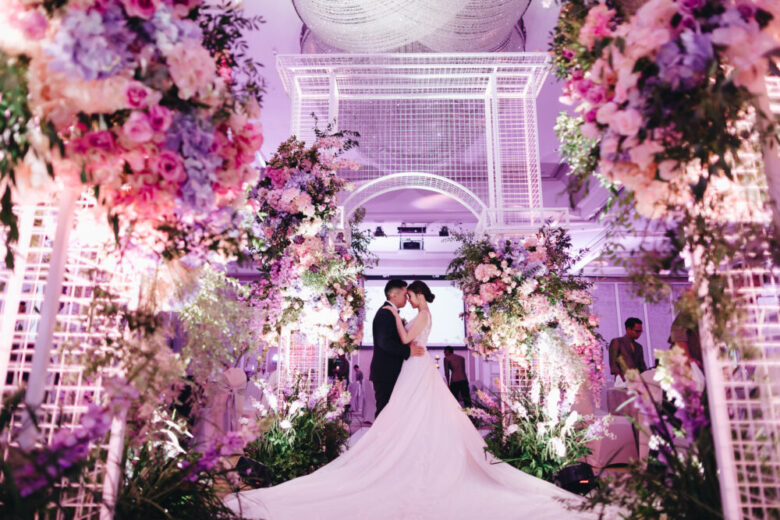 While there are many cultures around the world that use colored wedding dresses rather than white, the purple hues of Malaysia stand apart.
There are variations to bridal attire throughout the country, as it's a cultural melting pot. The Malaysian Muslims often use shades of violet and purple for their wedding attire, often paired with a matching hijab or headdress. The look is stunning and ethereal.
10. All in White – Guatemala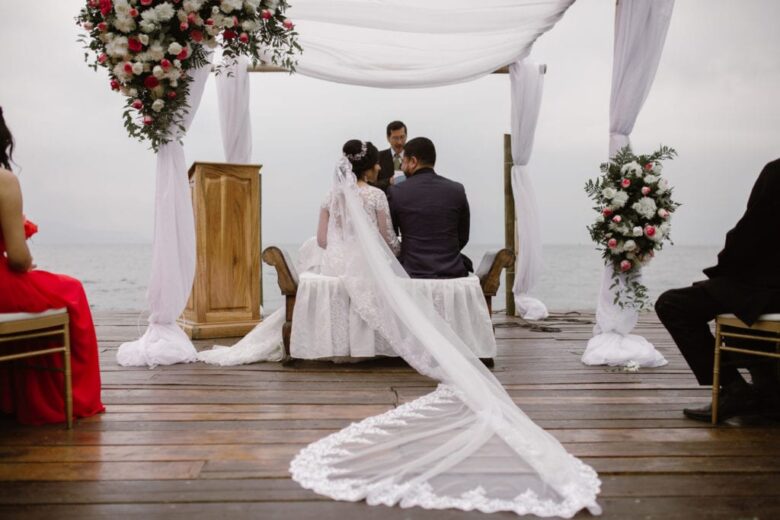 Guatemalan brides often wear white, but they aren't the only ones. In traditional Guatemalan weddings, the entire bridal party wears white, and guests are invited to as well. This practice is to confuse any evil spirits that wish to harm the bride.
While brides in rural areas often wear more colorful woven fabrics, the white veil remains.
There are endless possibilities for celebrating a wedding. One thing all of these cultures have in common is beautiful brides making wonderful memories.