Arranging a table. How hard can it really be? The truth is, following a few simple steps will help you to set your wedding table in a way that will stand out to guests and will help to make your wedding a day to remember.
It is good to start planning how you will set up your table well in advance so that you can ensure that the decoration will fit in with your overall theme and will compliment your ideas for your wedding day. Starting earlier will also make sure you can get hold of all of the bits and pieces and decor that you really want, even personalizing a couple of bits to make them extra special or ordering handmade crafts online.
This article will go into everything you need to consider when setting up your wedding table so that your special day will turn out just as you have always thought it would. It will also serve as a little inspiration just in case you are stuck for ideas on which table arrangements to choose.
Table Shapes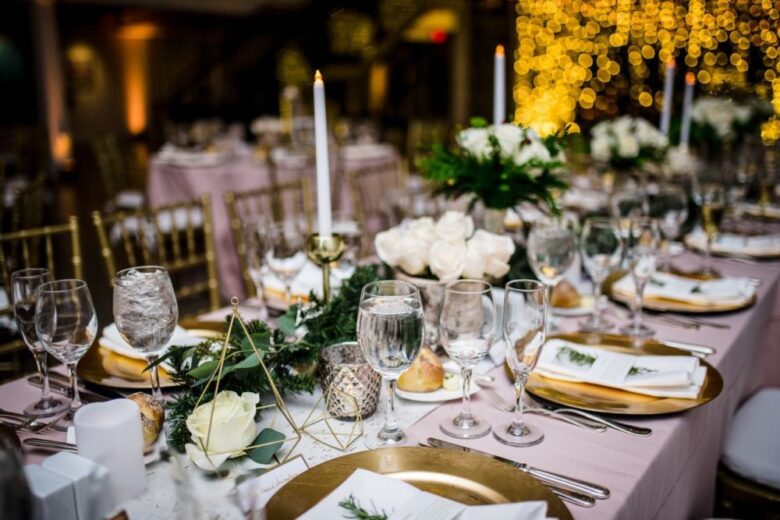 Choosing a table shape is essential to a successful wedding. Round tables are a good shape to facilitate conversation as your guests will be able to see everyone around the table easily and converse. Long tables, however, are more tricky as guests are only able to speak to those who are immediately in front or beside them.
While round tables may be a great choice for the guests, a long table is a nice choice for the top table as it will allow the guests to see the bride and the groom without having to scoot their eyes past the backs of anyone's heads. This is also a good opportunity for you to showcase to your guests the most important members of your wedding so make sure you keep the top table exclusive for the bride, the groom and those who are closest to you.
Centerpieces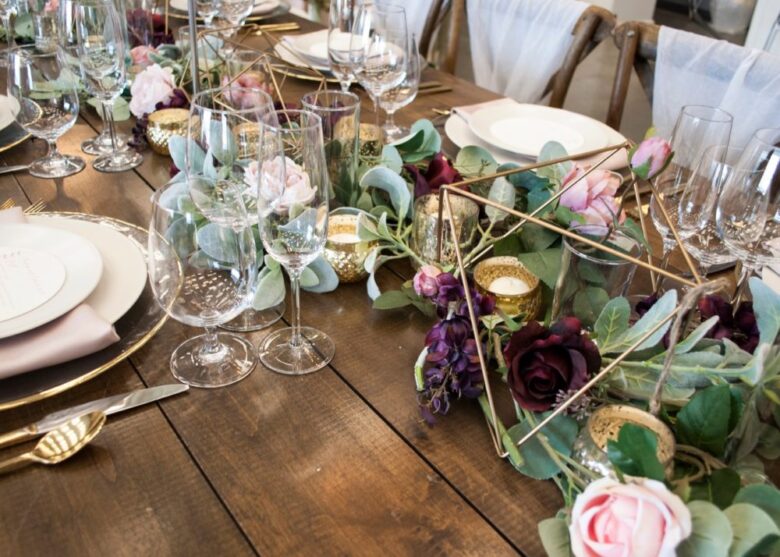 A centerpiece is a great way to show off your style and add a special touch to each table. You can choose different centerpieces for each table with a theme for each type of decoration or choose matching centerpieces that will unite the room.
Your choice of centerpiece should reflect your theme, matching the colors you have chosen and the shades.
Silverware And Other Crockery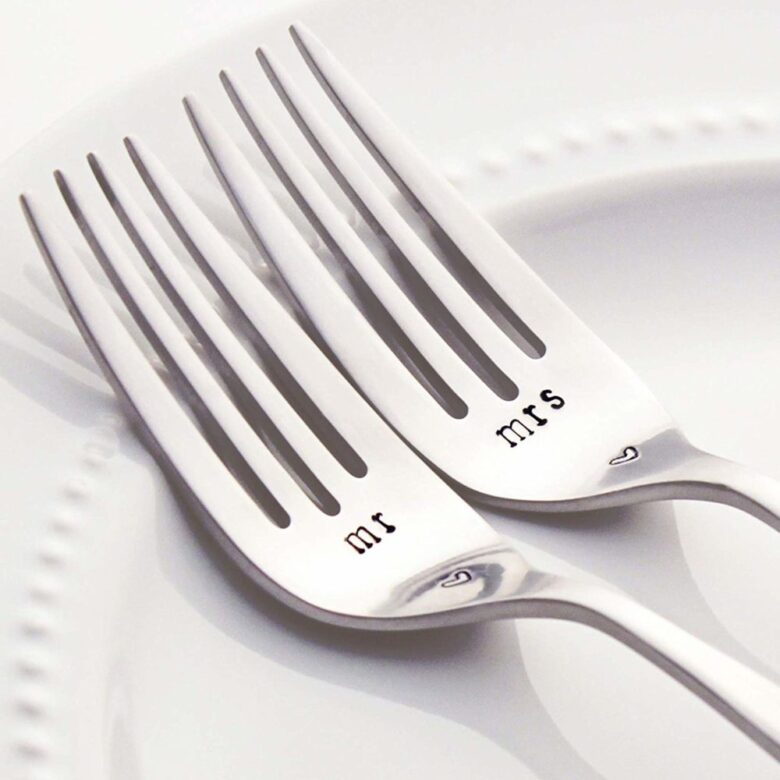 Choosing the right silverware and crockery is also important for your wedding. The last thing you want is for one of your guests to be short of a fork or to not have the correct cutlery to eat the meal that they have chosen.
You should select your cutlery based on the meal you have selected for your guests. If you will be presenting a buffet for your guests to enjoy, then you may want to place an array of cutlery on the table so that they can select the cutlery they require as and when they need it.
To avoid mishaps when arranging the cutlery, it is important to keep a list of how many guests will be seated and at which tables and the exact number of knives, forks, glasses, etc that will be required. Keep in mind that you may want to have a selection of different glasses for each guest, a wine glass per head, a champagne glass and then normal glasses for those who would like an alcohol free option.
It is also important to consider cake forks and teaspoons that will also need to be available for each guest, although some guests may not eat dessert.
Don't forget your youngest guests! You may also want to lay out the appropriate cutlery for young children or remove cutlery all together where necessary.
Shapes, Sizes, And Symmetry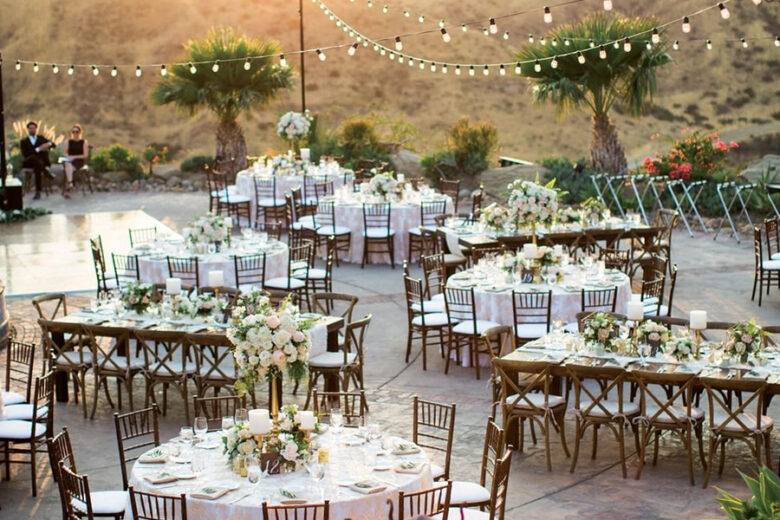 You should consider the size and shape of your tables when organizing the layout of your tables. For example, if choosing a round table, ensure that your centerpiece is not so big that your guests will not be able to see around it in order to converse across the table. If you are using long tables or square tables, make sure that the centerpiece is positioned so that all of your guests can see it, but also so that it is not in the way.
Keep your plate, cutlery and glass arrangements symmetrical around the table in order to make it aesthetically pleasing and look well organized to your guests. The following is a table setting guide that will help you:
Your cutlery should be placed in order of use, with the cutlery that your guests will use first on the outside working in towards the plate. Forks should always be placed on the left of the plate with knives on the right hand side of the plate and spoons following the knives.
Dessert forks and spoons should be placed above the plate with the fork head pointing to the right and the spoon above the fork with the head pointing to the left. Mini dessert plates should be placed to the top left hand corner.
Glasses should be placed to the top right hand corner away from the plate.
Napkins should be placed to the left of the forks.
Remember to only display the cutlery that your guests will need for their meal so as to avoid cluttering the table unnecessarily like they mention on this website. But if you are serving a buffet, it is best to display an array of cutlery so that your guests can choose the cutlery they will need.
Personalize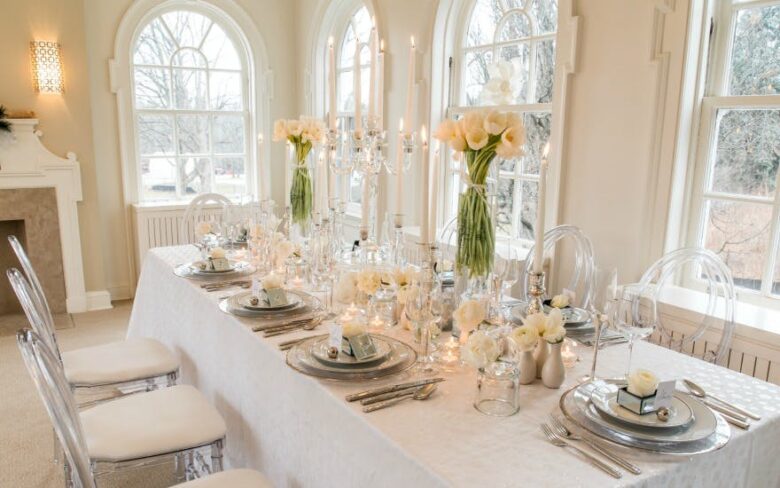 The most important thing about your wedding table decoration is allowing your personality to shine through. So don't forget to add personalized name cards that match your theme and table numbers that reflect the color pattern of your big day. You may also want to tie your cutlery together with some ribbon to add a quirky touch to your table, display fairy lights or candles to the table to set an atmosphere in the room.
Conclusion
Put the suggestions made in this article into practice and you will be able to set your wedding table in a way your guests will never forget!