Sending wedding invitations is a serious business for any bride. Narrowing down the guest list alone is a monumental task in the wedding planning process. But if you're royal, or any British aristocrat, the process of sending out wedding invitations is even more intricate than you might think.
For any aspiring British aristocrat, Debrett's is the bible of etiquette. And if you want to send out wedding invitations fit for a princess, a Shutterfly account and a book of stamps simply won't cut it.
If you want to send out wedding invitations like Kate Middleton — here's what you need to know.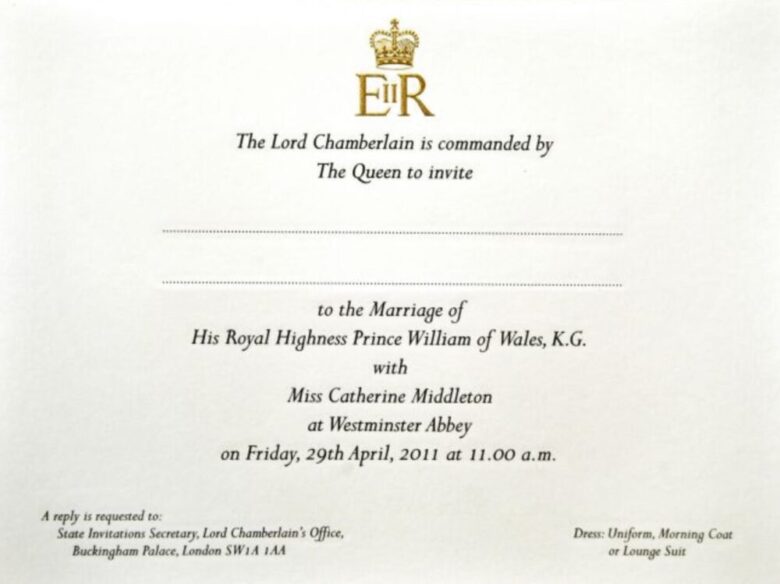 1. First, Save The Date
If you thought one wedding invitation was enough, you're mistaken. According to Debrett's, one must send out a 'Save The Date' card 6 months before the wedding. If you are having a destination wedding, it's customary to send them out 8 to 12 months in advance. The wording should be short and sweet. For example:
Please Save the Date

For the marriage of

William Hanover and Lily Kennedy

Sunday 12th October 2023

New York City

Invitation to Follow
2. The Invitation
There is no room for error when it comes to a royal wedding invitation. Every detail is set in stone — or carved in marble, as the case may be.
The traditional royal wedding invite must be made of card and be cream or matte white. It must measure 8 x 6 inches. A professional calligrapher (or talented relative or friend) must inscribe the guest's name in the top left-hand corner of the invite — and address the envelopes. The wedding invitation must be folded in half with the text on the outer page, and this should be in a black copperplate font.
Formal invitations should address the guests by their full title. For instance:
Mr. and Mrs. James Daville

Mr. Eric Hudson

Miss. Camille Coppercut

The Lady Sarah Duchey
For a less formal invitation, it's somewhat acceptable to use only first names — but it might be frowned upon in some circles.
The wedding invitation should be sent 6 – 12 weeks before the wedding.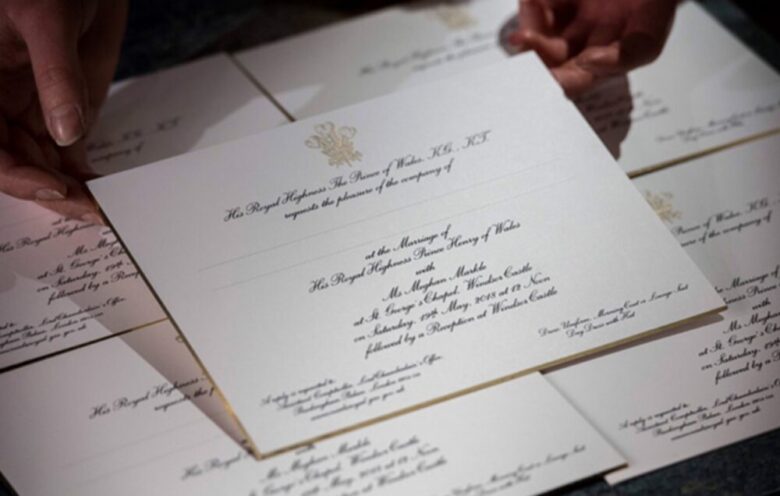 3. Your Parents Marriage Matters
Yep! If your parents are still married or divorced, this will change the way you address your wedding invitations.
If both of your parents are still married, the traditional format for a royal wedding invite would be as follows:
Mr. and Mrs. Brian Kennedy

request the pleasure of

your company at the marriage

of their daughter

Lily

to

Mr. William Hanover

At St. Patrick's Cathedral, New York City

On Sunday 12th October 2023

at 3 o'clock

and afterward at

The Plaza Hotel, New York City
If your parents are divorced, you would just have one parent named as the host or hostess. For instance:
Mr. Brian Kennedy

requests the pleasure of

your company at the marriage

of his daughter

Lily
Sometimes it is easier to host the wedding yourselves, and in this case, you would format the letter as:
Mr. William Hanover and Miss. Lily Kennedy

request the pleasure of

your company at their marriage
However, Debretts contains detailed information for every type of host.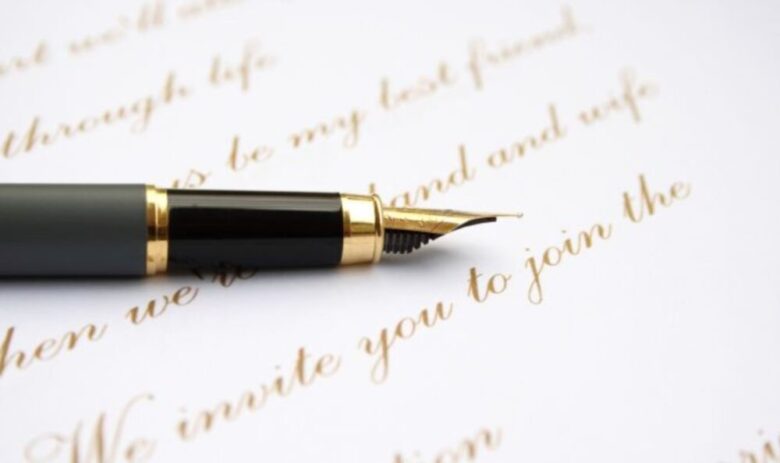 4. The Devil Is In The Details
Along with the invitation, it's customary to include a printed piece of paper containing all relevant information regarding the wedding.
On the lower right hand corner of Kate Middleton's wedding invitation, it read:
Dress Code: Uniform, Morning Coat, or Lounge Suit.
Uniform refers to military uniforms. Morning coats — or morning dress, refer to a long jacket often accompanied with a top hat for men, and a tailored suit with a hat for women.
Lounge suit is something you only rarely see outside of aristocratic British dress code specifications. For men, it means a suit worn with a shirt and tie. For women, it means a day dress, trouser suit, or skirt suit. In general, it's neat and tailored with a skirt below the knee.
You may not want your entire extended circle of friends and relatives showing up to your wedding rocking top hats and fascinators, but it's always polite to include loose specifications about the dress code, especially if you have a color theme or a few second cousins that need a reminder that jeans and stained tees aren't the best wedding guest attire.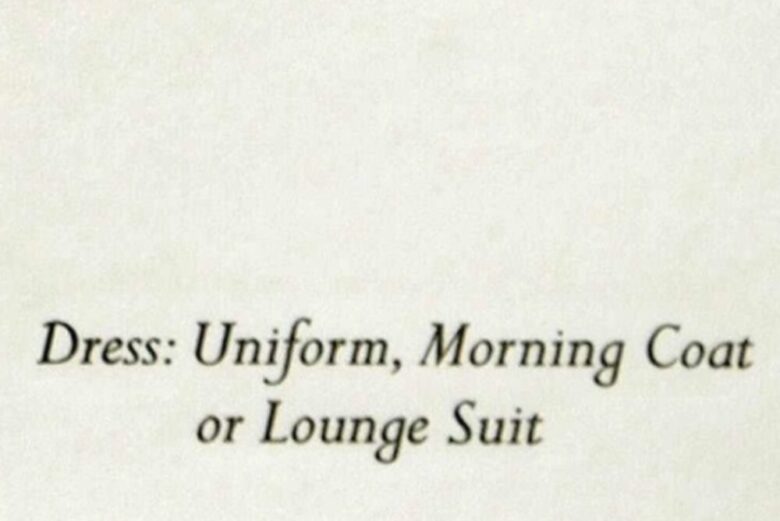 While most of us don't think twice before using Google Maps to navigate to an unknown location, not everyone is the same. Many of your older relatives may still be relying on a battered map living in their glove compartment to get around. Debrett's recommends including a map and directions to the location.
Include a list of hotels, B&Bs, and local taxi firms. If you're hosting the wedding reception at a hotel, the hotel should have included a discount on rooms as part of the package. Include any information that can help assist your guest in booking a room.
An authentic Royal Wedding would not have a wedding registry, and this is for the same reason why Kate Middleton did not have a baby shower. Asking for gifts is seen as extremely poor form among royalty, but that's probably because they have hair accessories more valuable than the average person's house. Even Debrett's concedes that in modern times, it's normal for non-Royals to include details about the wedding registry in the invite. A website link is sufficient.
This informational sheet of paper should also include a request to inform the host of any special accommodations they might need. For instance, a peanut allergy or wheelchair accessible bathroom.
The only thing left to include on the invite is the time that the wedding party will end, which is called 'carriages.' It's customary to include a phone number for the host, along with the final date to RSVP.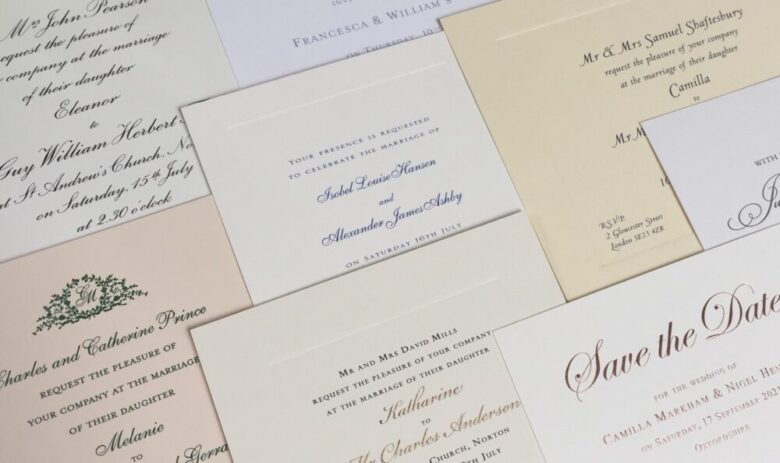 5. The Envelope
Now that you've chosen the stationary, written down all the details, and figured out who is hosting your wedding, it's time to send the invitations!
How you address your guests is very important.
If it's a married couple, you would address them as Mr. and Mrs. John Longbottom
A married couple with invited children? While you would include the names of the children on the invite itself, you would still address the envelope to Mr. and Mrs. John Longbottom.
If you're only familiar with the husband, but his wife is invited, the wedding envelope would read Mr. John Longbottom but the wedding invitation would read Mr. and Mrs. John Longbottom. A single man or woman would simply be, Miss Penelope Longbottom or Mr. Roger Longbottom.
Gathering addresses can be a long and painstaking process. It's easier to use a website like Instant Checkmate instead. Just enter your guest's name into the search bar, and it can reveal an address. It can also bring up a list of relatives, so if you've forgotten the name of a friend or relative's spouse, it can save you from the embarrassment of having to call and ask!
Now you have all of that information, go ahead and send out wedding invitations worthy of a Princess!