Wedding invitations sometimes are thought of as a necessary evil, but that does not have to be the case. With new styles and trends launching each year, why not make them fun as well as something that will wow your guests. To do this, we have put together some of the most exciting trends for the 2023 year. Here are 5 of the latest wedding invitation ideas from basicinvite.com that are sure to get your guests excited for the upcoming nuptials.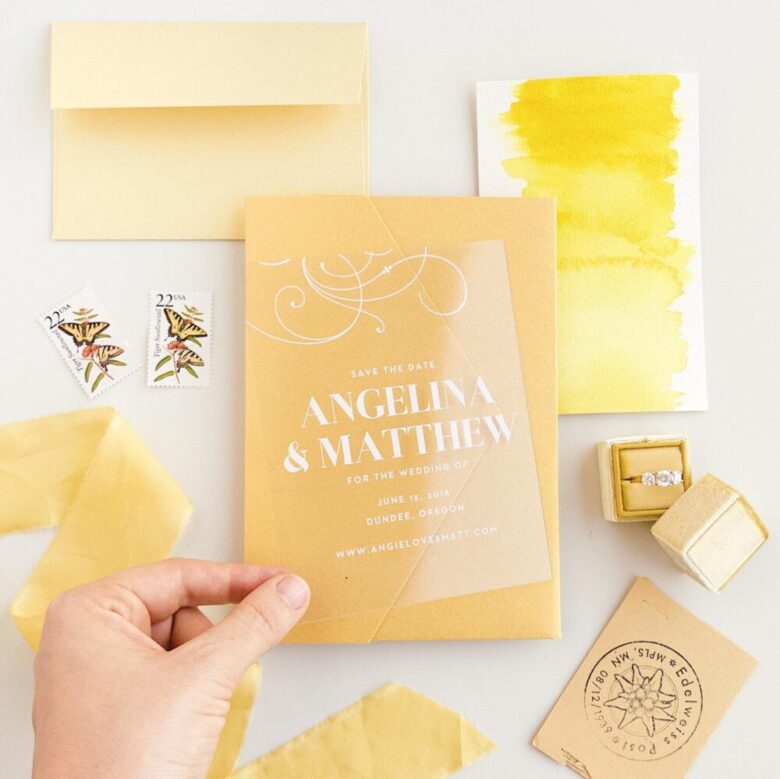 Crystal Clear Wedding Invitations
Clear wedding invitations came onto the scene in 2019 but have quickly become the most sought after style of 2023. There are different types of clear invites. You can go with a quarter-inch thick clear acrylic or a clear vinyl that will give you a similar look. There are pros and cons to each material.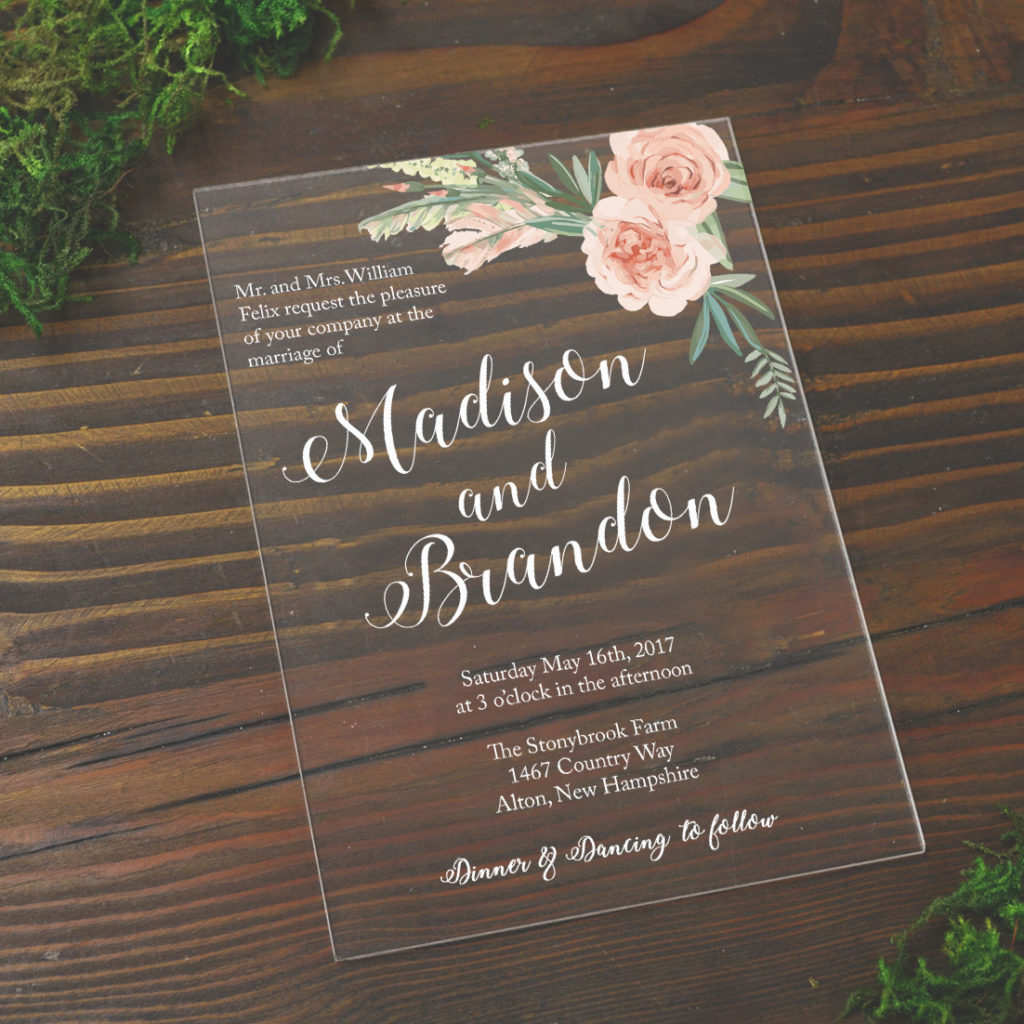 The acrylic will cost you about three times as much per invite as well as you will have to pay an additional fee to mail the invite as it will be too rigid to make it through the postal services automated mail sorting. The clear vinyl will give you a very similar look without the added expense. With that said, either style with its' white ink and elegant see-through style, this unique style helps get you noticed. No matter if you choose a text-only design or one with subtle design elements, you won't be able to go wrong.
Seal & Send Wedding Invitations
A seal and send wedding invite combines elegance as well as simplicity into one nice neat invitation. What makes the seal and send so great is that it has a tear-off RSVP card built into the design. Also, you do not need to stuff an envelope. You fold the invite, then place a sticker on the invite and mail it as is. A seal and send invitation will take the same amount of postage as a traditional envelope. Once your guest receives the invite, they tear off the RSVP card, fill it out and send it back. You will want to add the return postage to the RSVP before you mail it to your guest. The best part of the tear-off RSVP postcard is that it is postcards are slightly cheaper postage, which can add up when you have a couple of hundred guests.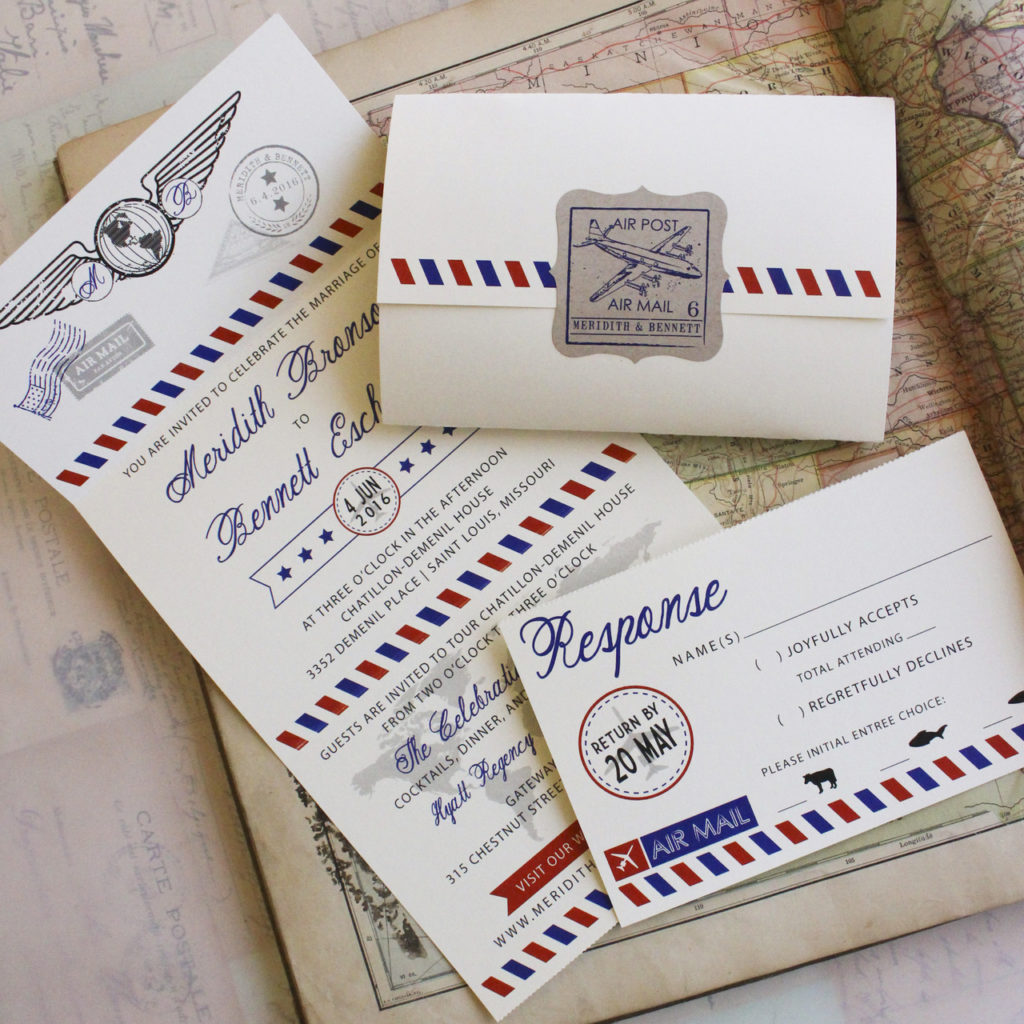 There are many different styles of seal and send wedding invitations to choose from, so no matter if you are looking for a photo invitation or a non-photo style, you will be able to find the perfect style to fit your wedding theme without having to sacrifice anything at all. Another benefit to seal and send invites is that you will have your guests' addresses printed directly to the invite saving you the time it would take to address all of your invitations individually.
Customized Foil Invitations
With stamped foil invitations of the past, you had to settle for a prolonged turn around time if you want your names in foil. In 2023 on a select few websites, you can use a process called dynamic foiling, which allows you to now pick and choose the elements you want in foil real-time. Then once you place your order, you can receive it within five business days instead of 10-12 business days, and it is about half the cost of stamped foil.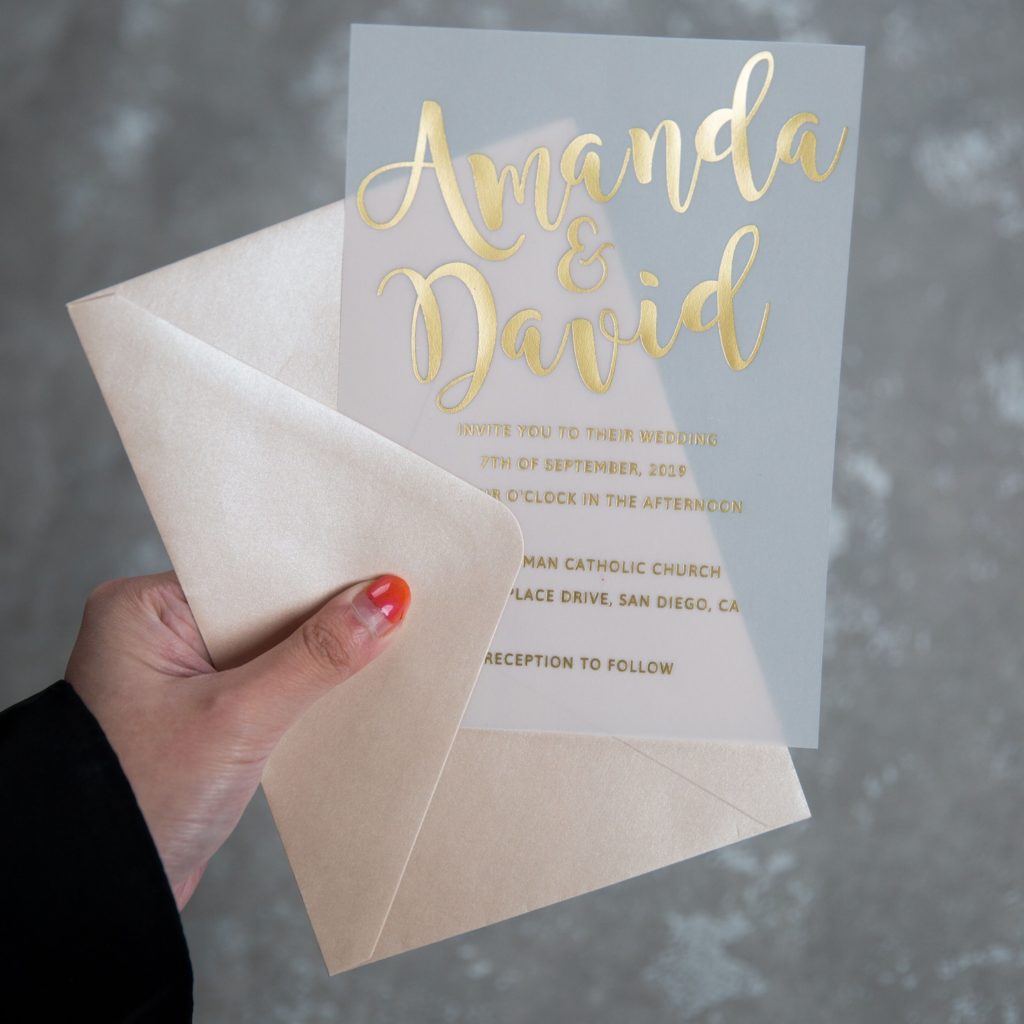 With this new technology, brides can get the elegant look of foil at half the price, so plan on seeing more and more foil invitations as this year goes on. The greatest part about dynamic foiling is that you will not be able to tell any difference, and you have two different styles to choose from. You can do a raised foil, which will give you an embossed look. The other style is a flat foil, which will be just that; instead of ink letters, your letter will be foiled and flat only as if they were printed.
Minimalist Style Wedding Invitations
Another hot trend you will see in 2023 is bringing your design back to the basics with a simple black and white style invite. This elegant style is nothing new. It has been around from the beginning of time and could be known as a timeless look. So don't be surprised to see simple text-only invitations paired with elegantly chosen fonts.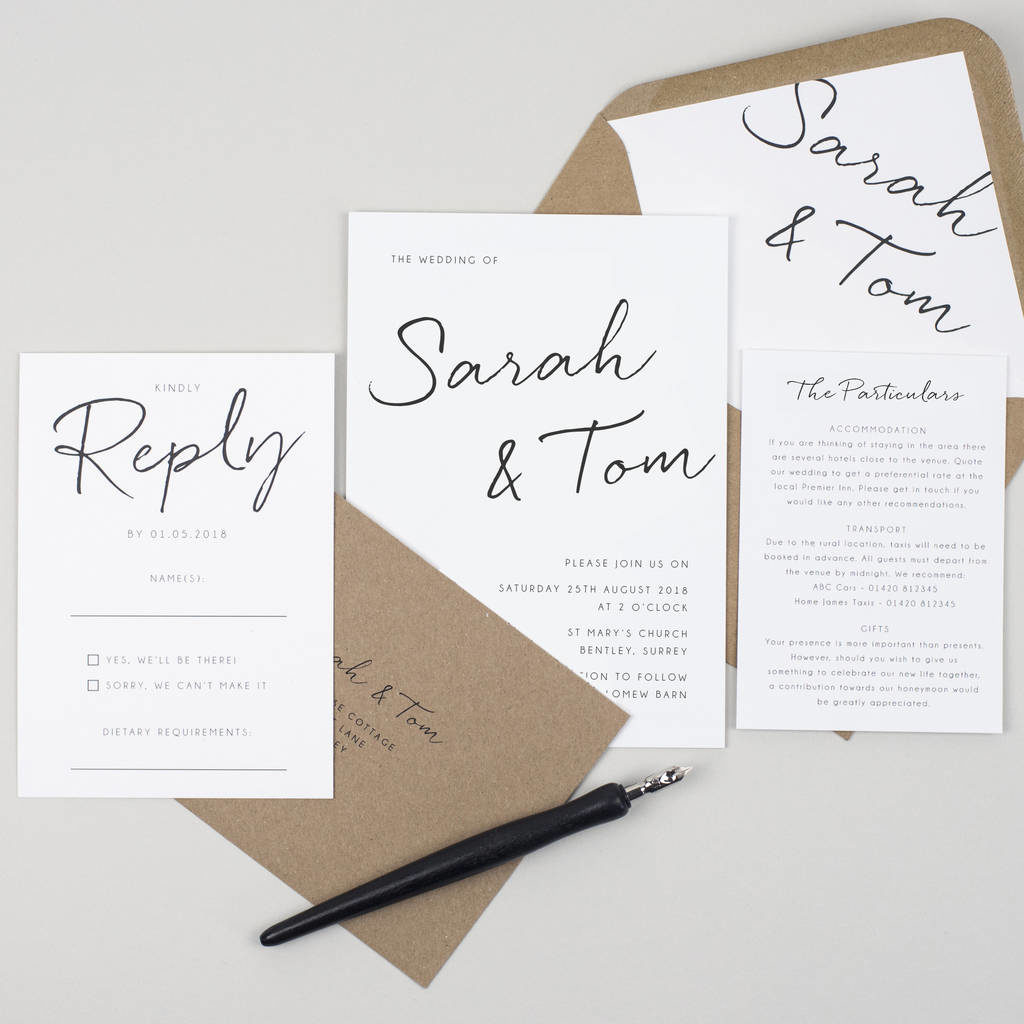 This look can also be done with foil instead of black text. This gives the simplistic design just a little more pop. To put a little more emphasis on the bride and groom adding foil to just the names of the couples while leaving the other text black gives the invitation something a little different as well while keeping the simplicity of the design.
Digital Wedding Invitations
Now when we say digital, we don't mean sending an invite via email; we suggest pairing a traditional invitation with a free wedding website builder to give your guest the best experience possible. Adding a wedding website allows your guest to get the latest wedding info all in one place. From the wedding itinerary to your registry details and hotel info. More and more couples are opting for adding a site to their wedding invites to give their guest just a little something extra without breaking the budget.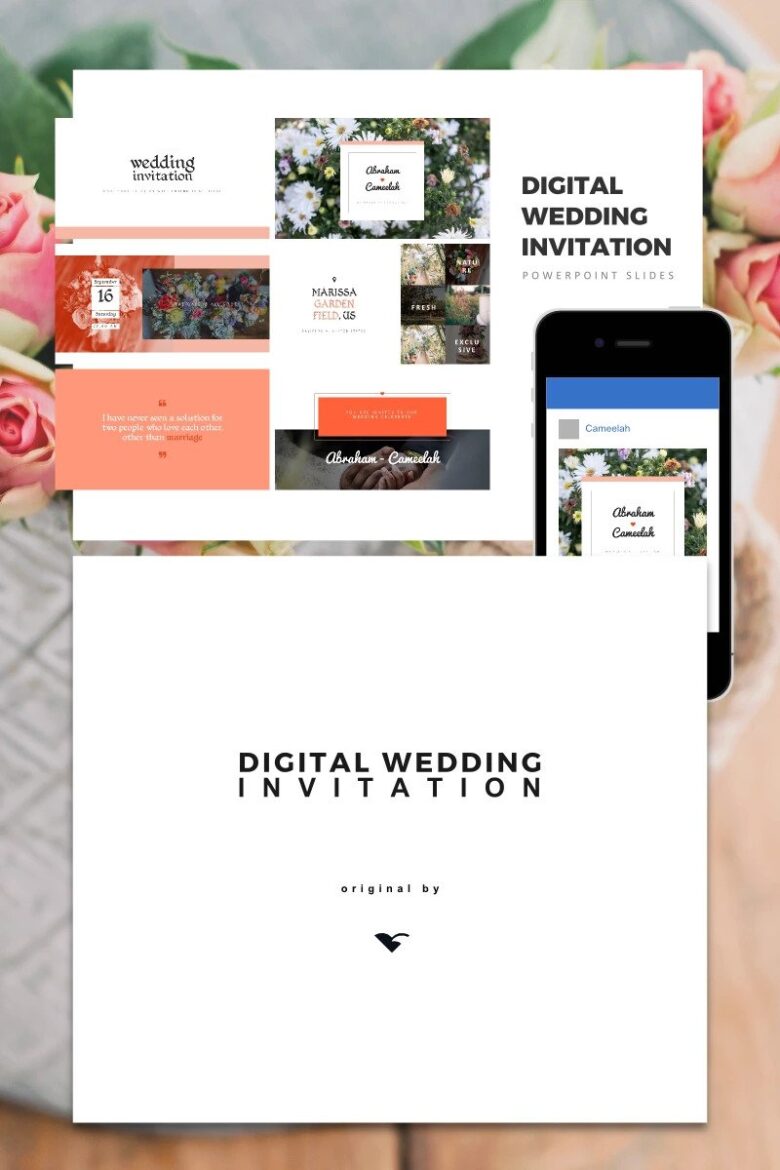 There are dozens of different free wedding website providers that offer all of the features you will need. Within an hour, you will be able to have a professional-looking website with your love story, photo gallery, and your online RSVP ready to go. Then you can add the URL to your wedding invitations, and you will be all set.
So if you are getting married in 2023 now, you now know what to look for when you start shopping for your wedding invitations. Whether you are looking for the latest in fashion or only looking to stay trendy with a more simplistic approach you any of the five invitation trends above will leave your guests in awe. So start looking for the perfect wedding invitation now to make sure you have enough time to make it your own.
Now when we say digital, we don't mean sending an invite via email; we suggest pairing a traditional invitation with a free wedding website builder to give your guest the best experience possible.  mybestwebsitebuilder.com is one of the best website where you can get reviews of free wedding website builders.