When it comes to your Big Day, your wedding décor is just as important as your bridal gown. With the cold season right around the corner, opting for a winter theme for your nuptials is definitely an enticing idea. And as a soon-to-be winter bride, you're on the lookout décor ideas that can capture the unique magic of the event. From the traditional crisp white & a pop of red palettes to festive elements of the winter season, here are five unique ways to decorate your wedding.
1. Vintage-Inspired Teacups & Pearls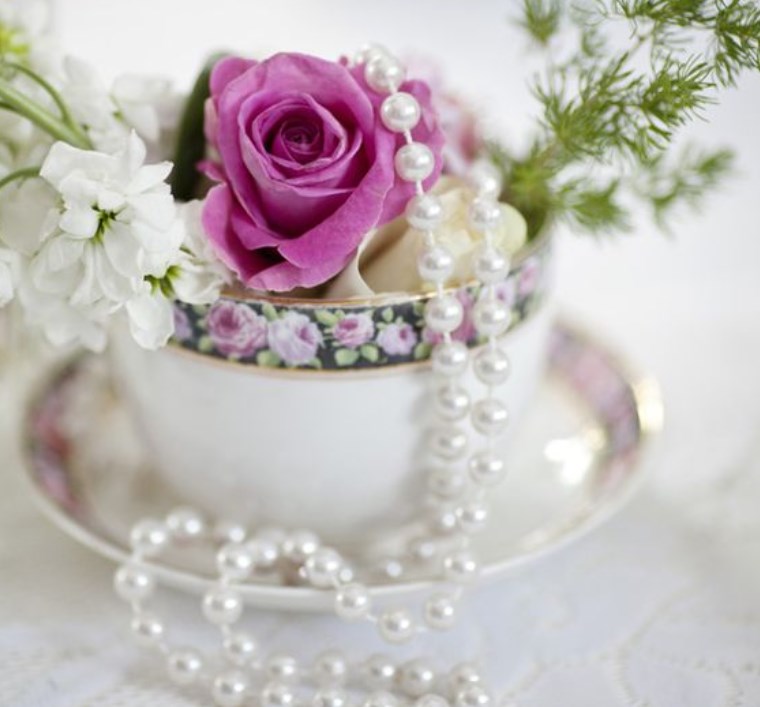 If you love the idea of a vintage-inspired wedding with romantic details, there's no need to consider a huge budget. Ditch the classic centerpieces and go for dainty vintage teacups, decorated with a few carefully selected blooms, tree branches and pearls. Whether you opt for a bold hue like purple or fuchsia or embrace pastels and the crispness of white pearls, your wedding centerpieces are sure to look Pinterest-ready. To create this type of centerpiece, use a white pearl necklace from The Pearl Source and a thrifted mix of teacups. For a layered effect, opt for tree trunks or vintage books to add height to your décor. Extra tip: to make your vintage-inspired theme stand out, coordinate your romantic centerpieces with a pearl pendant such as available at lagunapearl.com or a pearl hairclip.
2. Frosted Pinecones as Place Card Holders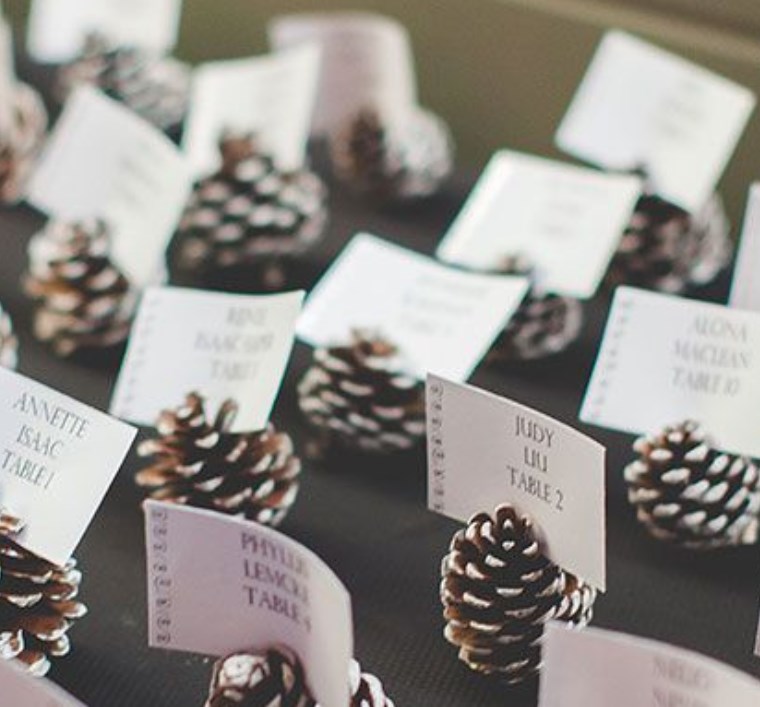 When it comes to embracing the cold season fully, you simply can't go wrong with pinecones. Natural, free, and aesthetically perfect for a romantic, bohemian winter wedding, pinecones bring that whimsical, fairytale-like touch to any type of décor, be it centerpieces, wedding arches, table numbers or place cards. Create these simple place card holders by adding a coat of frosty white paint to your pinecones for a look that's nearly free, yet full-on romantic winter vibes.
3. Tree Trunks & Candles as Centerpieces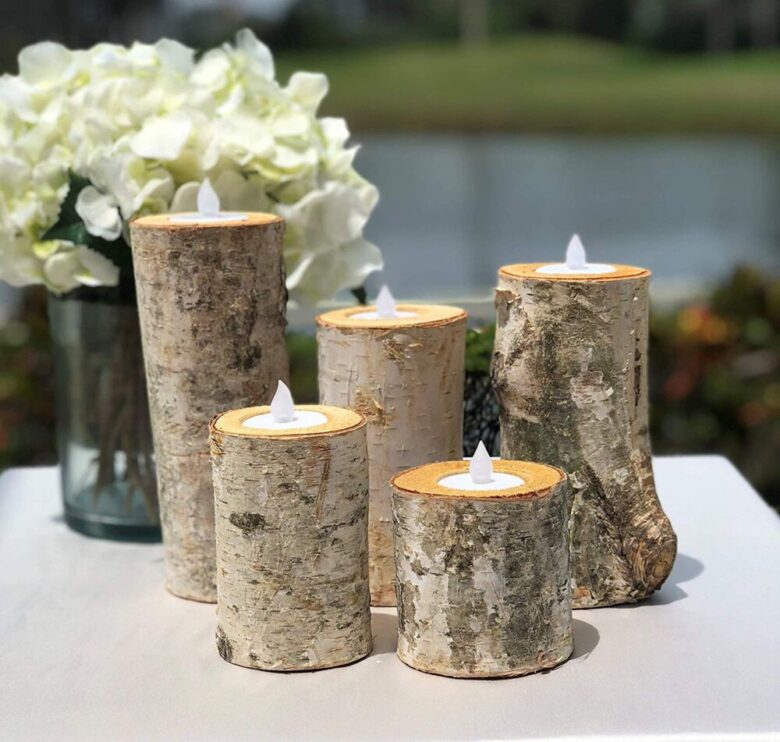 If you're looking for a more budget-friendly alternative to fresh flowers (because let's face it, fresh blooms get crazy expensive in wintertime), there's no need to sacrifice that sought-after romantic ambiance with this next alternative. Use a combination of white candles in glass jars and tree trunks on the smaller side for an eclectic mix of nature & light that sets a magical ambiance in the space. Create simple table numbers using the same logs and opt for a combo of different heights for that eclectic, yet still coordinated and chic look.
4. Winter Magic Centerpieces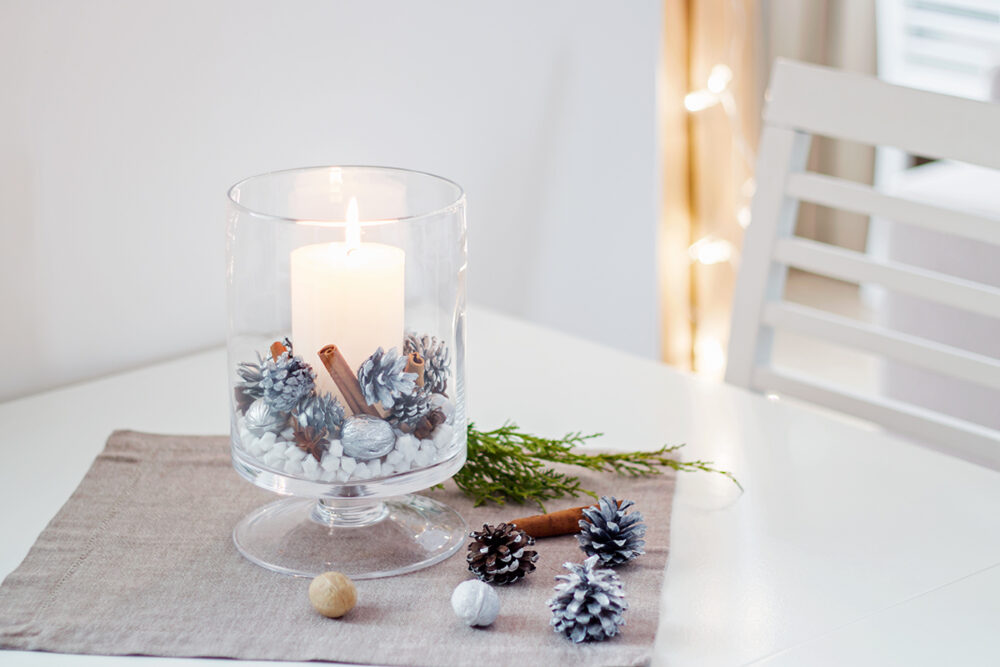 Pinecones make another appearance in this classic combo featuring natural treasures and white candles. Winter weddings are not just about the florals – in fact, alternative elements are always welcomed, especially when they convey a festive spirit. Create centerpieces featuring large glass candle holders, crisp white candles, and a mix of wood, pinecones, stones, and cinnamon sticks for a décor piece that's not only visually pleasing but also delightfully fragranced.
5. Berry Branches as Plate Décor / Place Cards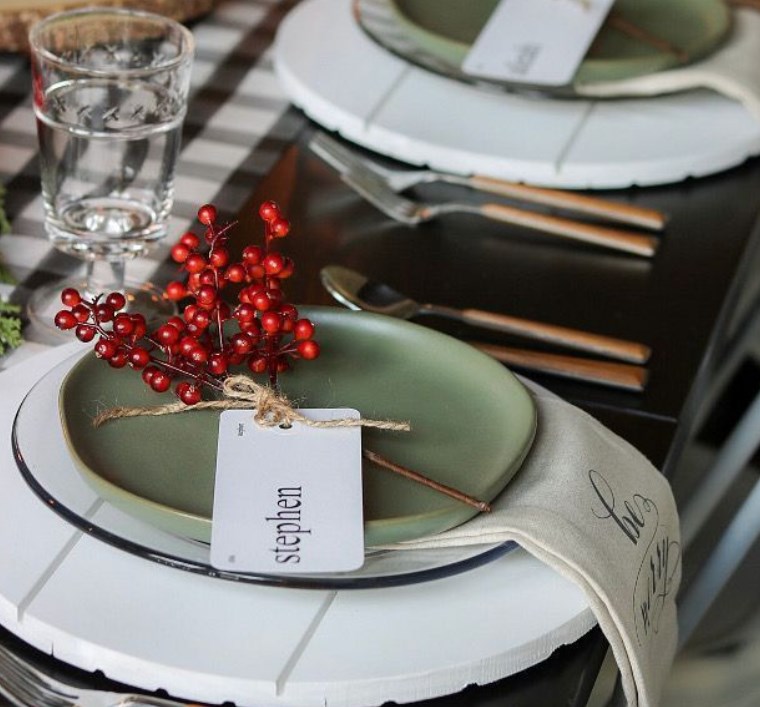 Winter weddings come with enticing color palettes. The classic route for an immaculate wedding: crisp white and ivory tones, plus a few bold shades in the mix. Alternatively, you can opt for the festive approach and incorporate Christmassy hues into your décor: bright red and pine green. And if a touch of color is your style mojo, then nothing beats using a few bright red cranberry branches as part of your tablespace. Whether you create individual name card holders or simply include berries in your centerpieces, cranberry branches are a sure way to get into that festive, celebratory winter wedding mood. For more interesting ideas visit this site.