Like it or not, most of us have been planning our wedding for much longer than a year. Preparations started around the same time we got our first Barbie. Ever since then we have imagined Ken, pardon, groom, hotel by the lake, shoes, etc. But what we certainly think about the most – is a wedding dress.
The Gap Between Your Desire And Possibilities
We quickly decide whether we wanted to get married at the age of 23 or 33 and whether we wanted the groom to look like Antonio Banderas(Claro que sí!), and we've been thinking about getting married for twenty years. What we didn't consider in pre-school is – what dress will suit our body shape because we didn't know yet what puberty would do to us. Unfortunately, not many of us have got the 90-60-90 ideal measures and 5'9" height. But, with the right dress at least one day we can look like princesses. And prettier than Kate Middleton. Define your body type and find out what kind of wedding dress will suit you. This will make it much easier for you to search the bridal salons and leave the rest to your imagination.
Big Breasts Can Be Trouble?!
If nature has honoured you with D cups (or perhaps you have been honoured by a plastic surgeon), you will have to forget the strapless dresses. Do not think about the option "I will wear a bra with transparent straps". We'll tell you a secret: there are no fully transparent straps! Moreover, if you sweat a little bit, these straps will look like blurred car windows. Therefore, choose a dress with a fitted corset and tight straps that will hold "your goods" where they belong.
Pocket Venus Type Of Girl
If you are petite type, do not choose a wedding dress with a too big crinoline that can literally eat you. Be moderate. Choose the highest heels on the market that won't be seen under a long dress anyway. Also, keep reading because besides being tiny, your body may have some further specificities. Maybe you have big breasts? Strong hips?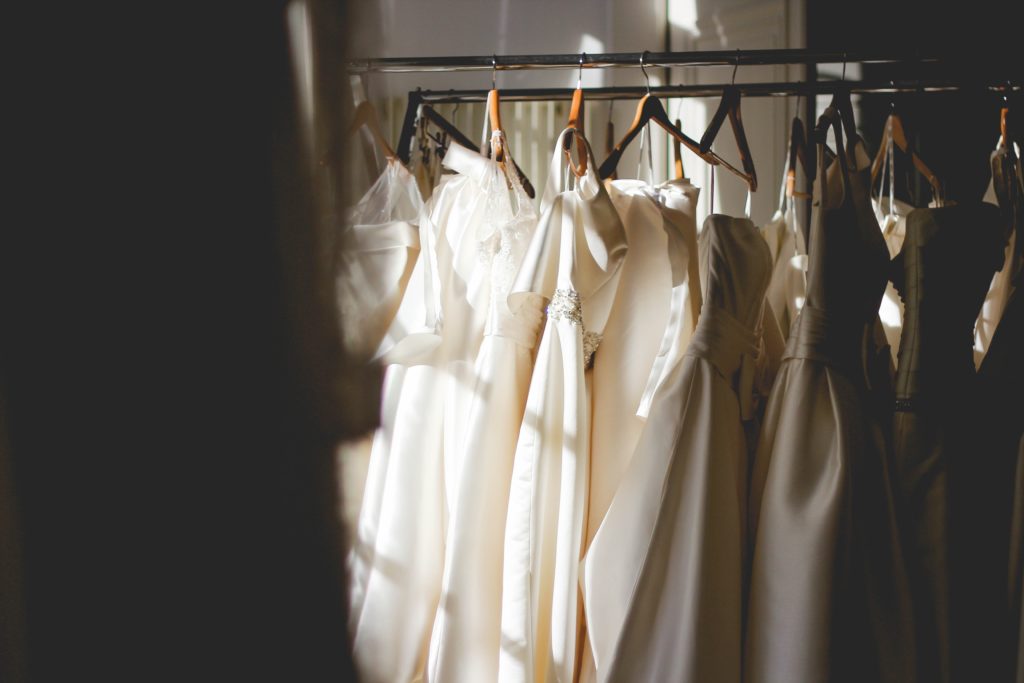 Robust Body Type
Some maliciously say that this is the body type "that can carry a groom in her teeth". Forget about the evil comments. You can be as beautiful and feminine as everyone else. For starters, being tall doesn't mean you have to give up your heels. Wear slim heels that will make your body more feminine and don't forget about platforms and heels over 8cm to keep you away from a cowboy look. Strapless dresses will make your shoulders visually larger. It's okay to wear crinoline, but without overdoing it. Don't buy a dress that tightens you up, because you won't look slimmer, but on the contrary. If you have to tighten up something – let it be the waist.
Wider Hips Can Be Feminine
This is the day when your imperfections will not be seen! Choose corset and crinoline – and no one will notice that you have a bigger butt, nor wide hips, nor strong thighs! Everyone will just admire your narrow waist. Strong hips usually come together with smaller breasts. Don't get nervous about it, that's great. Nothing will "fall out" and you can wear whatever you want. If your hips are "stronger" than your upper body (but not too big), you can emphasize your waist with a mermaid type of dress.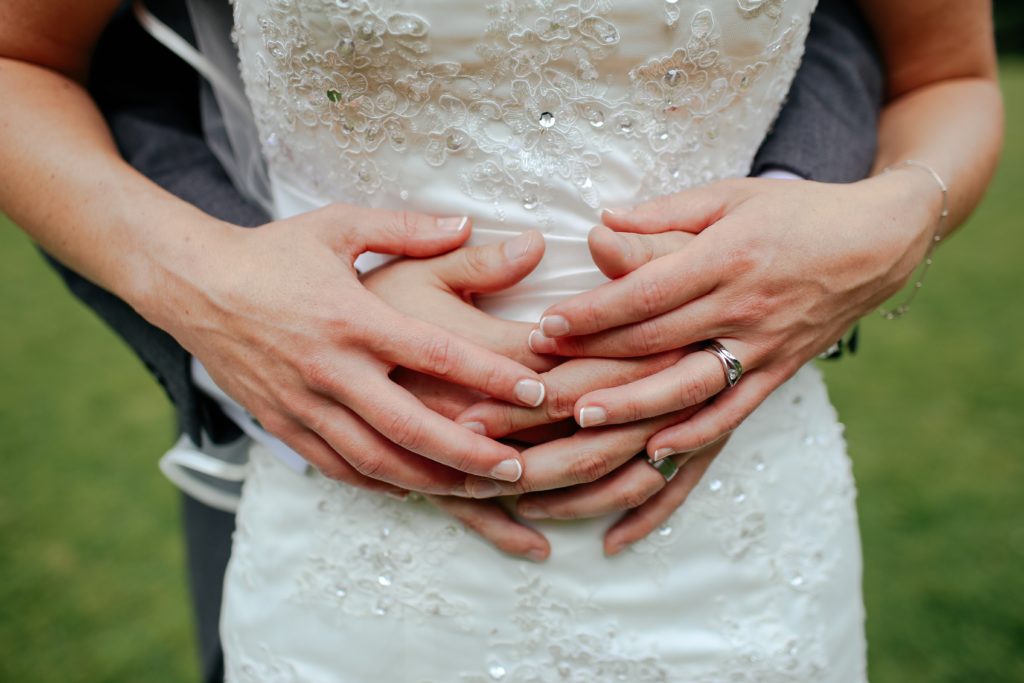 Lack Of Female Attributes
If you are very thin and tall – don't worry. The right dress will make you look feminine that day. The corset and crinoline will emphasize your waist. On the other hand, if you still have a waist and hips, but you are only very thin – you can choose a mermaid-like wedding dress that will look spectacular on you.
Chubby Brides
If you have "some extra pounds", you can try to lose some weight before the wedding. If this is not the case or you simply love your curves, just avoid satin on the parts of the dress that are attached to the body. Do not compress your chest and arms with tight designed wedding dresses. That will only highlight your imperfections. Be proud and confident and everything will be great. Invest in makeup and hairstyle. However, keep in mind: lifted hair or too much gel and hairspray will make you look chubby even more.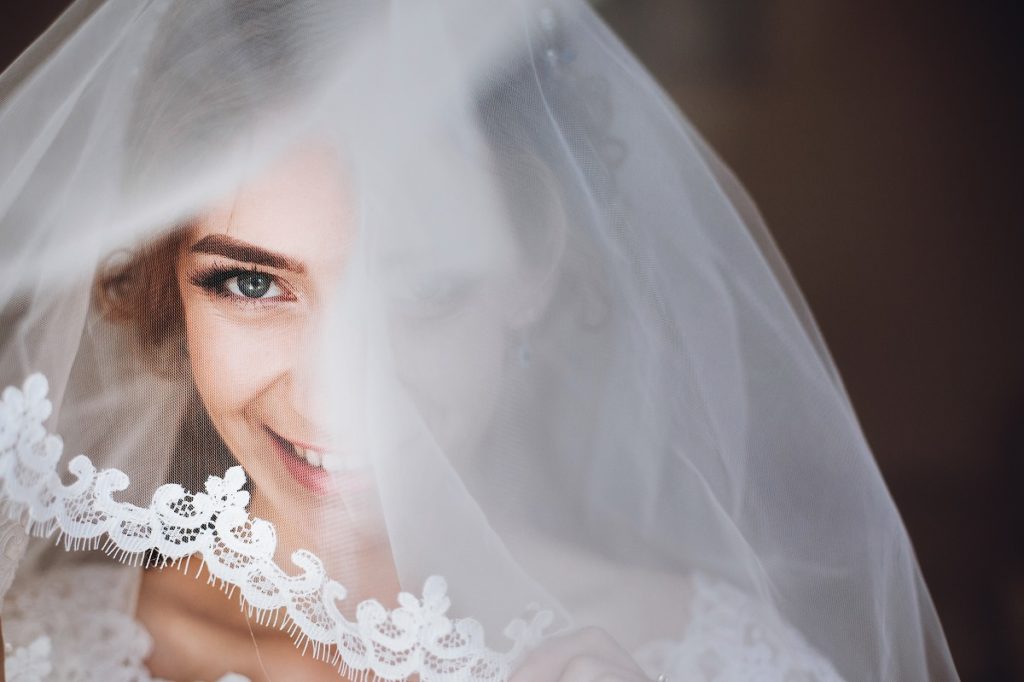 How To Find The Right Dress?
Once you have found yourself by the body-type, you need to choose a wedding dress. Every woman, regardless of her age, wants to be the most beautiful during that special day. And for that purpose, a special wedding gown is required. According to Cathytelle wedding dresses, women like to browse the collections in a search for a wedding dress that will fit them perfectly. But what kind of wedding dress to choose and what will be trending in the next 2023?
1. That 70s Style
The 70's nightclub scene has had a major impact on some of the latest trends in wedding dress design. Dresses decorated with sequins, and beautiful, shimmering, unusual fabrics are just some of the disco elements we noticed on the runways.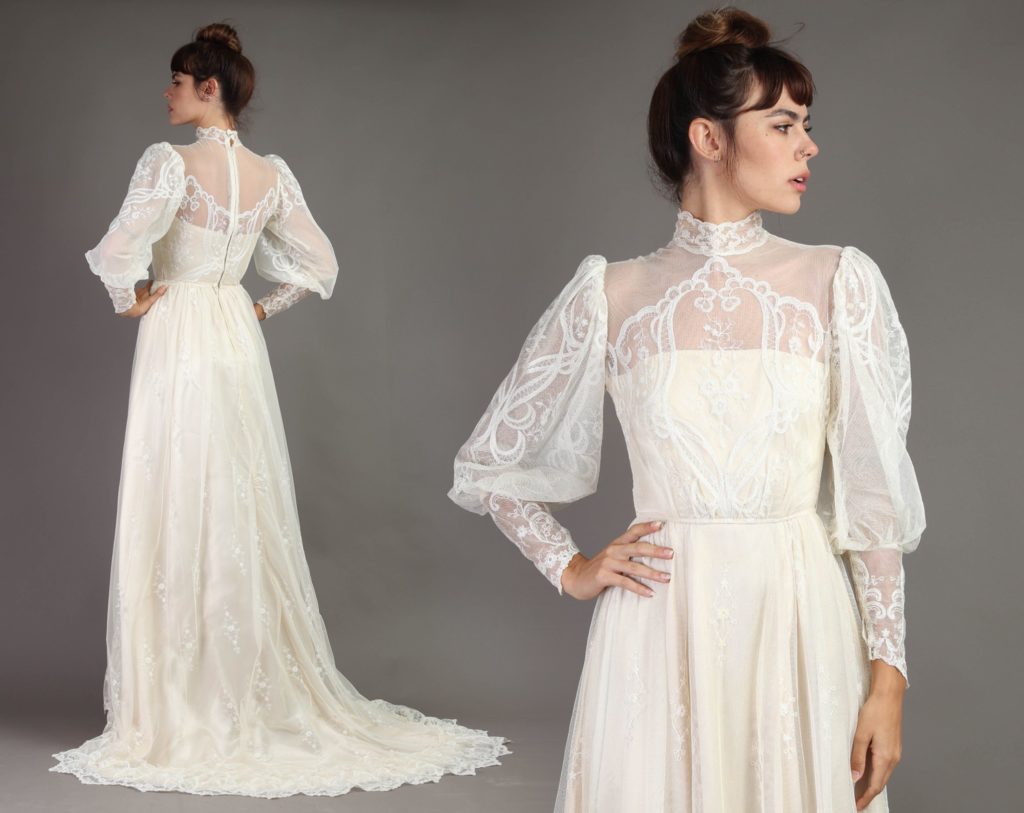 2. Matelassé Style
If you are a fan of lace, you will surely love the idea of choosing a fabric that we have spotted in several collections. Meet matelassé, not so widely popular but extremely chic cotton fabric of high gloss and smoothness. It is stitched with a specific technique that gives the fabric an authentic look. Similar to damask or jacquard material with fine threads. Matelassé, it is perfect if you want to achieve a romantic look. Wedding dresses made of this material are the right choice for brides with sophisticated style.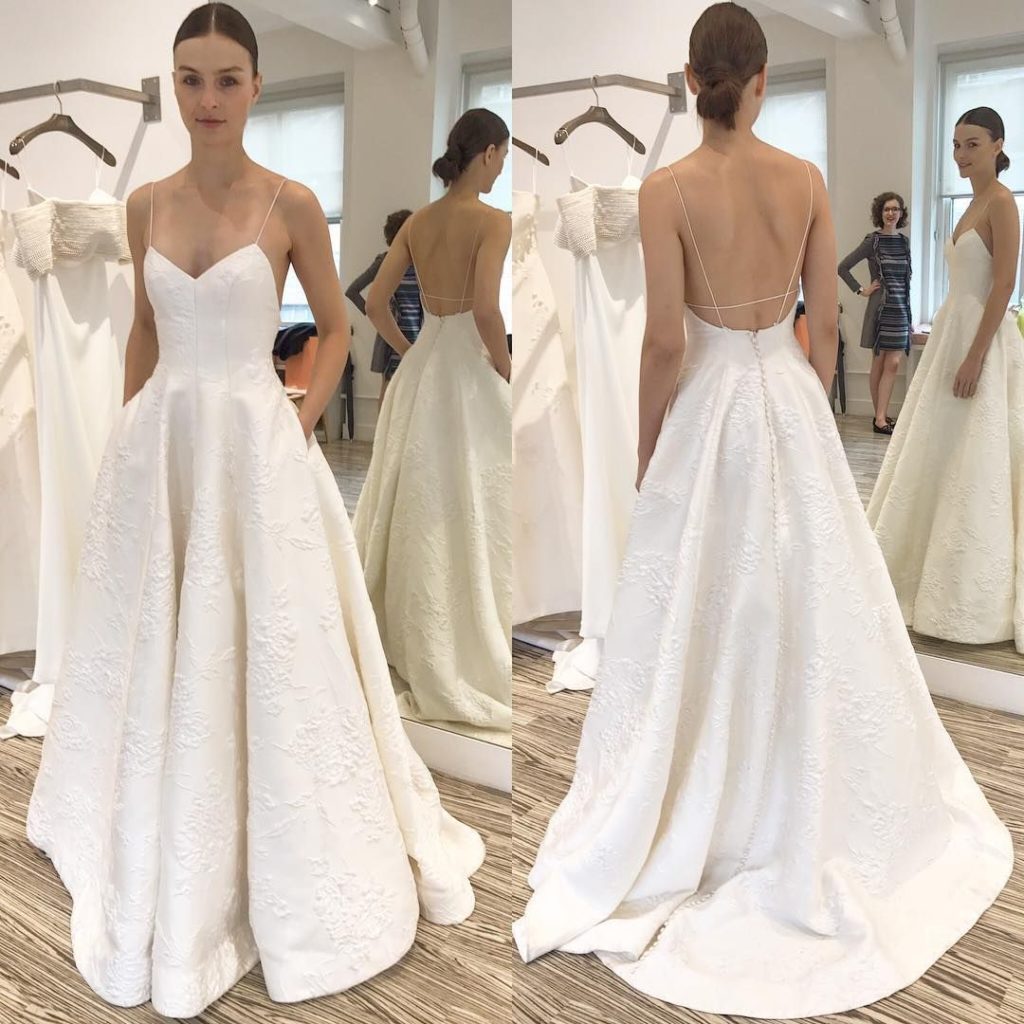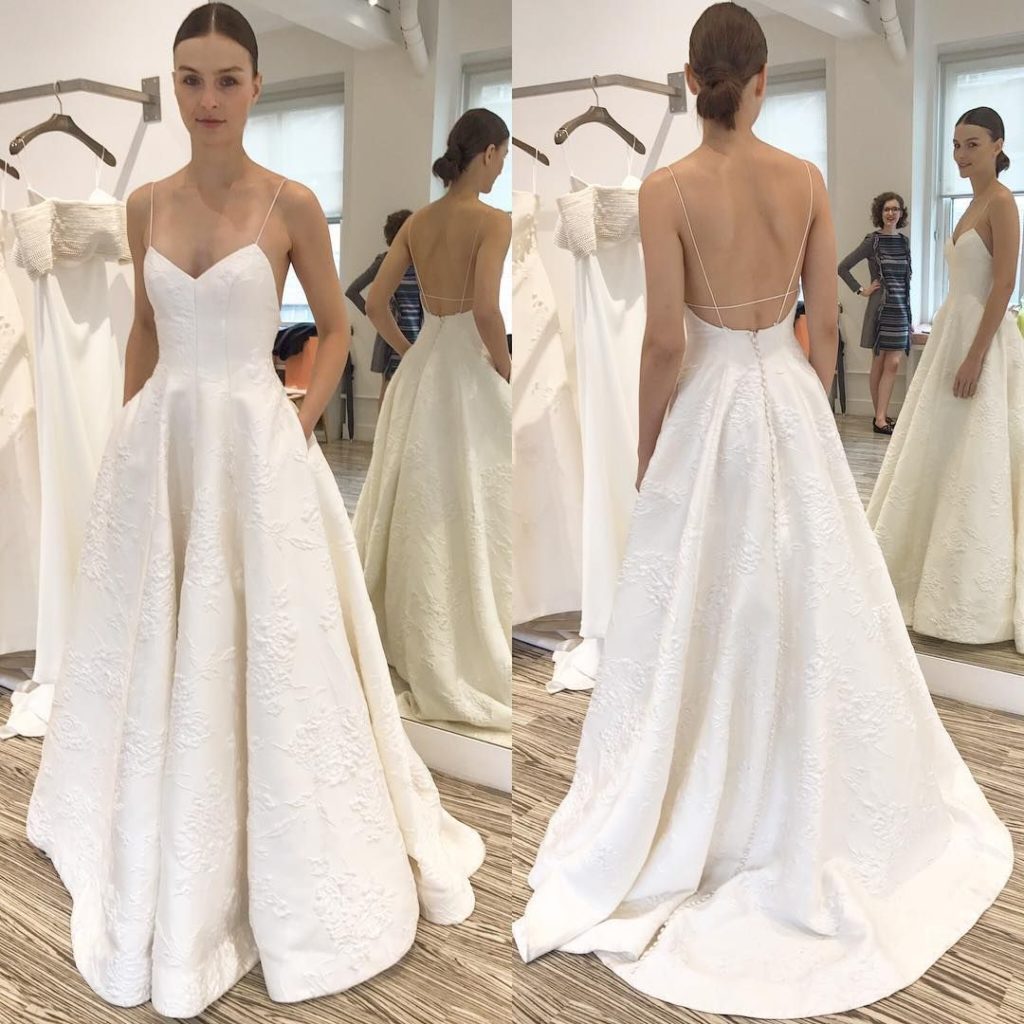 3. Wedding Shorts Or White Suit
The unusual blend of white shorts made of sophisticated material or pants and blazers, transparent long dresses with high slits that cover the shorts are a true refreshment in this fashion theme and a great choice for bold young women who prefer an eccentric look.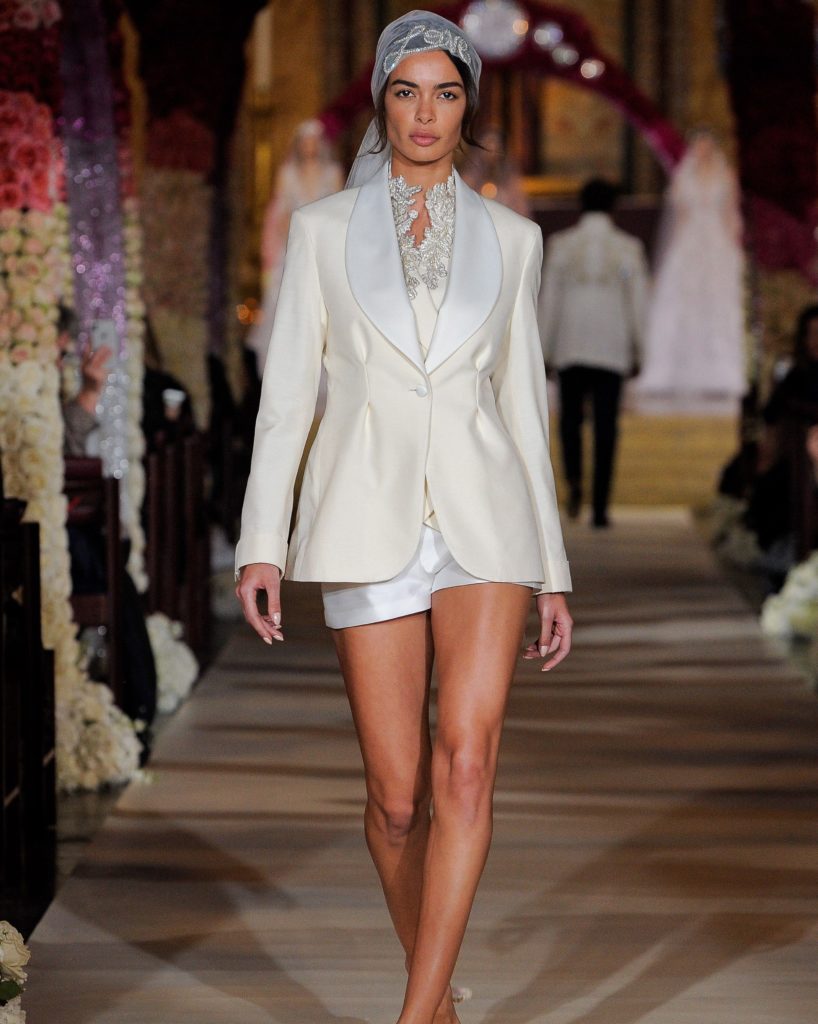 4. Shakespeare's Chic
The recent collections have seen a great influence of the Elizabethan era. Gloves, high cutouts, quirky corsets, lots of lace and lots of details all resulted in a style we call Shakespeare's chic. Like Shakespeare's masterpieces, these wedding dresses have a timeless character.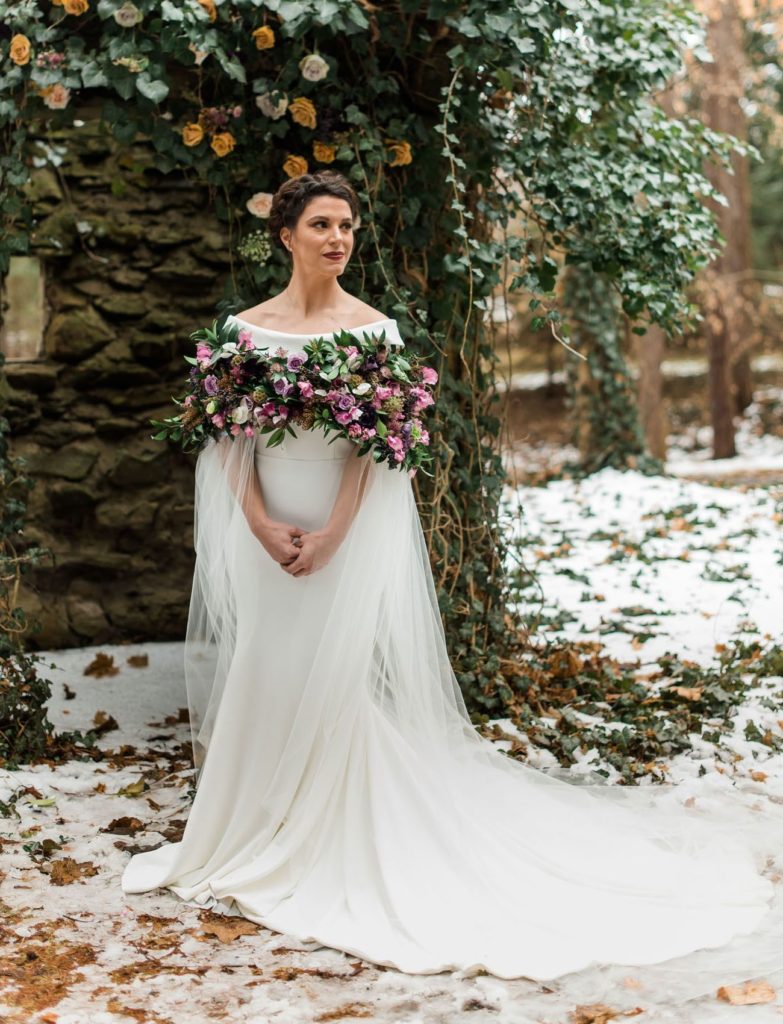 5. Minimalism By Megan Markle
Megan Markle's reduced style seemed to encourage designers to draw inspiration from this unobtrusive design. Structured cuts without any details are highlighted in numerous collections of famous fashion designers. This model of wedding dress is the perfect choice for all future brides whose motto is "less is more" and "beauty is in simplicity".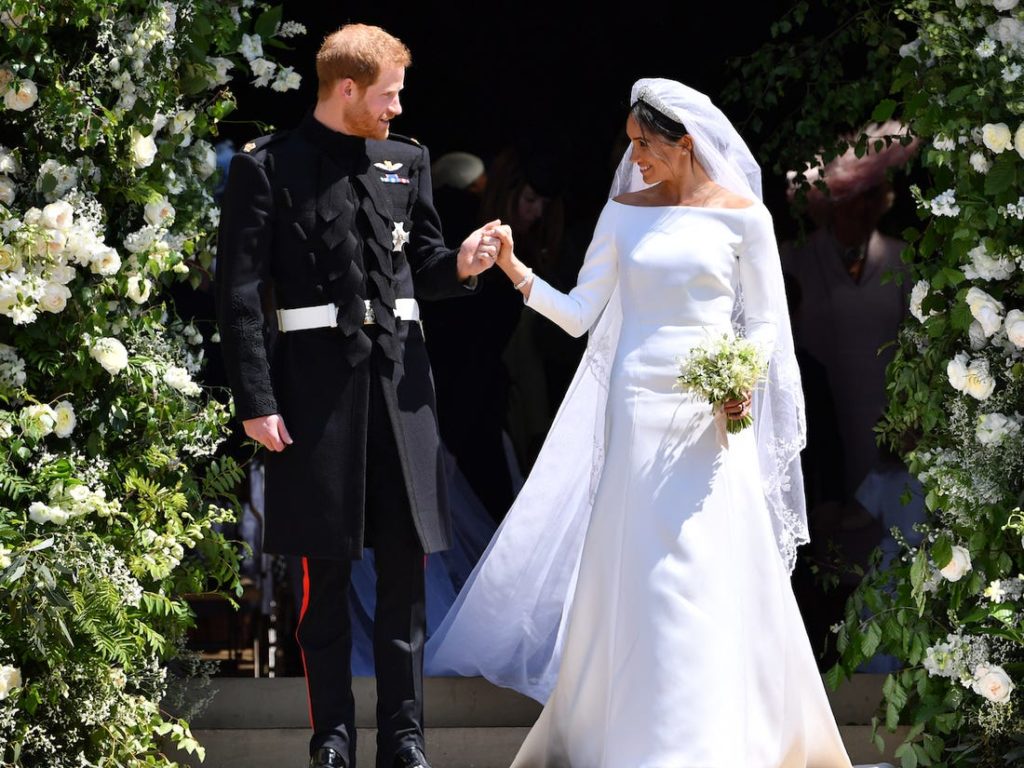 6. Feathers
Romance and glam – 2 in1? The feathers are there to display a blend of this maximally feminine and gentle sensibility. Some of the most famous wedding dress designers have opted for feathers as favourites in their latest collections.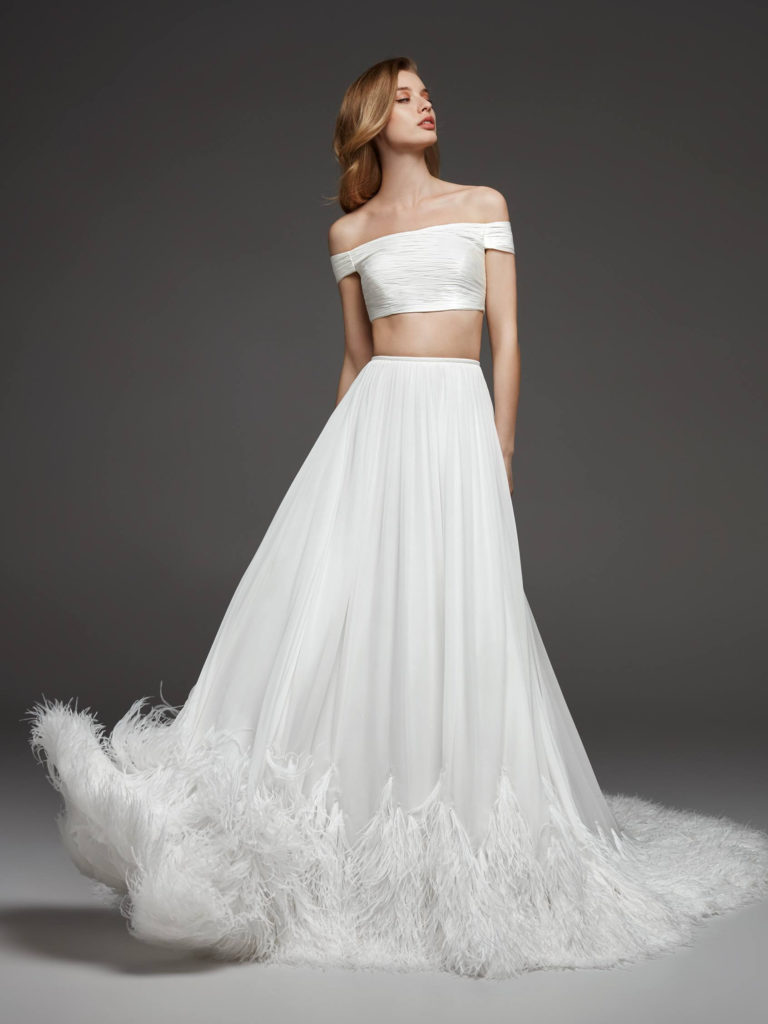 7. Accumulated Details
Voluminized clothing pieces have long been considered to be flattering when it comes to any outfit other than a skirt. However, few designers have managed to convince us otherwise this season. If you want instant effectiveness, a wedding dress that sticks out from standard models – lookout for some of the new designs by renowned fashion designers.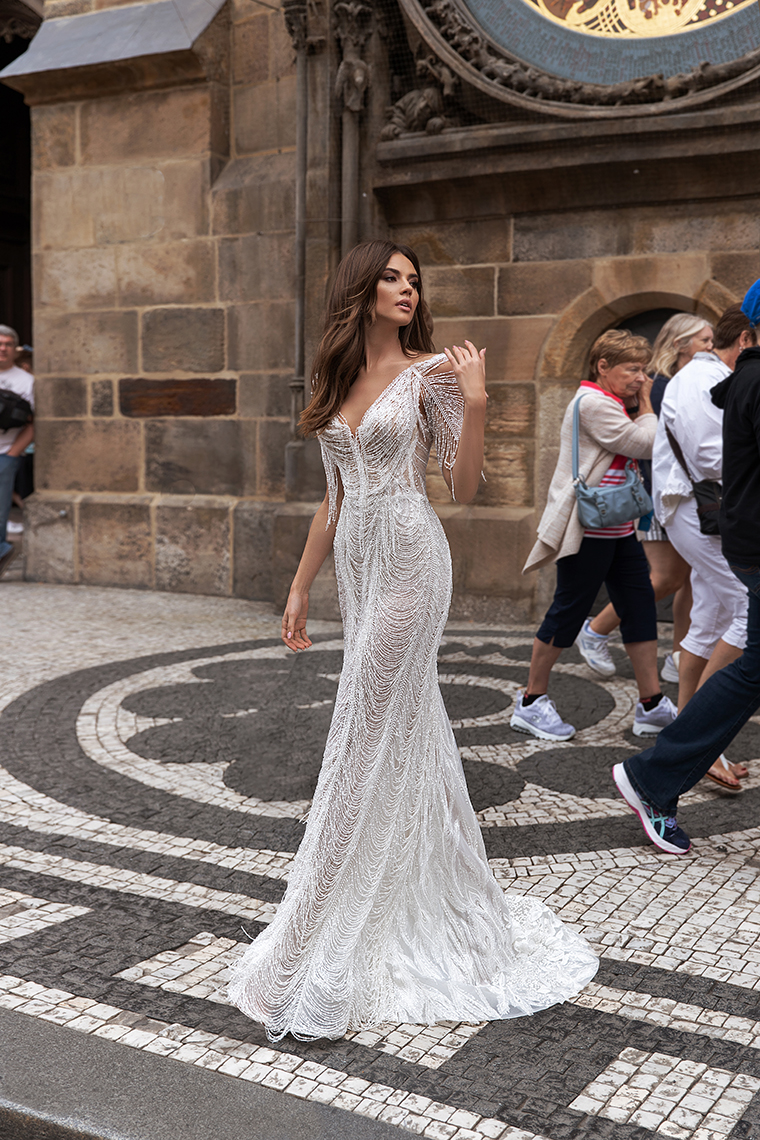 8. Deconstructed Skirt
We all remember one of the most striking wedding dress portrayed in modern pop culture, the one that the delightful Stephanie Seymour wears in the Guns'n'Roses video. The effectiveness of this wedding dress is, in a word, powerful. However, if you think that the front is a little too short, but you liked the model, this season the designers have found a solution for this. The front may be shorter, but not too short – and in every form, it looks completely sensational.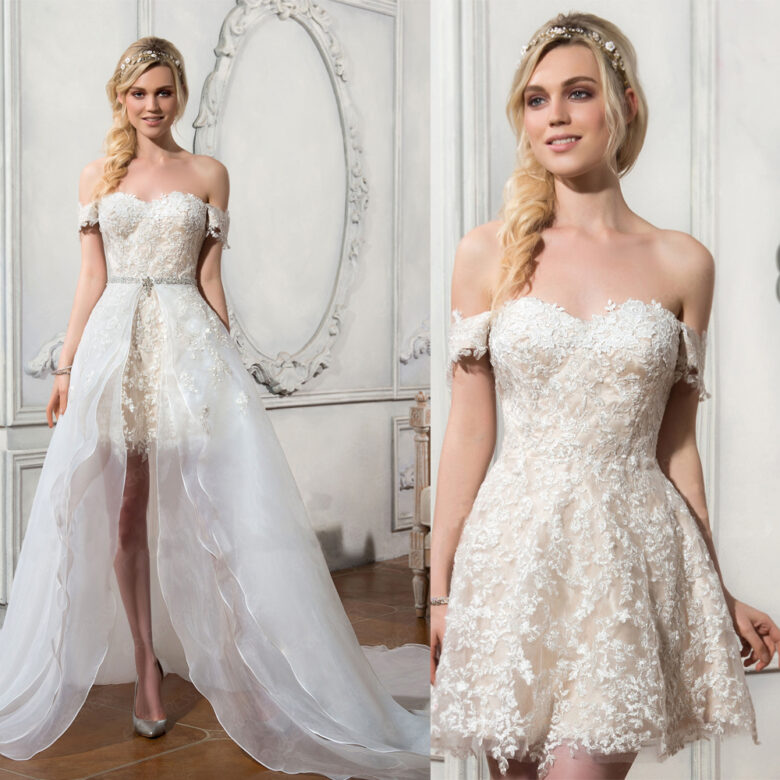 9. The Cloak Effect
Unless you are one of those brides who prefer traditional pieces, a cloak or a coat instead of a veil is the ideal detail. It will spice up your outfit in a modern way for that special day, and if there is something special about the outfits this season, then this is lace or tulle.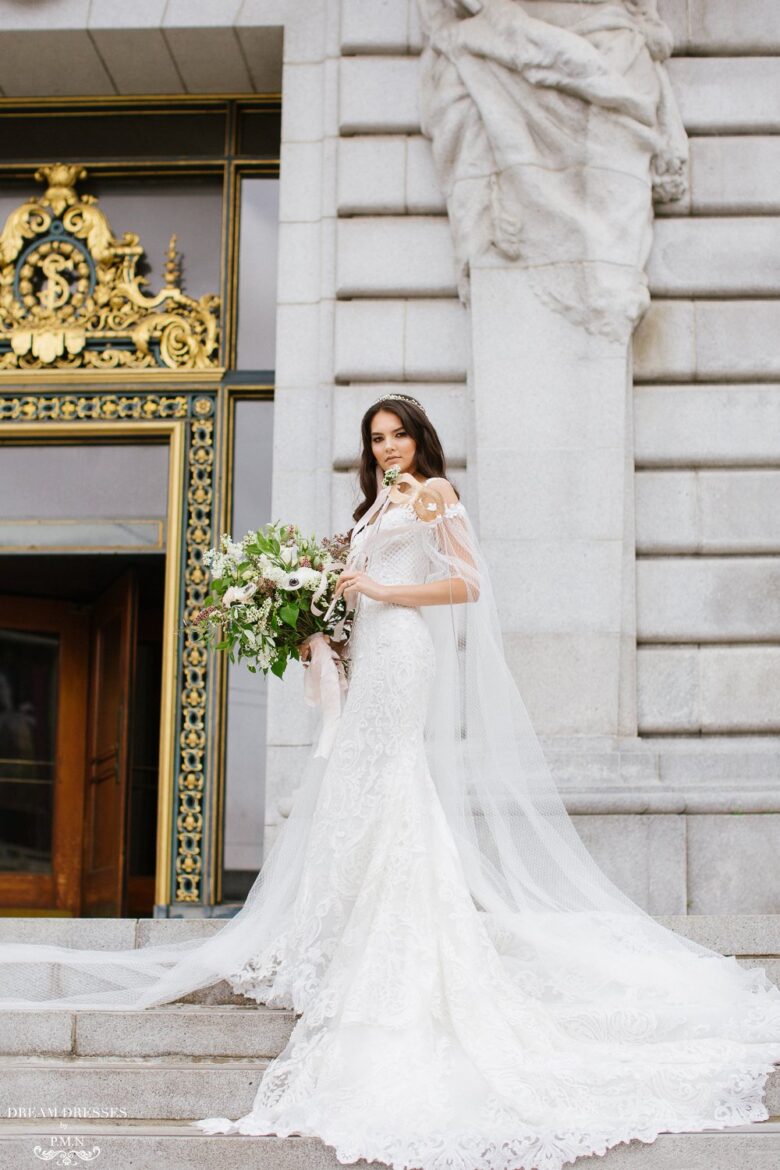 10. Costumes With Bridal Train
When it comes to the non-traditional, or more precisely, the presentation of new forms, one of the most striking is the costume in the form of a top and pants. The detail that takes this outfit to a new level is the bridal train. Skip the veil and dress and shine in a piece that will be talked about long after the wedding.