Choosing a wedding suit for the groom is no less a responsible task than choosing a bride's dress. Of course, we must not forget the accessory that the groom should have during this most important day. Moreover, these accessories have to match the groom's suit. With all kinds of clothing for men, this is also a difficult choice. However, if you take into account all the fashion trends and understand the rules for choosing clothes a little better, then the groom will look irresistible. Therefore, take a look at our 5 tips for choosing the right groom accessories.
Fashion Rules For Him
The world of men's wedding fashion is an interesting combination of timeless classics and fashion trends. Regardless of whether the groom's final choice will be a darker or lighter suit, a trendy jacket with motifs, or a tie in color – when choosing wedding clothes it is important to consider the inevitable rules.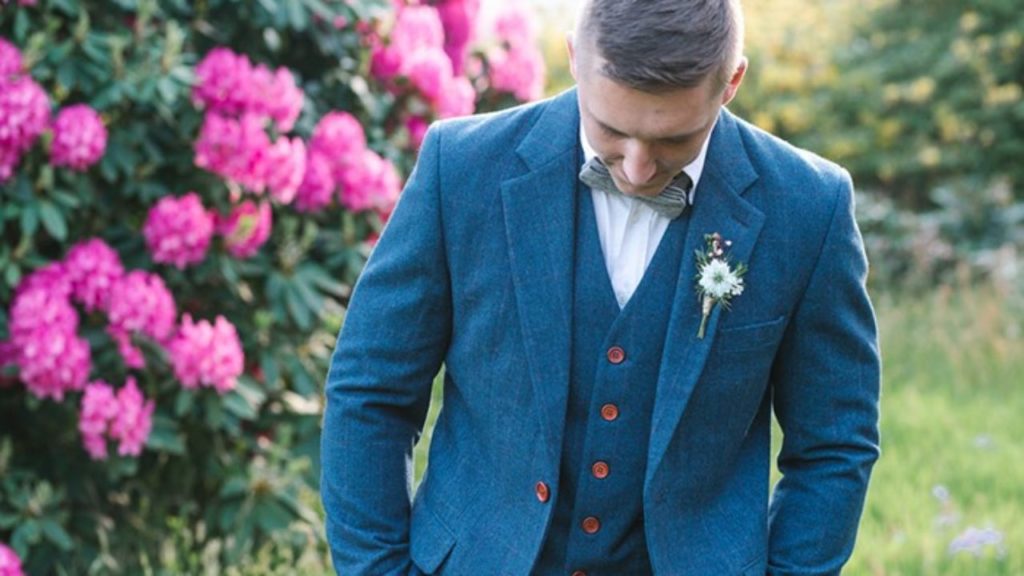 The Suit Must Match The Type Of The Wedding
While many will say that a suit is just a suit – it is important to point out that the groom's look must include much more than that. Its appearance must be consistent with the type of wedding. So if the wedding is a day type or outdoors, the look can also be less formal and can include bright colors. For classic, evening weddings, the right choice is a dark suit, a perfect cut, or a tuxedo. The bow tie contributes to elegance. For very formal weddings, choose only a tuxedo and a white bow tie.
The Appearance Of The Groom Must Must Match The Bride's Look
Your wedding is an opportunity for the two of you to show off as a couple in full force and beauty – so harmonize your fashion choices. Therefore, if the bride's choice of wedding dresses is a lavish ball gown – the groom will certainly not choose a light linen suit. The classic black with a perfect cut is the best choice. A well-tailored dark suit goes perfectly with a wedding dress with an antique lace motif, while with simple chic wedding dresses, a gray suit with a narrow cut is the number one choice.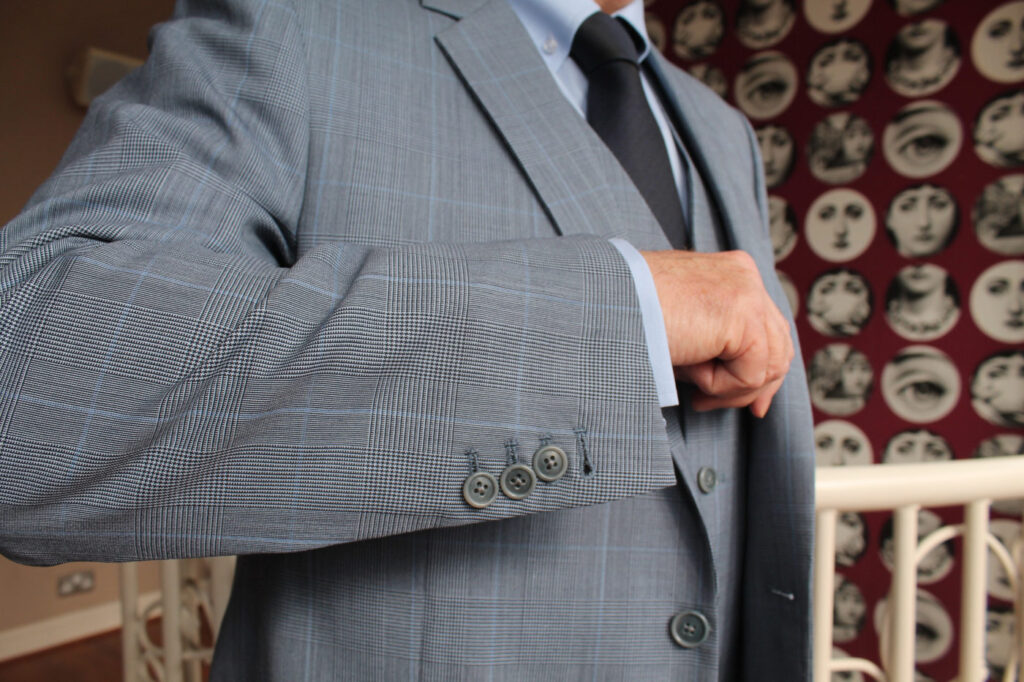 Your Body Shape Dictates The Choice Of Suit Model
This rule is often ignored. If the groom is tall and slender, most suits will fit him perfectly. Playing with a vest, tie, or a bow tie – is an addition to a well-chosen suit. If it is necessary to visually thin the figure – narrow models are not recommended. Dark colors also help. For men of shorter build, jackets with two or three buttons will suit well to visually lengthen the figure.
The Suit Must Be Perfect In Every Inch
And the most expensive suit will not look good if it is not in a perfect relationship with the body. This includes a suitable size that allows full mobility, perfect length of legs matched to the shoes, fine waistline, etc. It is also important that the pants fit nicely at the back, that there is a nice drop of socks, appropriate sleeve length, and lapel size, that the collar is well-tailored – and that everything is combined with a suitable shirt, a tie, or bow tie.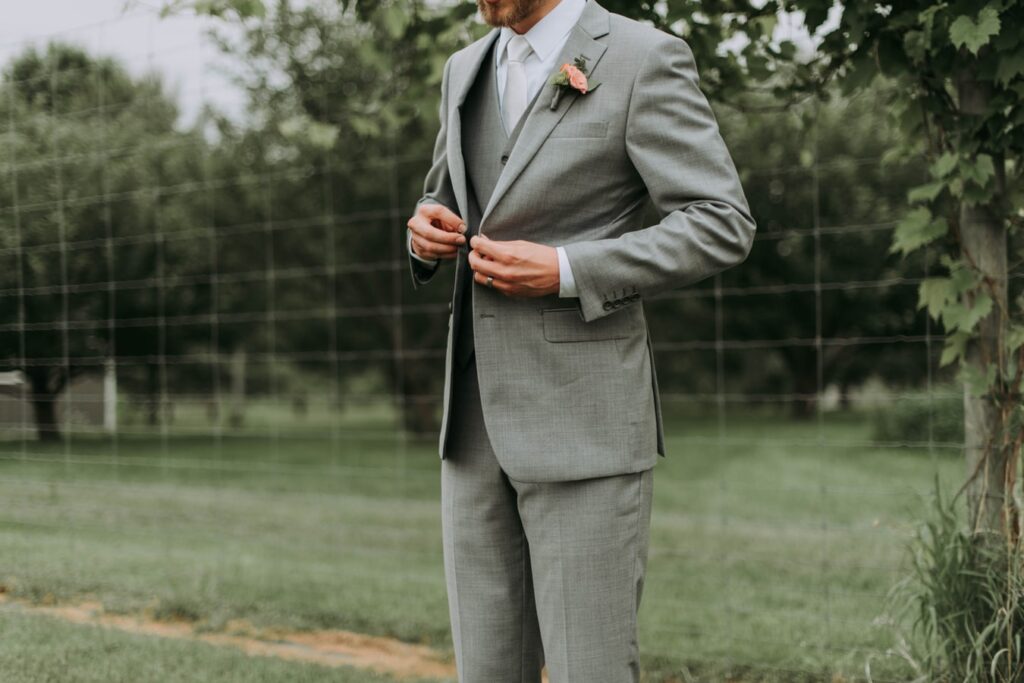 Details Are Part Of Personality – Choose Them Carefully
Last but not least, you need to know how to choose the details – and match them to the overall look. Cufflinks, a handkerchief, a tie, a bow tie, a vest, socks, shoes, a watch, a belt, jewelry – everything is important. Choose them with style – and here are some of our tips when it comes to men's wedding accessories.
1. A Tie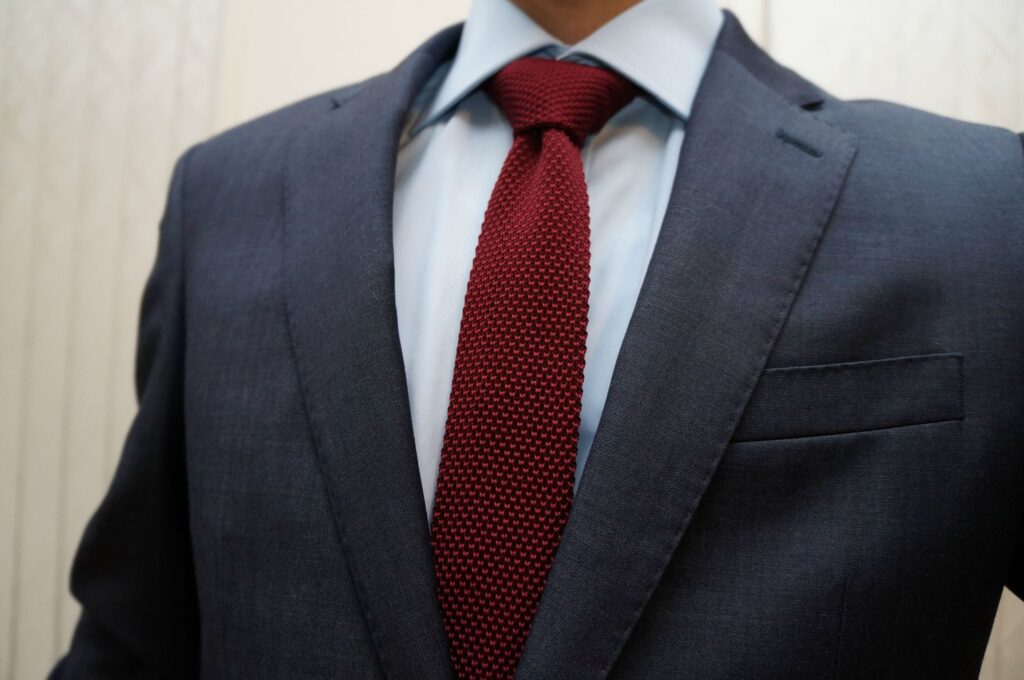 Men most often choose a tie according to the colors at the wedding – or the colors that the bride wears with the white wedding dress. Very often it is the brides who choose the tie for the groom. Once you made your choice of a suit – make an effort about choosing the tie as well. There are a lot of them – but we know that it won't be a problem for you to choose one. You can even consider a white tie. You never wear a white tie, so your wedding will be the day you will put it on. If you want another color – choose the one that will suit your belt, shoes, etc. After choosing the color, look for a tie made of top-quality material. It's the biggest day in your life – so don't wear the plain cotton one that you choose for work every day. Let the tie be made of silk or similar material. You think ties don't play a big role – but everyone notices them. The suit is classic – so the tie should be festive and special.
2. Tie And Lapel Pins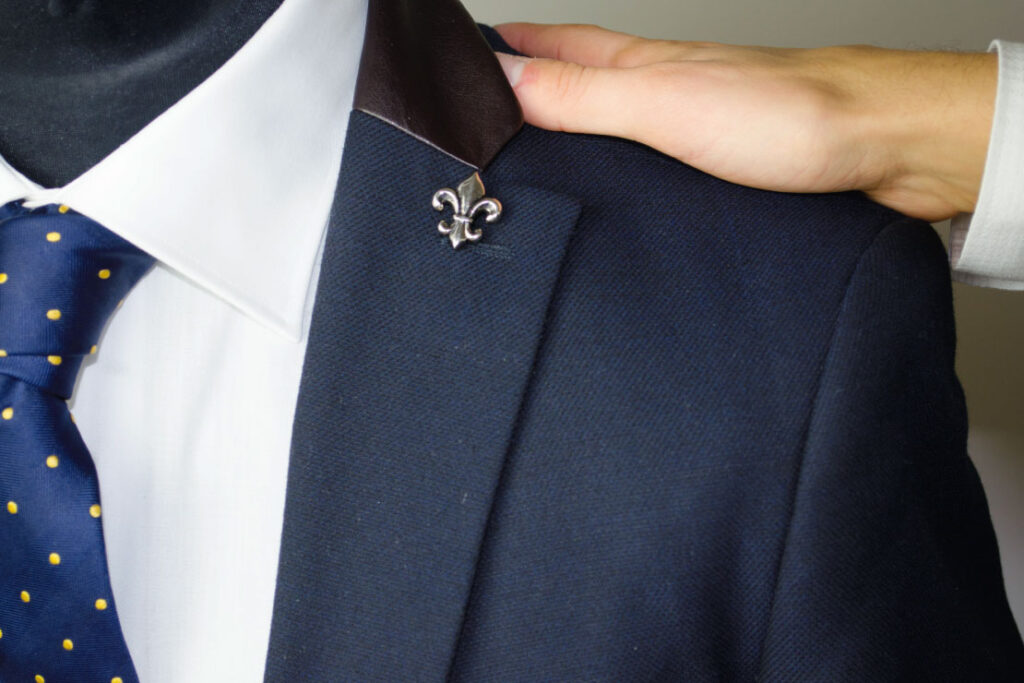 You will look beautiful in a well-tailored men's suit – but details such as the tie or lapel pins mean a lot. These are small buttons that fasten a tie or lapels, to make you look refined, elegant, and – above all, neat. These pins are primarily functional because they prevent scrolling – but also add stylish detail to your standard look. What is good – is that you can find affordable wedding lapel pins in different colors but also shapes, and if you want to know what design to choose, take a look at this website. Then you will realize that this is a detail that must be taken into account. When it comes to needle color – you can't go wrong with a silver or black needle; they look good on any tie or suit. If you want something more impressive, choose a one-color tie or suit that you will combine with the complementary color of the needle.
3. Men's Wedding Shoes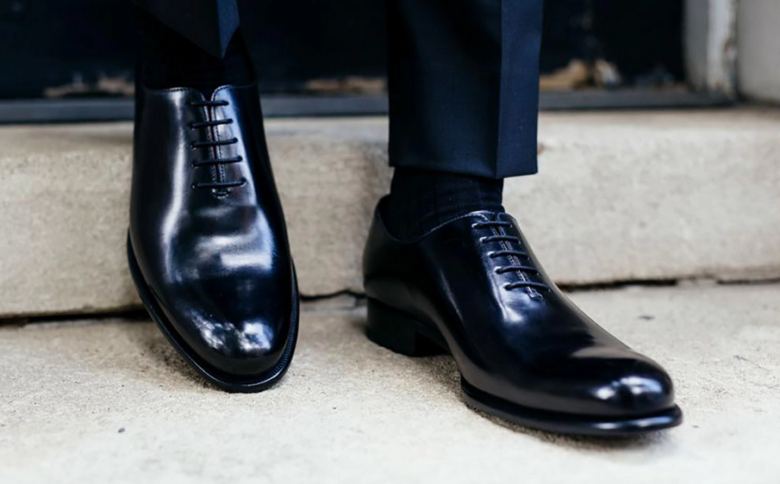 Black shoes are certainly the most common. With black you can hardly go wrong, it goes with almost any darker shade, except dark blue – and always leaves a formal impression. So if you want to be formal, simple, and elegant – choose black shoes. If you want to wear a dark blue suit, then the shoes should be medium or dark brown. Brown shoes are more appreciative when it comes to less formal combinations, so they will be great with suspenders, a T-shirt, or a jacket. With brown shoes feel free to combine the color of burgundy or dark green – they match perfectly. You don't have to be strictly subject to tradition. If you want a more relaxed and different atmosphere at your wedding – choose such a look.
4. Selecting Socks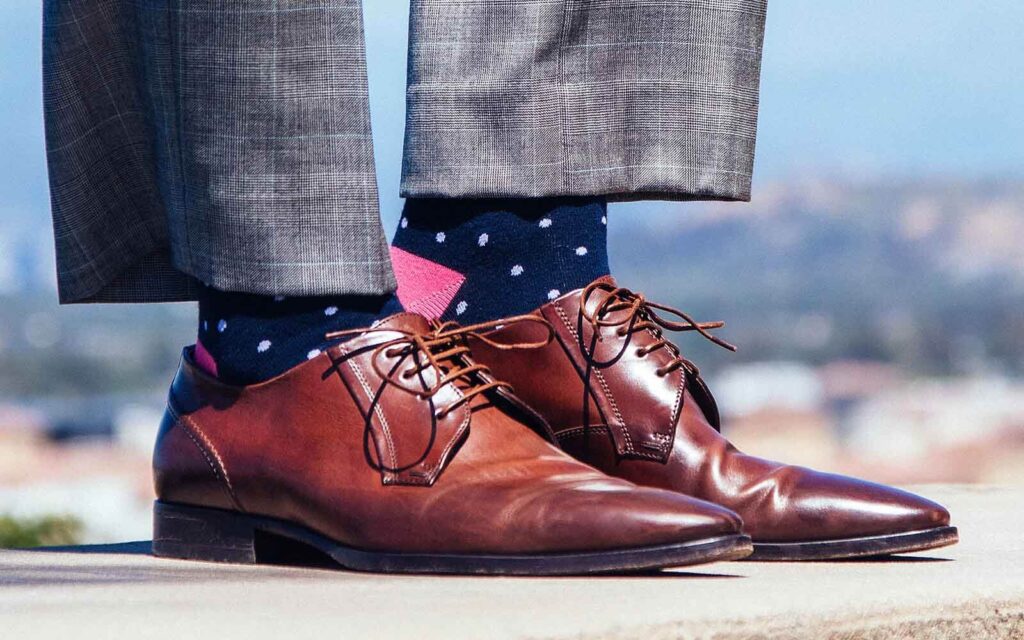 If you wear elegant shoes, you cannot wear sports socks, no matter what color they are – even if they are black. Sports socks are also bulkier than elegant socks – since they are mostly made of a heavier cotton and other materials. Also, sports socks are often ribbed, which gives an ugly contrast to elegant shoes. Instead, be sure to wear elegant socks with elegant shoes. They will fit better with your shoes because they are made of a thinner and finer material.
5. Men's Wedding Jewelry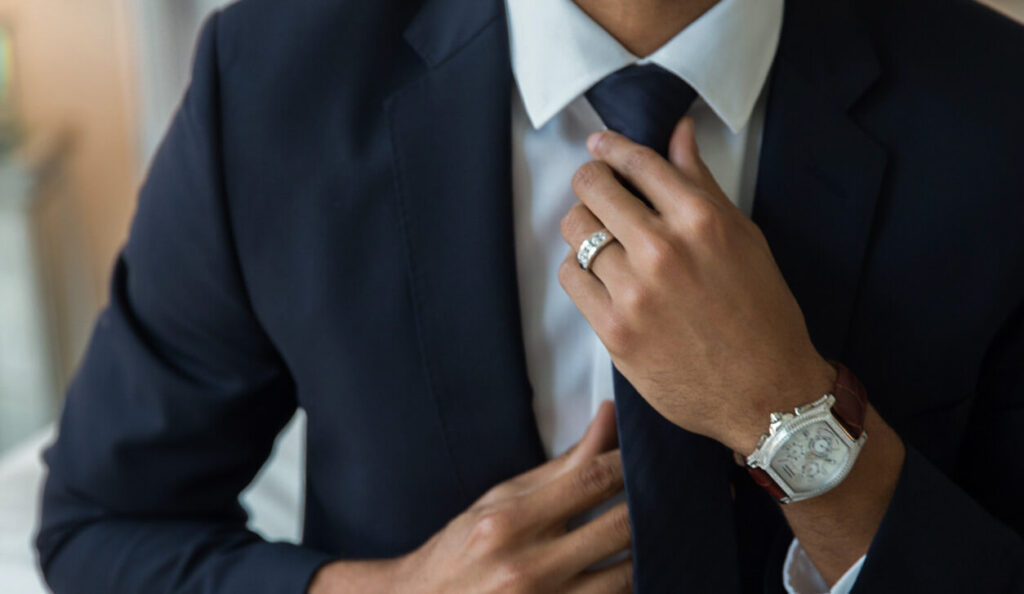 A man who has a taste and wears jewelry with moderation – can easily upgrade a classic wardrobe. The obligatory pieces of men's elegant wardrobe are a watch, cuffs, and a tie pin. Bolder ones can also add a subtle bracelet to the combination. Mixing different colors of jewelry can be very unpredictable, so we recommend sticking to one color.