Tradition is very important in some cultures when it comes to a wedding day. Given the fact that we are all different and unique in our own way, and that every culture in the world has something unique to themselves, we were interested to see what the wedding dresses look like in some parts of the world. You will be surprised to see what things a bride has to wear to her wedding day, and we have to honestly say that we are impressed by every wedding dress on our list.
Bulgaria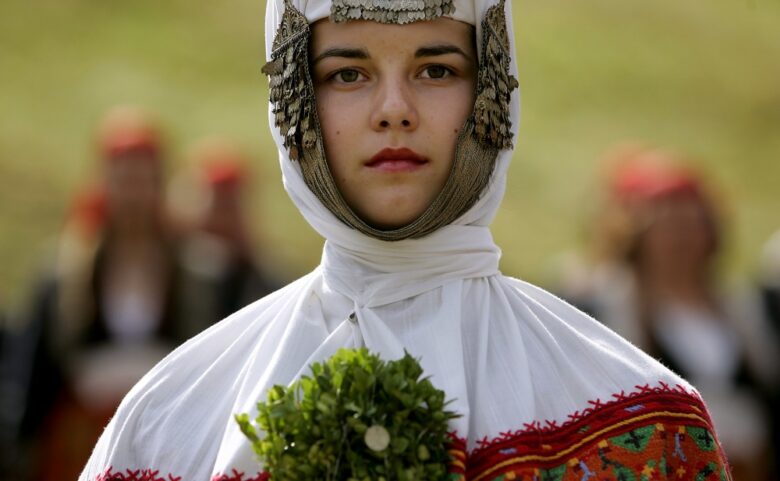 In Bulgaria, this is the traditional wedding costume that a bride wears. We especially appreciate the headpiece, and it is very unique.
Turkey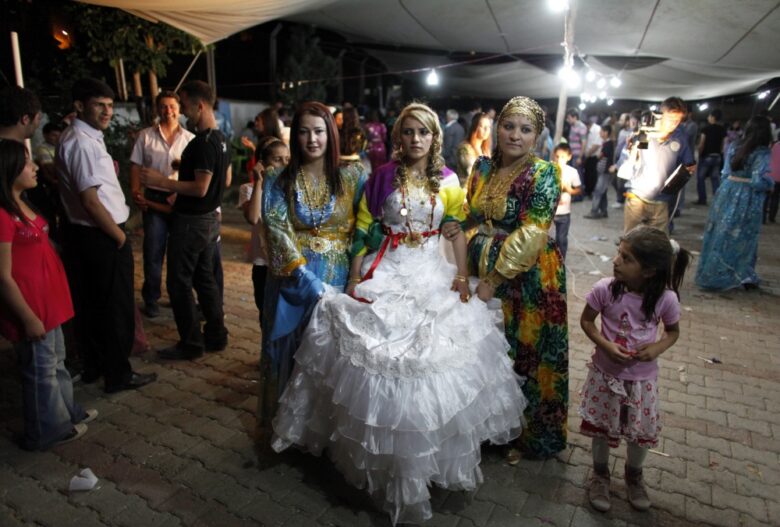 When a bride is leaving her parents' house to go and live with her future husband, a male member of her family, like a brother or an uncle have to tie a red ribbon around her waist. That is a symbol of good luck, purity, and happiness.
Sri Lanka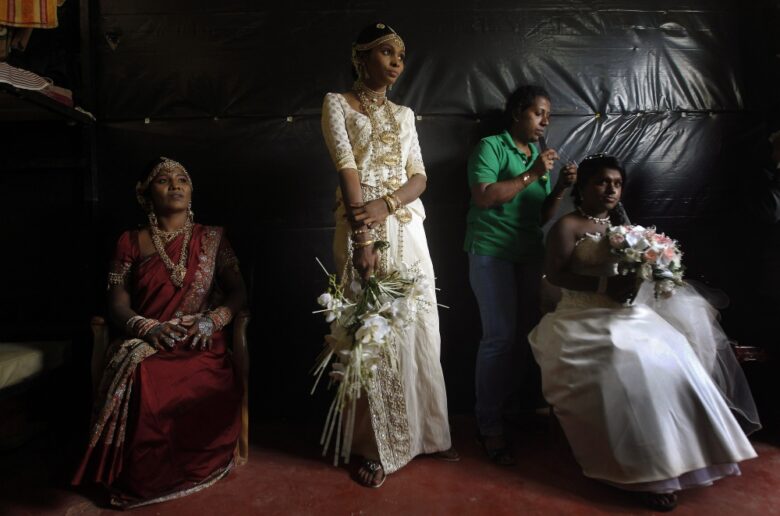 There is a combination of east and west culture. In addition to wearing silk saris and veils, a bride should wear an odd number of stones on her jewelry, because od numbers are thought of as prosperous.
Indonesia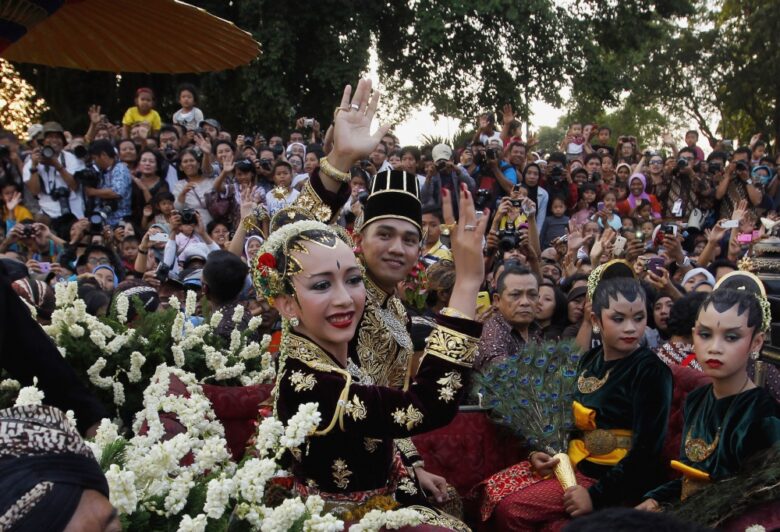 In Indonesia, every island has its own customs and tradition when it comes to wedding outfits, but usually, it is very colorful, and it has solid patterning.
Pakistan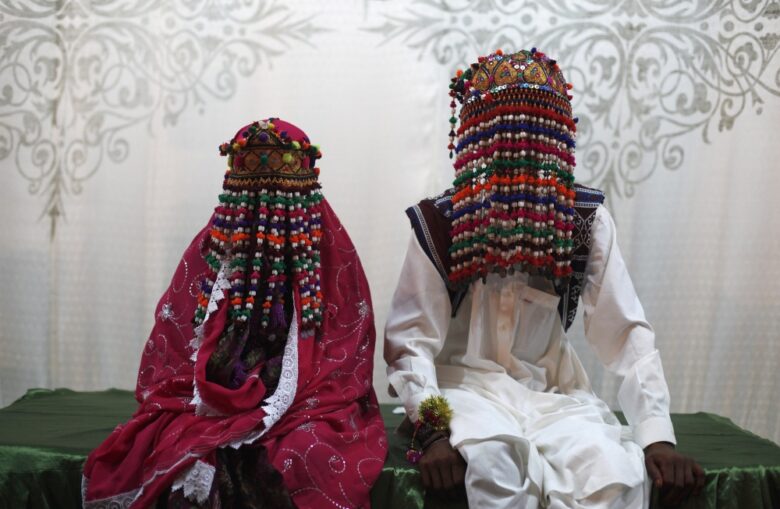 The usual colors are deep red, pink, or purple. Bride and the groom have to wear a crown that goes covers their entire face. The heads are crowned with garlands that are made of beads and cotton ribbons.
India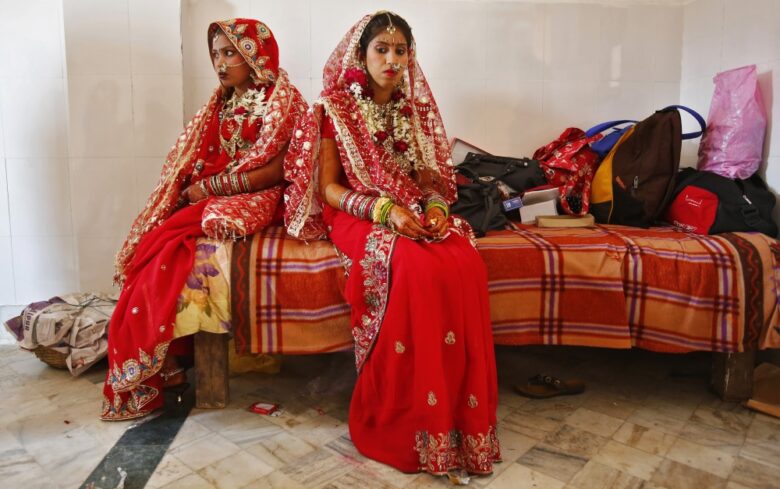 Solah Shringar is a bridal beauty tradition, and it requires the bride to wear 16 accessories and jewels. The outfits are usually in red, and they are a traditional choli outfit.
Nubia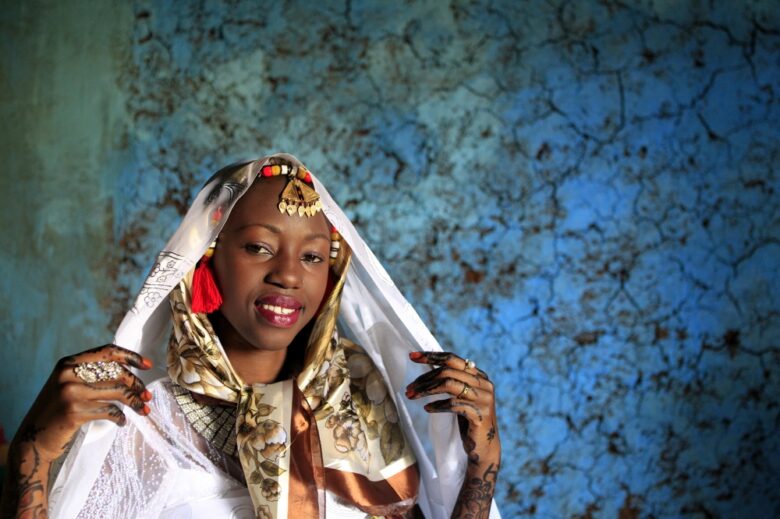 Brides have to wear headscarves, and they have to hide their faces with sheer veils. A white veil is often used to cover their hair.
Eritrea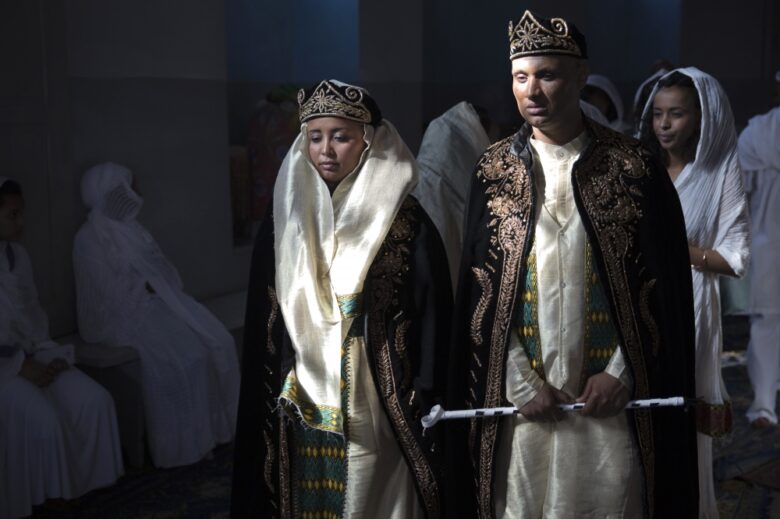 Both the bride and groom wear crowns made from dark velvet, and they wear purple dresses that have golden embroidery. Bride and groom usually wear almost the same outfit, and they have to match each other's wedding costume.
Republic of Tuva, Russia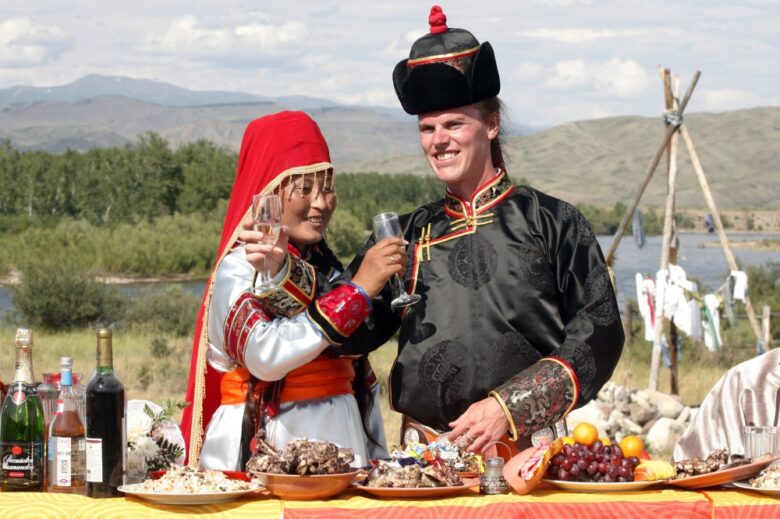 Wedding costumes are highly decorated, and they have to be comfortable in it since it is supposed to represent their nomadic lifestyle.
Tibet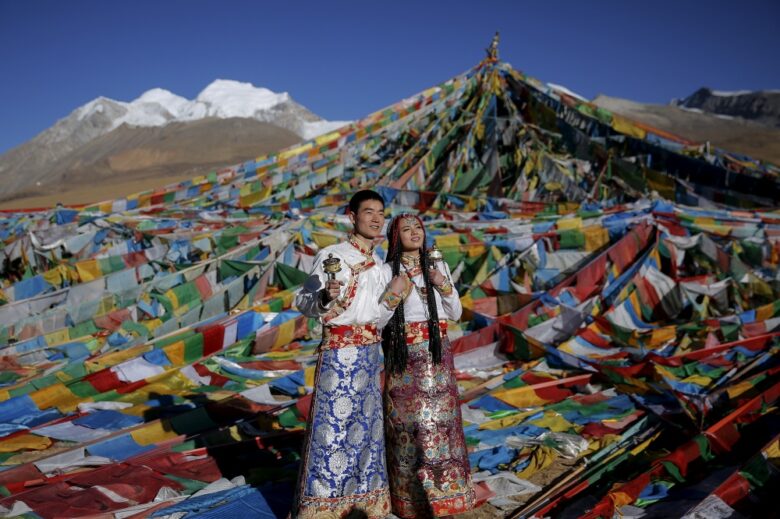 Before the wedding day, the groom gives his bride a wedding dress and accessories she is supposed to wear on their big day. A small metal Buddha amulet is always a must.
Palestine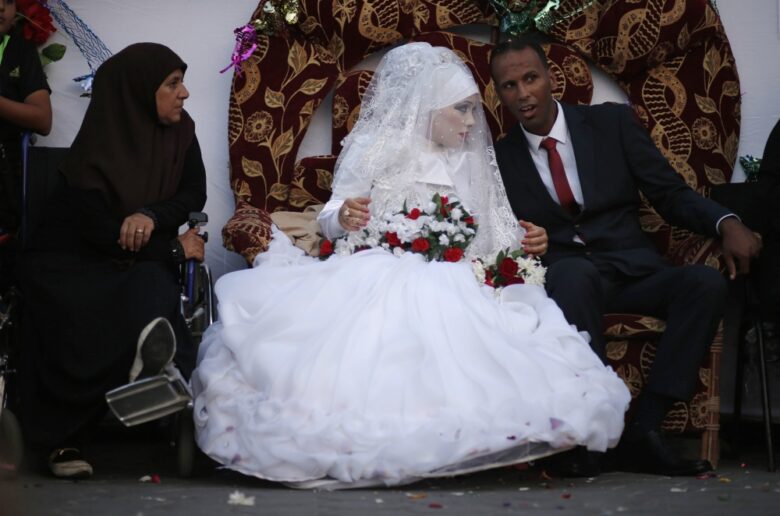 In Palestine, a bride wears a white wedding gown, but that is for the official ceremony. She also has one dress that is made by her mother that she later changes into.
Peru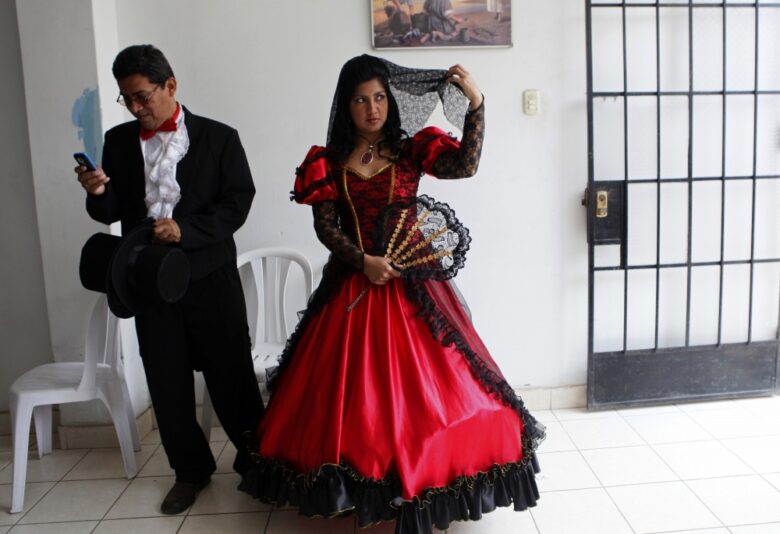 In Peru, especially in the capital city, Lima, brides wear red and black dresses.
Jordan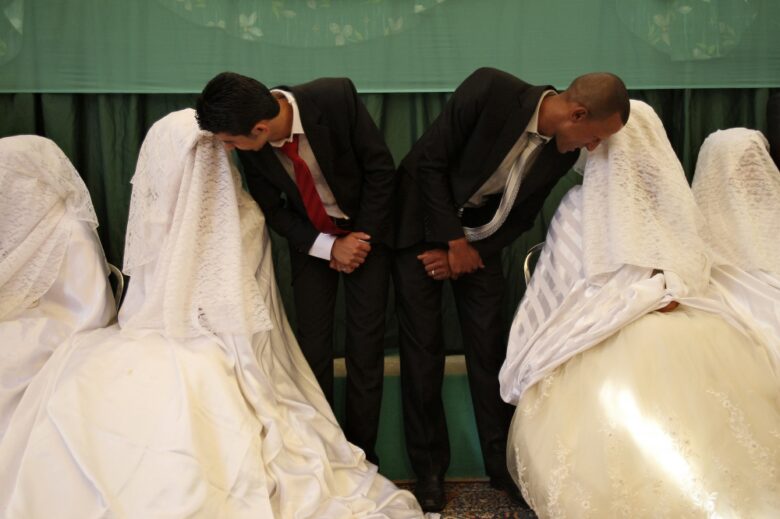 Like in Palestine, brides also wear white dresses, but the difference is that their faces are entirely covered with green material, which is a symbol of harmony, growth, and security.
Mali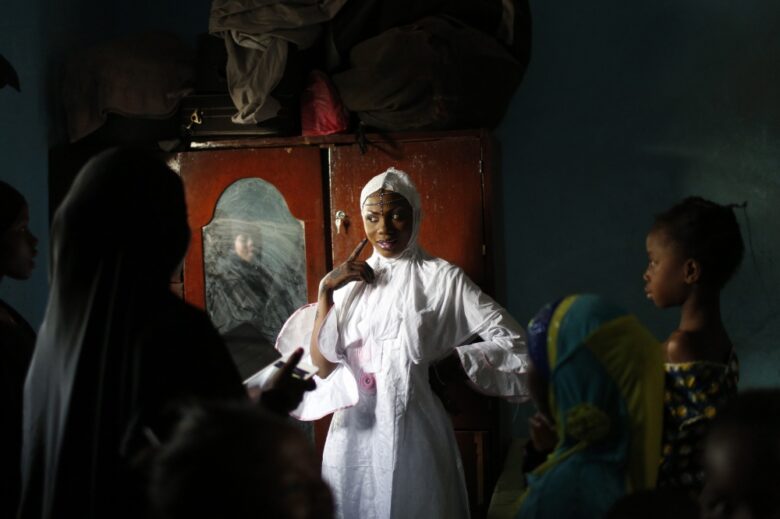 Brides wear 'kaftan' that has the matching color to dashiki. Dashiki is a loose-fitting pullover garment that a groom wears. It is usually white, but it can also be in lavender and some light shades of purple.
Korea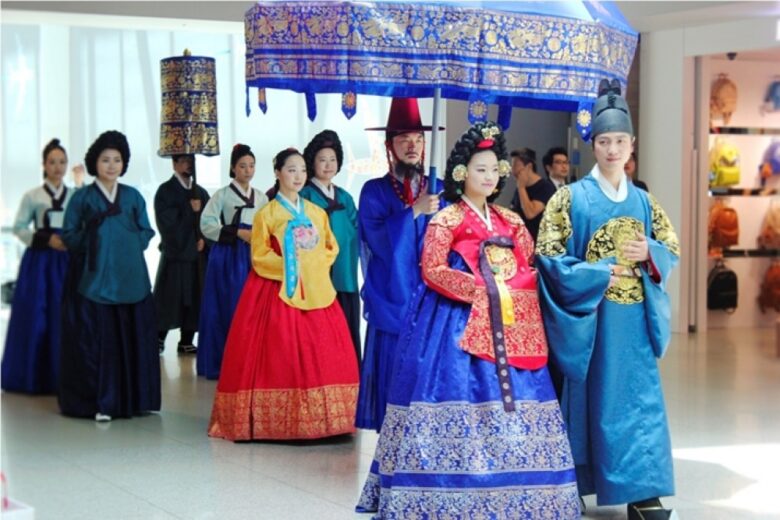 Hanbok is a traditional wedding costume for brides in South Korea, and in North Korea, they are called Joseon-ot.
Japan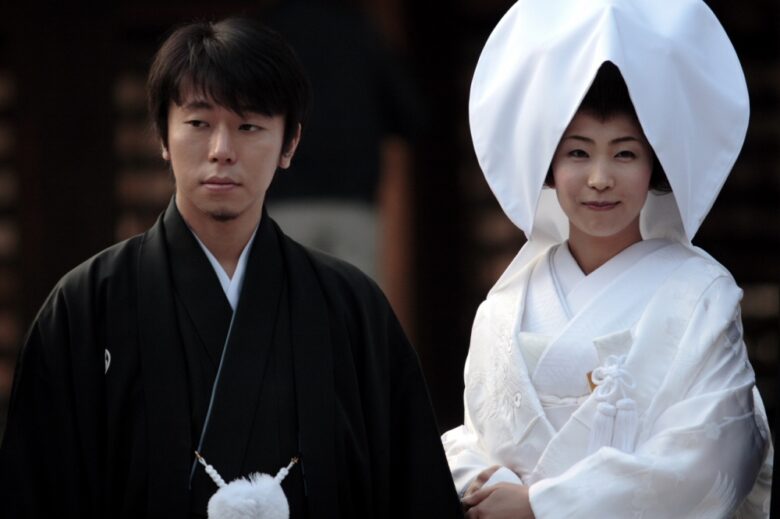 In Japan, brides wear white kimonos and a silk headpiece called Tsunokakushi, and that hides their 'horns of jealousy.'
Nigeria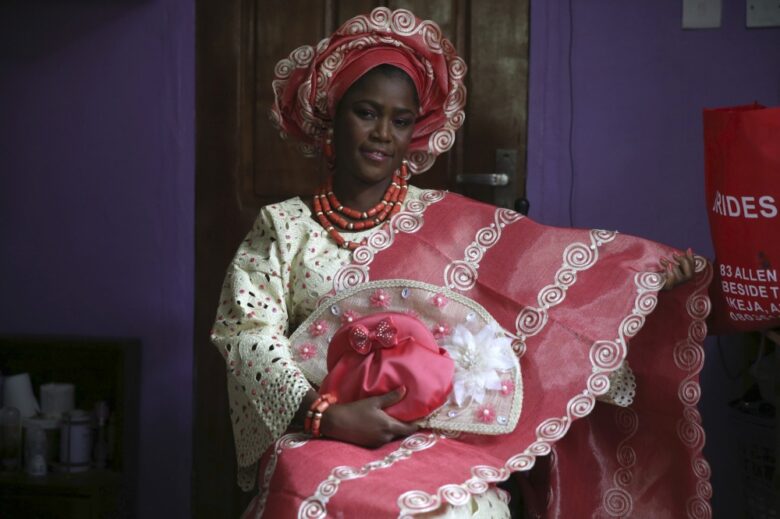 In Nigeria, brides wear lace blouses and kaftans, embellished with coral beads and a hat.
Chechnya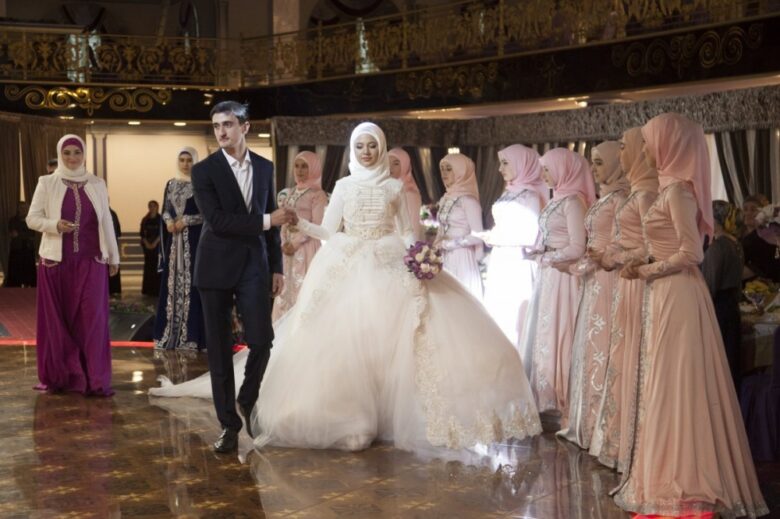 Brides wear their wedding dresses embellished with a brooch and a belt, and the dress has to cover their whole body. They also wear a white scarf all over their head.
Iraq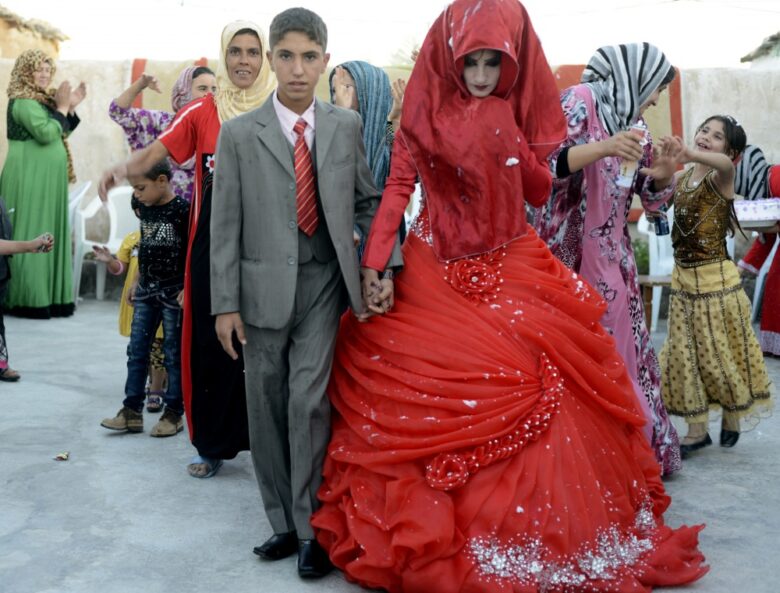 It is a tradition in Iraq or a bride to change her outfit more than six times. Red is usually the primary color, and it signifies love and romance.
Italy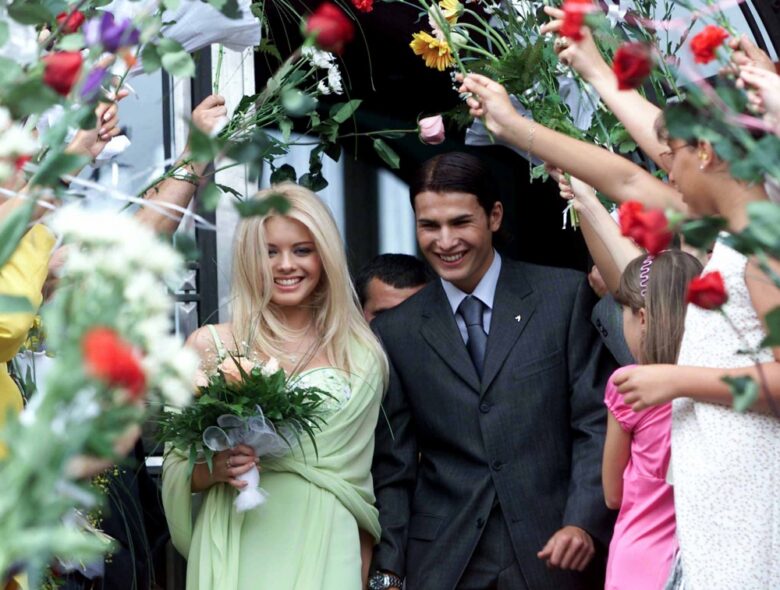 In Italy, it is believed that a green color brings you abundance and good luck, and that is why the brides usually wear outfits in this color. They also have green jewelry and accessories. Traditional white dresses are also popular, but they are typically accessorized with some green jewelry.