Preparing for a wedding and choosing a venue for the ceremony is a very big deal. Many couples want to hold the celebration locally so that family and friends can easily get around. Others plan their wedding abroad and choose unusual exotic places to remember it for a lifetime.
The most popular venues change every year, but recently the demand for such picturesque places as Italy, Greece, Cyprus, Mauritius, Seychelles, Sri Lanka, South Africa, and Bali has grown significantly.
Today we will figure out where the best place to exchange vows of eternal love is and why.
Top 4 Wedding Destinations Abroad
Bali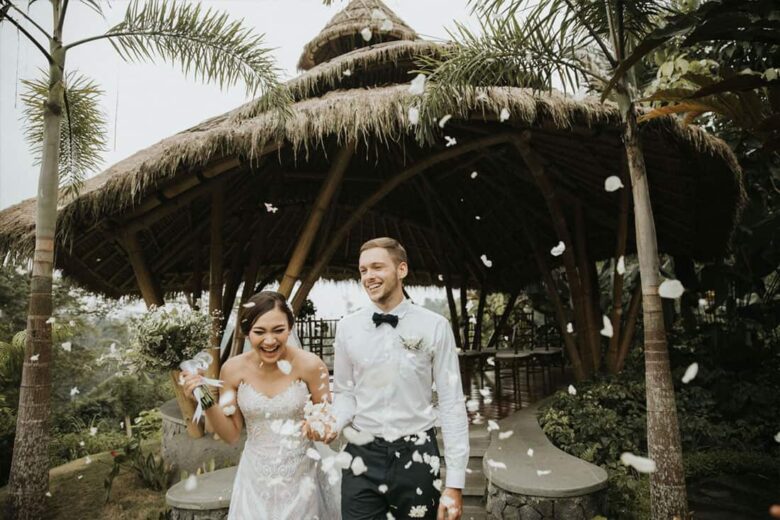 Bali is an island of eternally bright sun and an endlessly warm ocean. Even the wildest dream of holding a wedding ceremony can be realized on the island.
Bounty beaches with white sand, ancient temples of the unique culture of Bali, Catholic churches and chapels, the emerald greenery of Ubud, picturesque villages, and even the beaches of the neighboring islands of Gili or Lembongan – there are so many places for a perfect wedding!
Bali allows the newlyweds not only to celebrate their wedding but also to officially register their marriage. However, it will take some effort.
For registration, it is necessary to prepare copies of passports, birth certificates; a legally certified document that the future spouses are not in another marriage, or a divorce certificate; a marriage consent form completed by the Indonesian government; certificate of the religious affiliation of the newlyweds; joint photo of the couple.
The official part of the wedding will be attended by a local representative of the country. After the ceremony, the spouses receive a certificate in Indonesian, which then needs to be translated and legalized – this is done at the consulate and takes from 1.5 to 3 months. And after this check, the cherished documents will be sent to the newlyweds.
All these peculiarities once again show that you need to check some tips when planning a wedding destination so as not to violate the religious and cultural boundaries of the nation of your choice.
Cost: ~ $12,000.
A wedding with a simple ceremony in a villa can cost as little as $500. A magnificent wedding with a hundred guests, luxurious floral decorations, a huge cake, and all the related services can cost more than $50,000.
A "golden mean" wedding in a 4-star hotel with 20-30 guests, as well as a photographer and a good dinner, will cost an average of $7,000 – $12,000.
Cyprus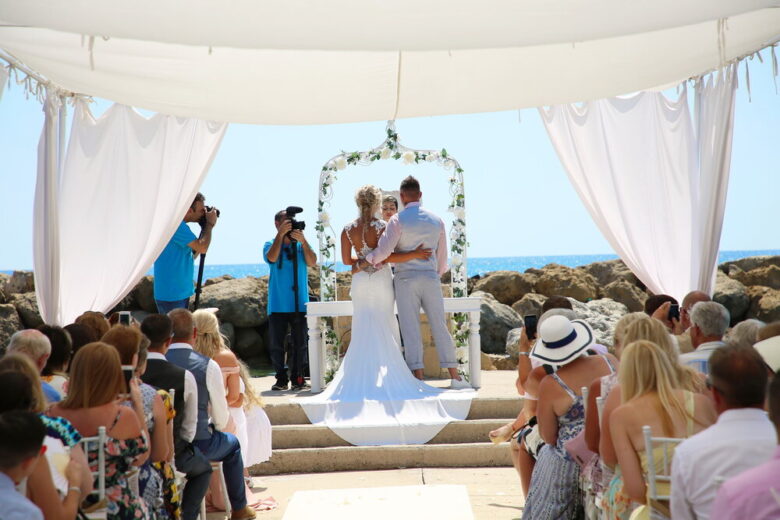 This island is one of the most popular among honeymooners. In addition to the natural beauty, the romantic history of Cyprus is also attractive. According to legend, here, the goddess of love Aphrodite was born.
The marriage has legal force in Cyprus, which means that the newlyweds will have less trouble with the procedure for its legalization.
By the way, there are many Orthodox churches in Cyprus. If you are an Orthodox Christian, then you should think about the wedding ceremony.
Here you can choose the following locations for the wedding:
Limassol is the wine capital and main port. The City Hall has beautiful gardens that can be a suitable venue for a wedding ceremony.
The ancient Roman city of Paphos is the birthplace of Aphrodite, the goddess of love and beauty.
Ayia Napa is a city known for its vibrant nightlife and the most romantic place in Cyprus – the bridge of love at Cape Cavo Greco.
Larnaca is a quiet and beautiful coastal town that is a great place for a smooth transition from a wedding to your honeymoon. By the way, the romantic trip to Larnaca after the wedding can be presented to you as an unusual wedding gift from your parents.
Cost: ~ $14,000.
The reason young couples choose to tie the knot in Cyprus is the cost, which is significantly lower than in the US or Europe. And getting married on the Turkish side of Cyprus is even cheaper. An average wedding for 60-80 guests in Cyprus costs about 12,000 euros.
Greece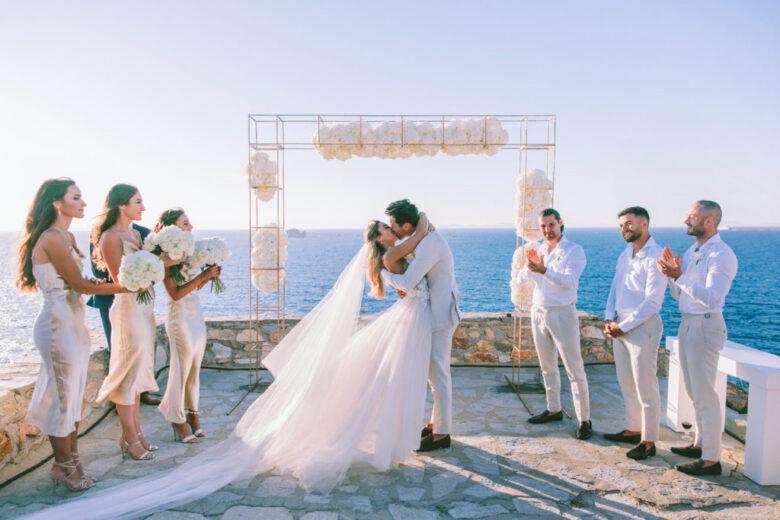 Sunny, friendly, and vibrant Greece has been considered one of the best destinations for wedding tours for several years now. Moreover, the matter concerns both official marriages, when newlyweds receive documentary confirmation of their new status and symbolic ceremonies.
There is no sense to speak about Greece long – everyone knows about the fabulous scenery of waves, sand, and rocks.
Marriage registration and symbolic wedding ceremonies in Greece are held on the islands of Santorini, Rhodes, Crete, Corfu, Zakynthos, Mykonos, Hydra, Skiathos. Your marriage will be legally binding even without visiting the City Hall. After three weeks, you will receive an official certificate by mail.
Cost: ~ $19,000.
The approximate range of costs for a wedding in Santorini includes wedding planner services so as you are not nervous about how to officiate a wedding. Also, reception, location, villas, catering, florists, wedding dance songs, makeup, hairdressing, photographers, and operators, and of course, wedding dresses are included.
Spain
The unique nature of Spain, the azure sea, beaches, breathtaking architecture, delicious cuisine and wine, friendly people create truly the best romantic atmosphere in the world. Here you can hold a wedding anywhere: on the seashore, on a yacht, in a forest, a flower garden, a medieval castle or villa, an open-air museum, the old Gothic districts of Barcelona, Madrid or Seville… The boldest couples can get married even underwater!
By the way, Spain is one of the most gay-friendly countries in the world. On July 3, 2005, it became the third country in the world that officially recognized the registration of this kind of marriage. Thanks to the new law, foreign citizens have the opportunity to enter into marriage unions, even if this is not provided for by law in their home country.
Cost: ~ $25,000.
This price includes expenses for all goods and services such as clothing, music, videographers, banquet, and invitations. The price of a wedding may differ from the number of guests invited and the tastes of the future wife and husband.
Wedding tips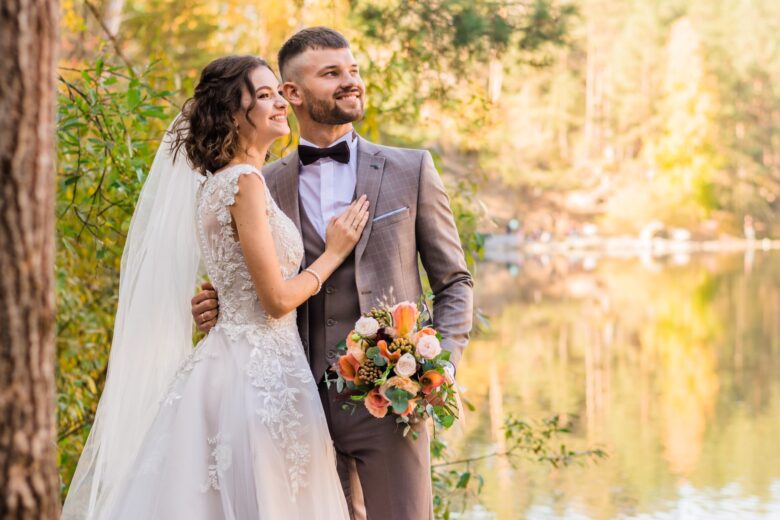 Weddings are expensive, and it's a fact. However, newlyweds can save on videography. For example, don't order expensive photographers, but ask your friends to capture the lively and genuine emotions of guests and lovers. Then make the wedding movie by yourself, for example, from Movavi.com.
Invite an animator. The reason is the children at the wedding. It's hardly possible to say to the guests "I want you to come, but not your children." Therefore, take care of entertainment for the little ones.
Sometimes wedding expenses don't go according to plan. Therefore, it is very important to set aside 5-10% of the budget for unforeseen expenses such as umbrellas for guests in case of bad weather or taxis.
Feel free to use modern apps. For example, you can plan a celebration in Wedding Planner by The Knot. Get the Wedding Guest List Manager, Wedding Countdown, Budgeter, and much more in one platform.
By the way, use Pantone Studio for color matching. This is a must for anyone struggling to pick a color palette for an event.
Prepare small gifts for your guests as gratitude for sharing the day with you. It can be handmade soap with the initials of the newlyweds, good coffee, a sweet present or other symbolic gifts.
Final words
A wedding is an unforgettable event, and if it is held abroad, it can turn into a fairy tale! Many couples mistakenly believe that holding such an event at home will be cheaper. But how much does a wedding cost in the USA? About $35,000!
Don't skimp on the location. These are your memories for the rest of your life!