It finally happened – you found your perfect wedding dress. Now it's time to think about another important matter – your hair. One of the most common mistakes brides make when choosing their special day's hairstyle is thinking that the hair and the dress are mutually exclusive. That's not really the case, as you'd probably want the hair to complement the dress, not take attention away from it.
If you're a person who isn't really oriented in hairstyling, knowing what types of hairstyles will work best with your wedding dress can be a challenge. This is exactly why we decided to help you and other people in a similar situation to yours.
While you don't have to know the details that hairdressers learn in school, you should at least know what hairstyles work with particular necklines, so that you can decide which one you want on your special day.
So, let's just get started.
1. Strapless Neckline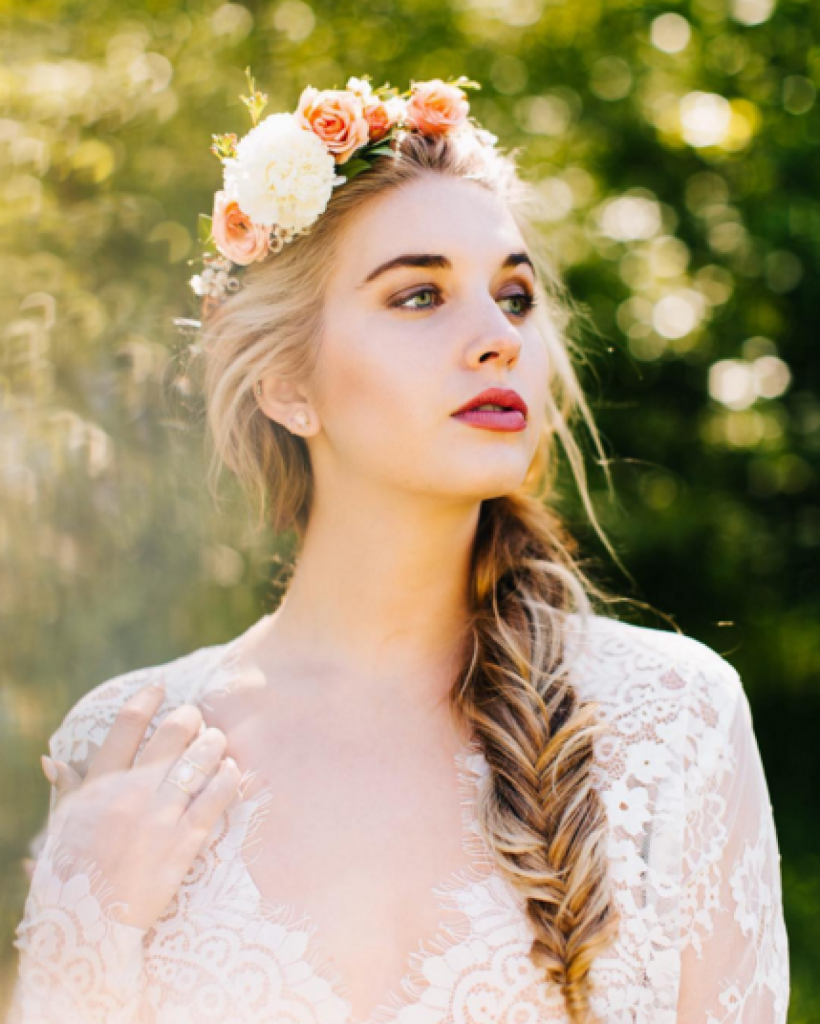 A strapless neckline is a classic. It is a perfect choice if you wish to show off your figure or bring attention to the bridal jewelry. A strapless wedding dress is one of those with which almost every hairstyle will look stunning. Which one you'll choose depends solely on your comfort and personal preferences.
Among some of the most popular choices when it comes to strapless necklines, you can find loose buns and chignons, as they keep the hair away from the front, allowing you to show off this feature of the dress. For a more smart and neat look, you can go for a sleek ponytail.
If you want to enhance any of those hairstyles, experts from https://scissortec.com/ recommend adding bold hair accessories, such as a hair comb, headband, or fascinator.
2. Boat Neckline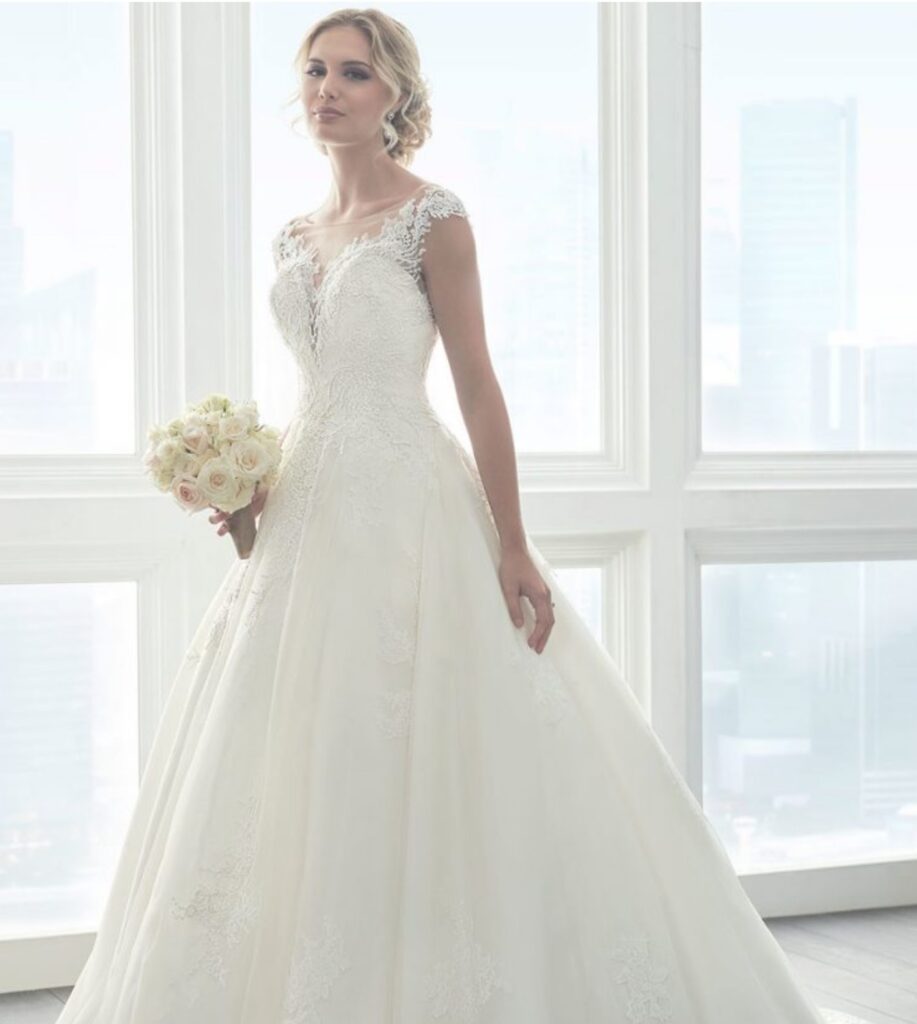 This type of neckline is also known as the bateau neckline. It stretches from one shoulder to another, exposing the collarbones, neck, and shoulder points – this is why an updo is an ideal choice if you have a dress with this neckline.
As many professional hairdressers recommend, you should keep the hair off the shoulders when wearing a boat neck, as having your hair down usually doesn't look flattering and hides everything the neckline is meant to show off.
Among hairstyles that work perfectly for a bateau neckline, you can find a side bun, a sleek pony, and a low bun.
3. Off-the-Shoulder Neckline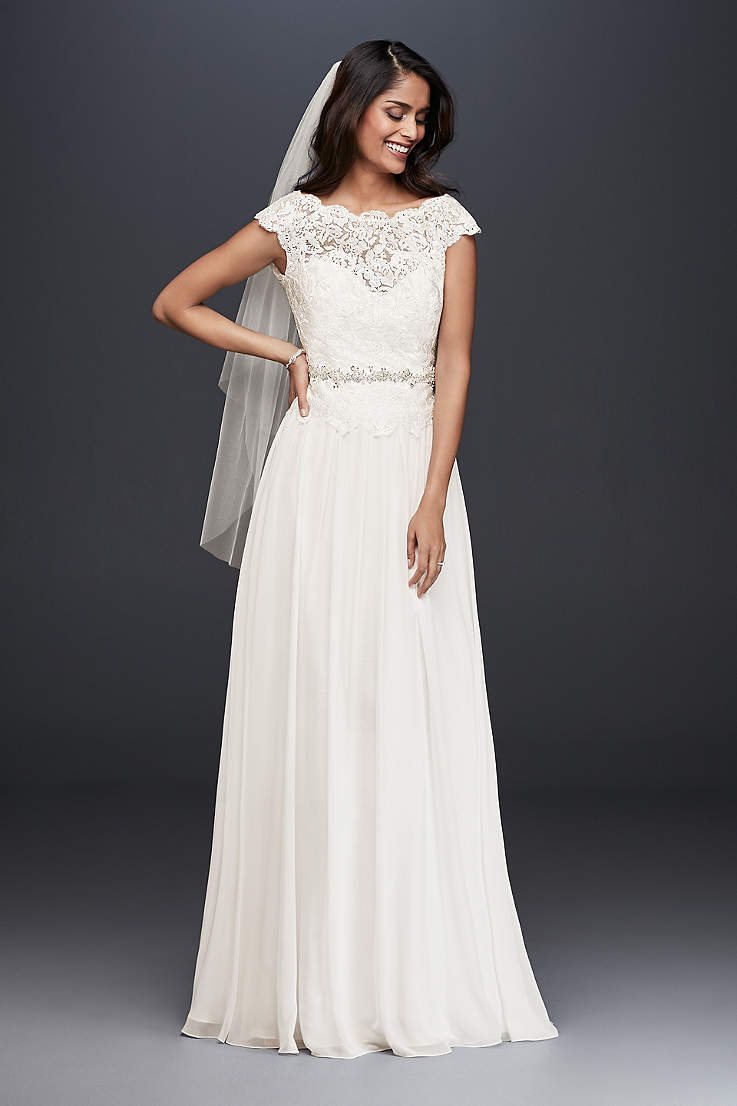 An off-the-shoulder décolleté is a perfect combination of feminine and sexy, so it shouldn't come as a surprise that, currently, it is one of the most popular choices among brides. Similarly to a strapless neckline, you have a variety of hairstyles to choose from.
If you don't like showing too much skin, you can opt for one in which some of your hair is left loose (very often in natural waves) and covers a part of your shoulders. If, on the other hand, you don't want to hide the statement dress feature, you can choose a high updo. By revealing your collarbones and neck area, you can add a unique charm to your bridal look.
4. Plunging Neckline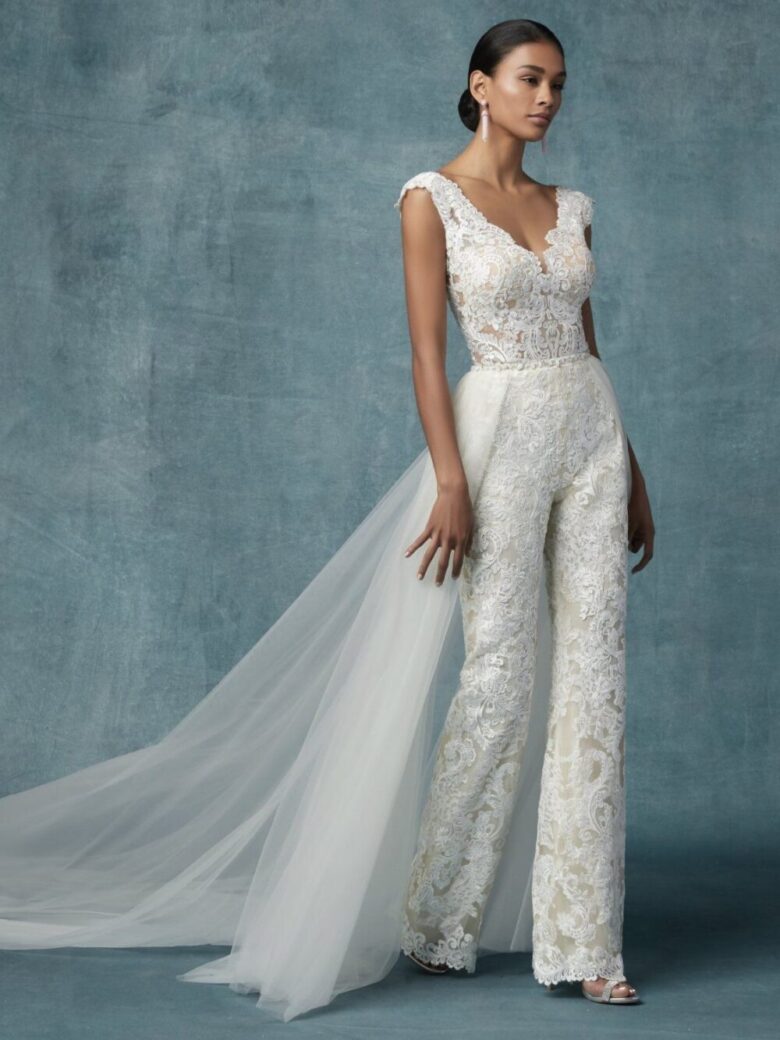 Plunging necklines are one of the recent trends when it comes to wedding dresses – more and more brides from all around the world decide to buy a gown with one. Since carrying off this particular style requires confidence, you should choose a hairstyle that reflects that.
When wearing a wedding dress with a plunging neckline, you should choose a hairstyle that keeps the hair off the shoulders – for instance, a back bun or a ponytail will be a perfect option. You can leave a few strands of hair loose so that they can nicely frame your face, but don't let them downplay the effect this daring neckline feature creates.
5. High Necklines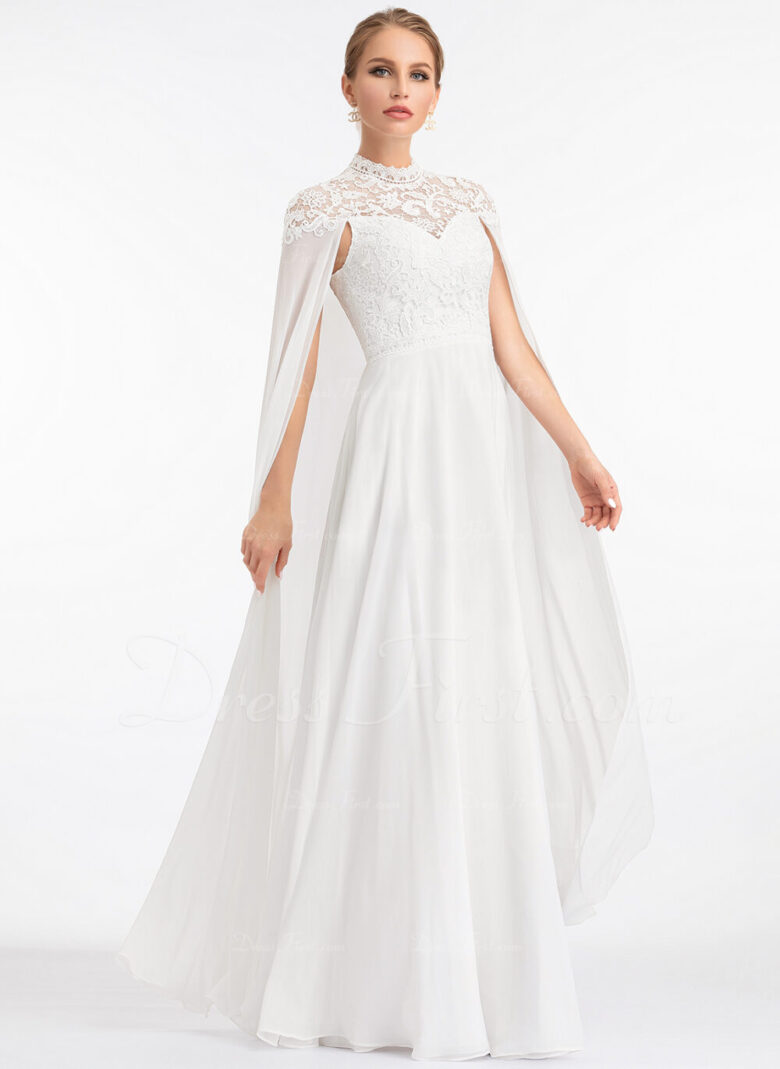 A high neckline is one of the wedding industry favorites. It creates an illusion of a fuller bust, but at the same time, it highlights the bride's facial features. If you want to seem taller and leaner, then this is your way to go.
Although this is another versatile neckline that works with most hairstyles, it usually looks the best when paired with one that keeps the hair away from the front (such as a top knot). If you want a more feminine and romantic look, you should consider a low bun with some accessories, while for a more polished look, a sleek high updo will be a perfect choice.
6. Halter Neckline
If a wedding dress has a halter neckline, it has a strap that goes from the front around the back of the neck, usually leaving the back exposed. This retro-inspired neckline is usually chosen by brides who want to show off their toned shoulders, as well as those who have a long neck, as it looks very flattering on them.
When it comes to the hairstyles that'll work best with this type of décolleté, letting your hair loose will be the best option, as it will not only add volume to your face but also enhance your femininity. A good choice is a fake short bob – just pin your hair under, and use some decorative clips to make it look classy.
Alternatively, you may choose one of the low hairstyles, as it will do a good job at balancing the whole look. With a halter neckline, you should avoid updos, as they will elongate your torso and simply make the whole look unflattering.
The Bottom Line
Every bride wants to look perfect on her wedding day, which is why special attention is paid to the dress – it often takes months to find that dream wedding dress.
However, once you do, there are other things that you need to decide upon – for instance, the hair. The hairstyle you choose should complement your dress and not take the attention away from it.
After reading this article, we hope that you have a better idea of what hairstyle will work best with every wedding dress neckline. Maybe now choosing the right hairstyle for your own wedding won't be as challenging? Good luck!