Well, that depends on what you mean by favor. If it's the day your daughter is to be married, maybe let's skip that one. If the favors you have in mind are less Godfather-ish, the short answer is "maybe."
Like many wedding traditions, wedding favors for guests are starting to go by the wayside. While plenty of couples still give their guests engraved golf balls and other miscellaneous nonsense, many couples opt to skip that part entirely.
Sure, you don't have to give everyone at the wedding a gift. At least show love to your groomsmen or bridesmaids at a minimum. Maybe something to match the clean men's wedding band you've got on your finger. Find men's wedding bands at ManlyBands. Might be a cool show of uniformity. Maybe just a keepsake your entire bridal party can hold onto as a memory for years to come.
History of Wedding Favors
Historically, it seems that wedding favors originated sometime in the 16th century. The first wedding favors were knots made of lace and ribbon to symbolize the couple's love. Eventually, this turned into bonbonnieres. Bonbonnieres were basically cool boxes made of expensive materials that housed candy. Think of them like Easter eggs for Jeff Bezos' children. From there, bonbonnieres turned into any number of gifts (edible or otherwise) passed out from the happy couple to their guests, which we know today as wedding favors.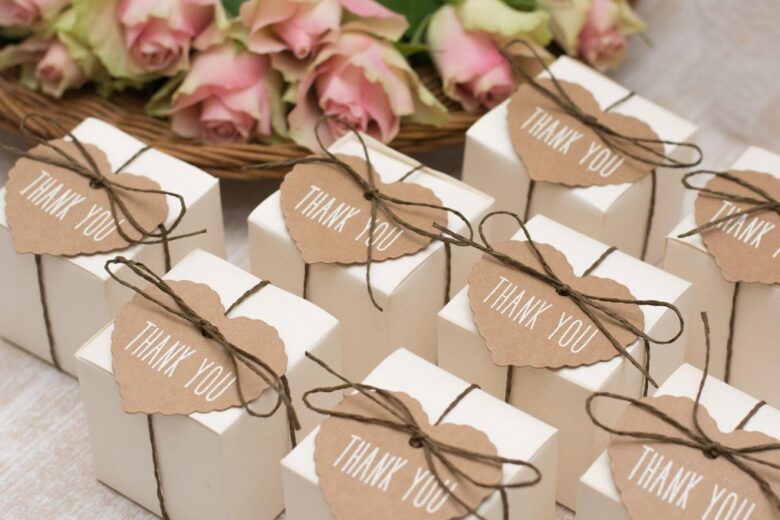 So, Are Wedding Favors Really Necessary?
Technically, wedding favors have never been necessary. They have always been nice, though. If you're thinking about skipping the wedding favors, it's much more socially acceptable now than it's ever been. Again, if you're going to skip the wedding favors (and it's okay if you do), show your close friends some love, at least.
The average cost of a wedding is, in U.S. dollars, a shitload of dollars. Seriously, ranked by state, the cheapest average wedding is just under $20,000. However, that bad boy can get up to $50,000 if you're in the northeast. Pro tip: Get married in Idaho.
Consider two main factors when deciding about wedding favors: your overall wedding cost and how much it's costing your guests to get there. If you're having a cheap ceremony at your home church with just friends and family, no one (hopefully) is going to complain about the lack of a wedding favor. If you've got a fiancé who insists on getting married in Turks and Caicos, then the absolute bare minimum you can do is send your guests home with some knickknacks.
Not a Big Fan of the Favor? What to Do Instead
Absolutely Nothing
Seriously, wedding favors just aren't that big of a deal anymore. Do your guests really need a keychain that has the wedding date of someone they think they remember from college? I'll let you answer that yourself. Don't sweat it if you don't have it in the budget or just don't see it as that important.
Upgraded Welcome Bags
This is a cool alternative. Welcome bags are a nice little thing to offer your guests when they check into their hotel. Take the money you would've spent on wrapping paper and coasters or whatever and throw a little something extra into the welcome bags. It's a solid compromise.
Whatever Makes Sense to You
Yeah, it sounds like a cop-out, we know. Seriously though, do what makes sense to you. Is your wedding in a beach town? Embrace the theme and throw in a cool beach towel and sunglasses or something. Tying the knot in a charming East Coast town? Get some quaint, local products. Maybe honey or assorted snacks. Hell, buy a small bottle of local alcohol and throw it in the welcome bag. I'm just spitballing here, but you get the idea.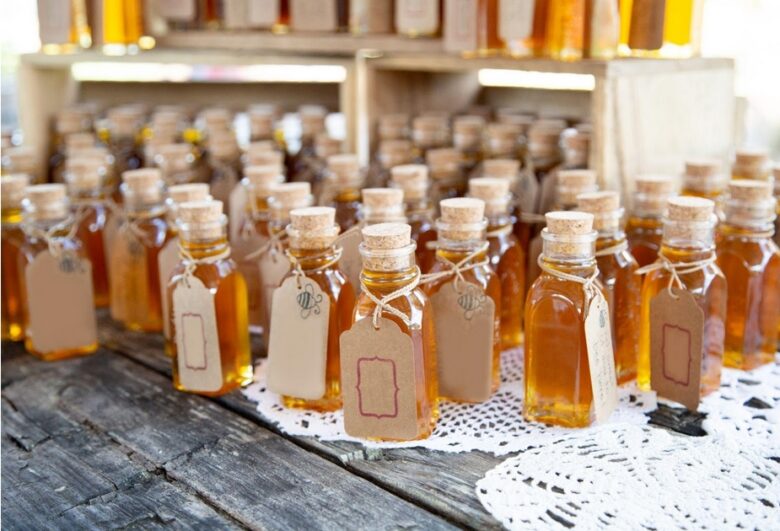 What If You Want the Favor?
Hey, sometimes it's fun to lean into wedding traditions. Everyone you know gave out a favor, so why not you, too? Before you go giving out photos of yourself to your guests (no one wants that, but there's just no polite way to decline someone's face), make sure it passes a couple of tests.
Make It Practical
Will your guests use it, or will it just take up space (and by take up space, we mean be thrown away immediately or left behind)? Water bottles, candles, bottle openers. The basics. Think about who your guests will be and what they'll actually use. When in doubt, good snack food is always a solid choice.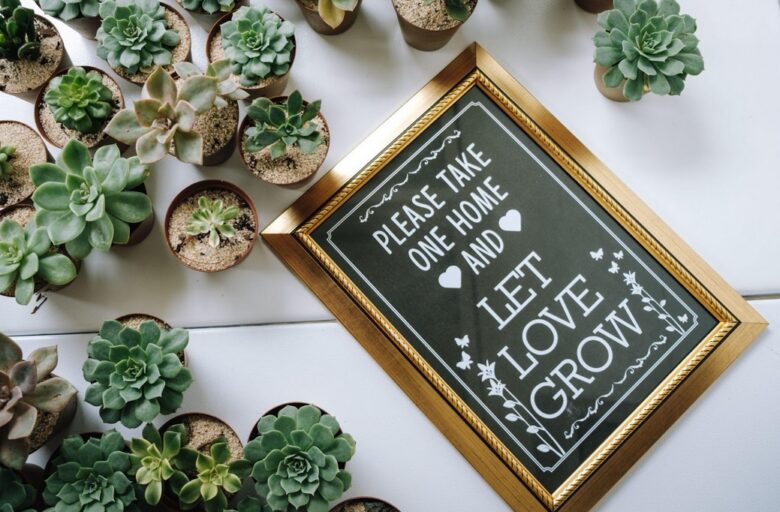 Don't Monogram It (At All) (Except Sometimes)
No monograms. No faces of the bride and groom. No laser etching your signature into the top of the jar of honey (though that's kinda cool). Whatever you do, avoid the urge to insert yourself into it. The day is already about you. Let the favors stand alone.
If you must monogram, throw the names or initials of the guests that it's going to on there. No one really wants an enamel mug with the bride and groom's wedding date. If you must monogram, put the guest's name or something like that on the mug.
If choosing wedding favors is going to just stress you out and cost more money than is reasonable, then just skip it. Seriously, it's not worth the stress. If you want to offer your guests something, make it simple, usable and, for the love of God, don't put your faces on it.