One of the most important parts of royal weddings has to be the giant, multi-level cakes that are a true piece of edible art. In this article, we will go over the most beautiful and iconic cakes we have seen so far at the royal weddings around the world.
1. Princess Eugenie and Jack Brooksbank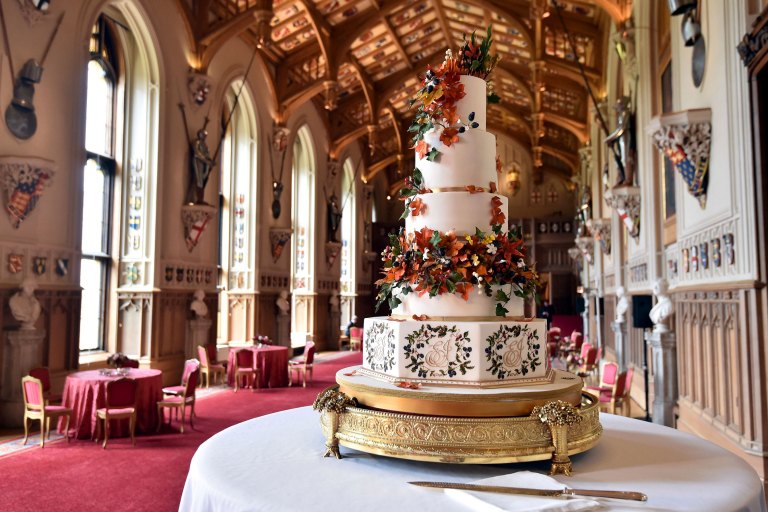 This couple stayed with their theme of the October 12 royal wedding, as they picked a five-tier cake. It was decorated with leaves and deep shades of orange, yellow, red, and green colors, and it was served for the reception at Windsor Castle. Inside, it was the red velvet and chocolate cake, created by a London baker Sophie Cabot and her team. They used 400 eggs, 53 packs of unsalted butter, 33 lbs. of organic self-rising flour, as well as 44 lbs. of sugar. Cabot started her work in, July when she began with the detailed sugar flowers and foliage, that slowly took shapes of acorns, white flowers, maple leaves, and so on.
2. Prince Harry and Meghan Markle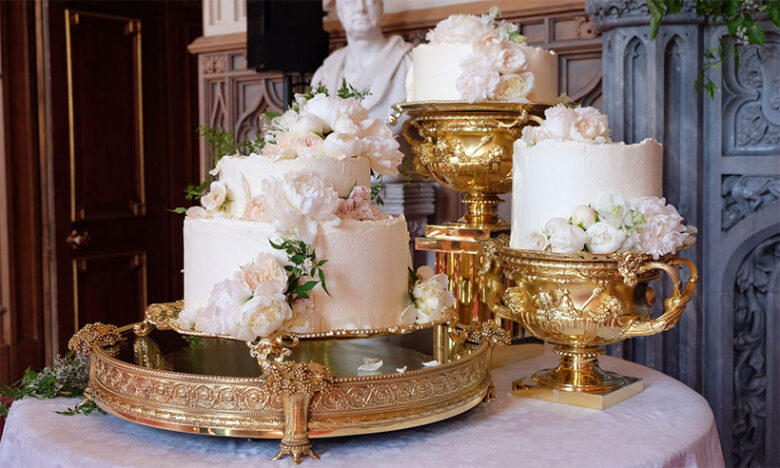 The Duke and Duchess of Sussex had a simple floral design cake at their private evening reception after the wedding at Windsor Castle on Saturday. Claire Ptak from London bakery Violet Cakes created this lemon sponge cake, sprinkled with elderflower syrup and finished with Amalfi lemon curd. Her team of six bakers worked for days, as they were baking and icing each of the tiers in Buckingham Palace. They used 200 Amalfi lemons, 500 organic eggs, 20 kilograms of butter, flour, and sugar each, and ten bottles of Sandringham elderflower cordial. The three cakes were then transported and placed on gilt stands from the collection of the family, and decorated with 150 peonies and roses on the wedding morning.
3. Prince William and Kate Middleton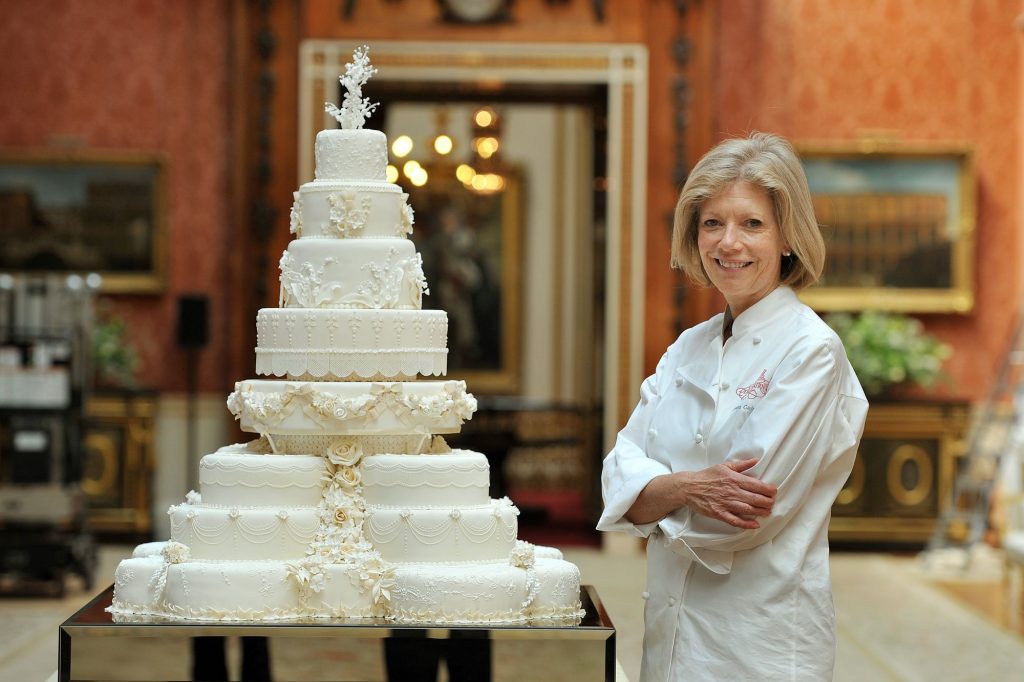 Prince William and Princess Kate had something for everyone at their April 29, 2011 reception. Their official wedding cake was an eight-tier fruitcake with more than 900 leaf and floral details created by a baker by the name of Fiona Cairns. The pair also had a second, chocolate-cookie cake, made by McVitie's Cake Company. This one was served at the special request of the groom, who adores sweet food and desserts.
4. Prince Charles and Princess Diana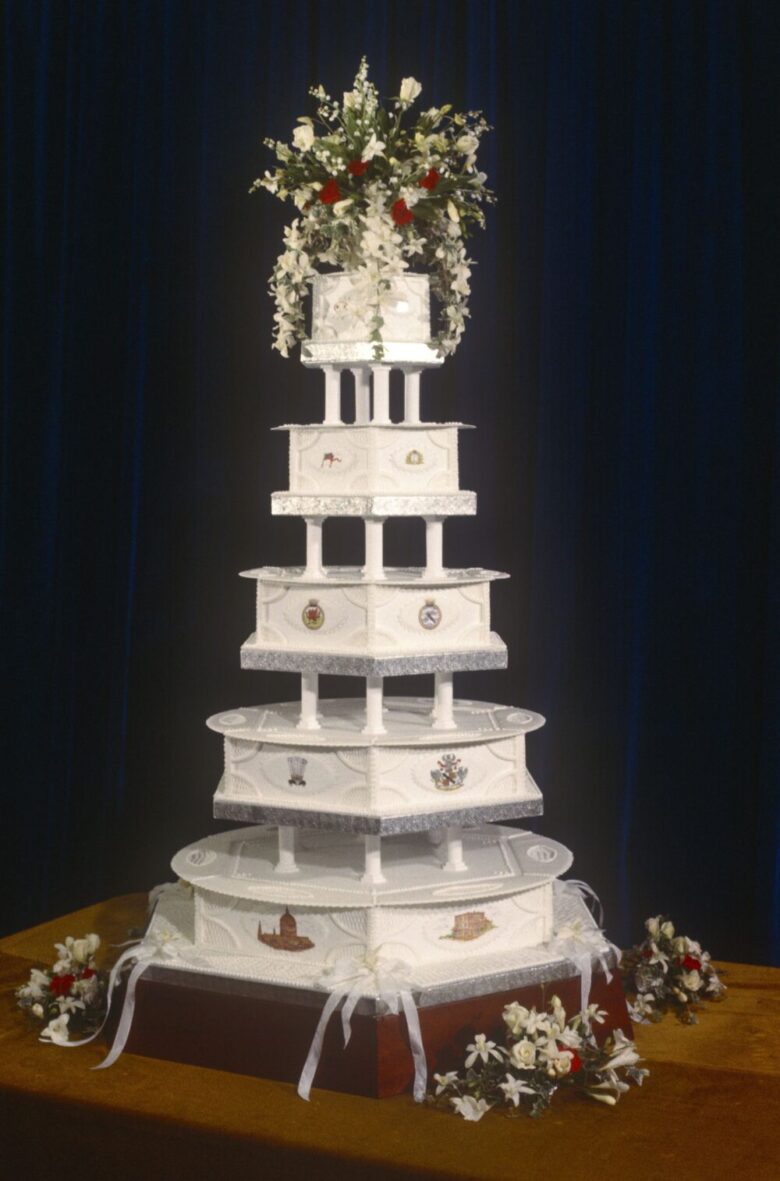 Prince Charles and Princess Diana were not messing around. They did not have one cake, nor did they have two. The then-happy couple served no less than 27 cakes at their July 29, 1981 wedding. While most were donated by the many royal watchers, however, their official cake was a piece of art by Chef David Avery from the Royal Naval Cookery School. The masterpiece was nearly 5 feet high, adorned with the Prince and the family's royal coat of arms, as well as the couple's first initials. There was also a spray of roses, lilies, and orchids on the cake.
5. Queen Elizabeth and Prince Philip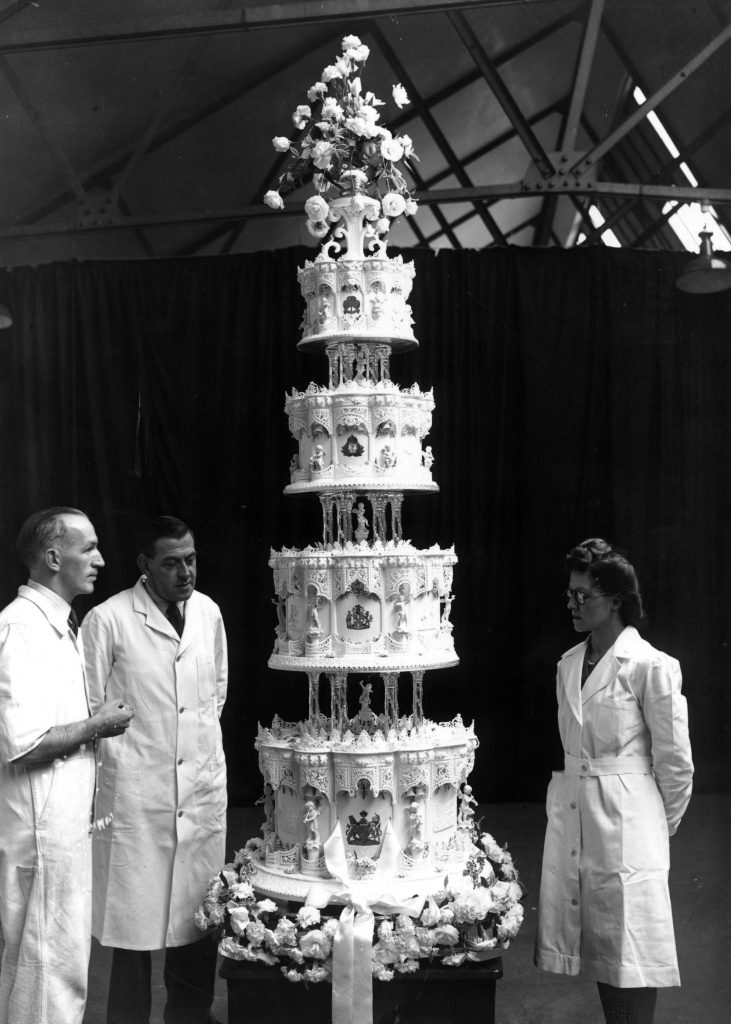 The mother and father of Charles, Queen Elizabeth II, and Prince Philip celebrated their November 20, 1947 wedding with a marvelous, 9 feet tall cake. It had four levels and weighed 500 lbs. This behemoth of a dessert was the work of McVitie and Price Ltd., which is the same biscuit company that made the dessert cake for William and Kate. This showstopper also depicted scenes from the lives of the happy couple.
6. Crown Princess Victoria and Prince Daniel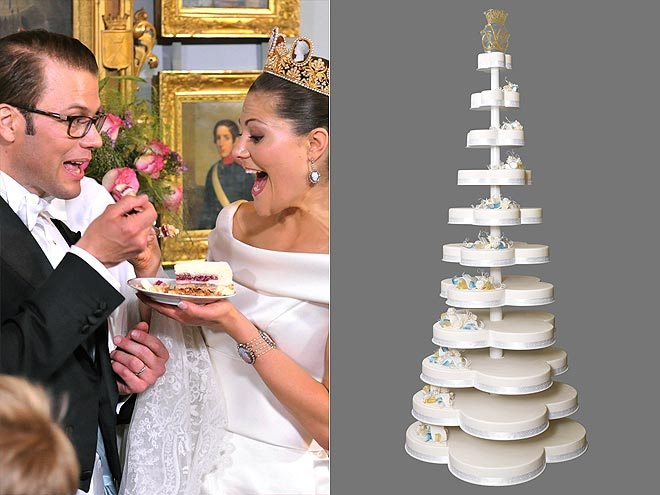 When the Crown Princess of Sweden walked down the aisle alongside Daniel Westling on June 19, 2010, the Association of Bakers amp Confectioners from their home country gifted the happy newlyweds with their official wedding cake. The giant cake weighed 550 lbs. and was made of 11 tiers, each of them in the shape of a lucky four-leaf clover. This is a truly wonderful cake.
7. Prince Andrew and Sarah Ferguson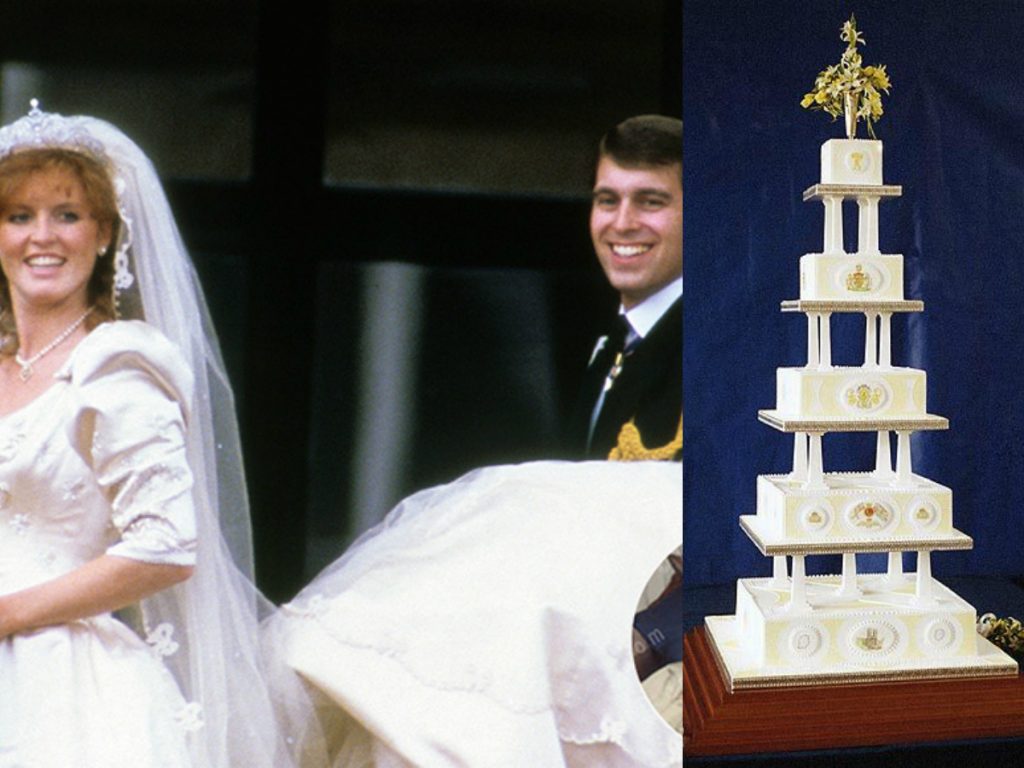 During July 23, 1986, everyone was in high spirit for the wedding of Prince Andrew and Duchess Fergie. The couple served their guests a 5 and a half feet marzipan and rum soaked cake. This tower dessert was prepared at the navy supply school HMS Raleigh and had 15 ingredients, main of which were rum, brandy, and port. The cake was large enough to be cut into 2,000 slices and serve as many guests.
8. Prince Edward and Sophie Rhys-Jones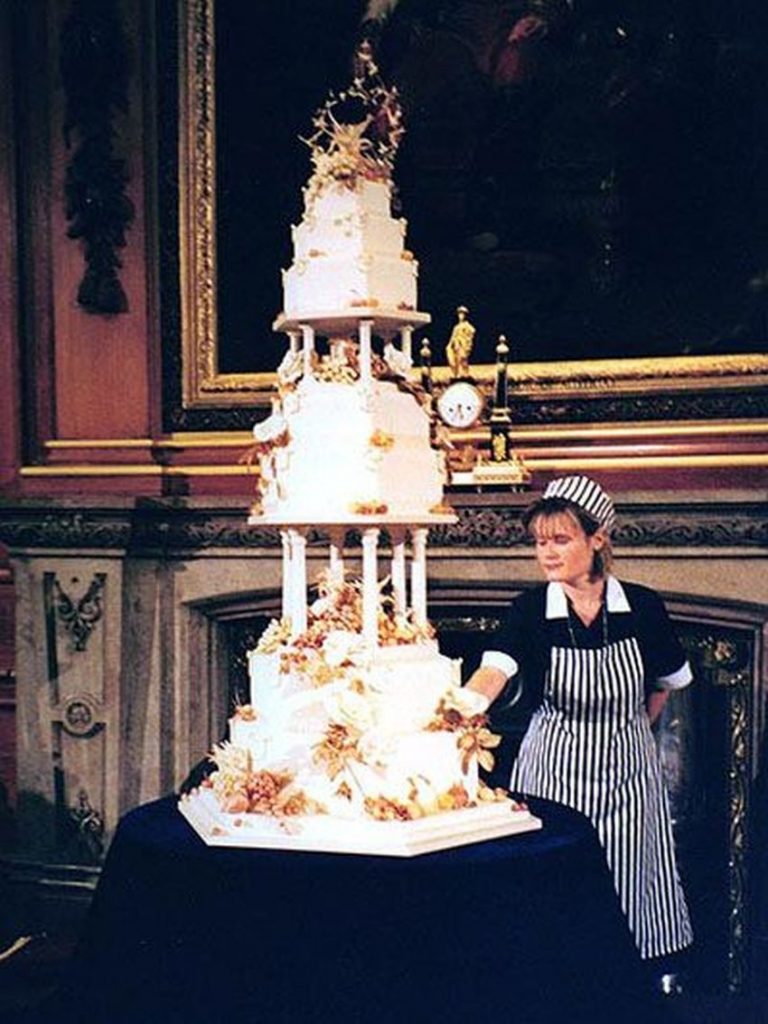 The pair treated did not treat their guests with a customary English wedding fruitcake. At their June 19, 1999 wedding, they showed a seven-tier Devil's Food cake topped with tennis rackets, symbolizing a fundraiser where the happy couple first met. This 10 feet tall dessert took baker Linda Fripp and her devoted crew approximately 515 hours to finish. Breaking the tradition, the Earl and Countess of Wessex cut their cake before serving dinner.
9. King Abdullah Bin Al-Hussein and Queen Rania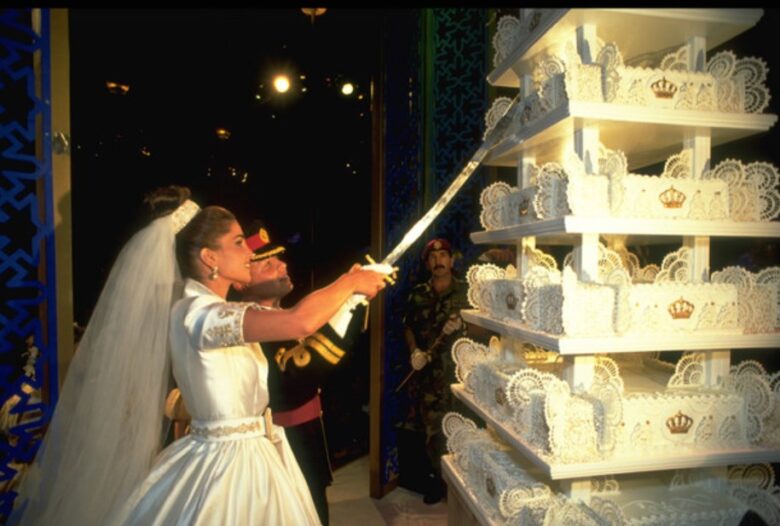 During their June 10, 1993, wedding reception, Jordan's Queen Rania and King Abdullah had an enormous multi-tiered, rectangular cape, decorated with crowns and lace embellishments. Interestingly, this cake was cut down to slices using a sword.
10. King George VI and the Queen Mum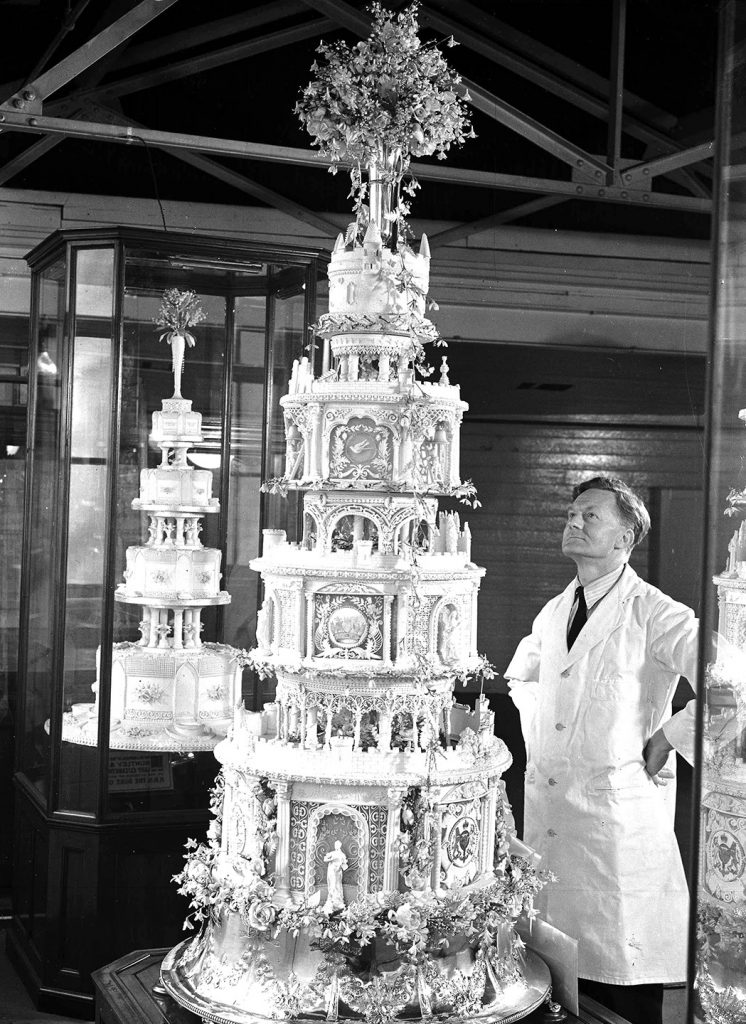 The official cake at the wedding of Elizabeth Bowes-Lyon, who became the Queen Mother, and then-Prince Albert, the Duke of York, was displayed in Reading, England, before their April 26, 1923 wedding. Thousands of fans and onlookers formed a long que in order to view the ornate 10 feet tall wedding dessert.
11. Crown Prince Pavlos and Princess Marie-Chantal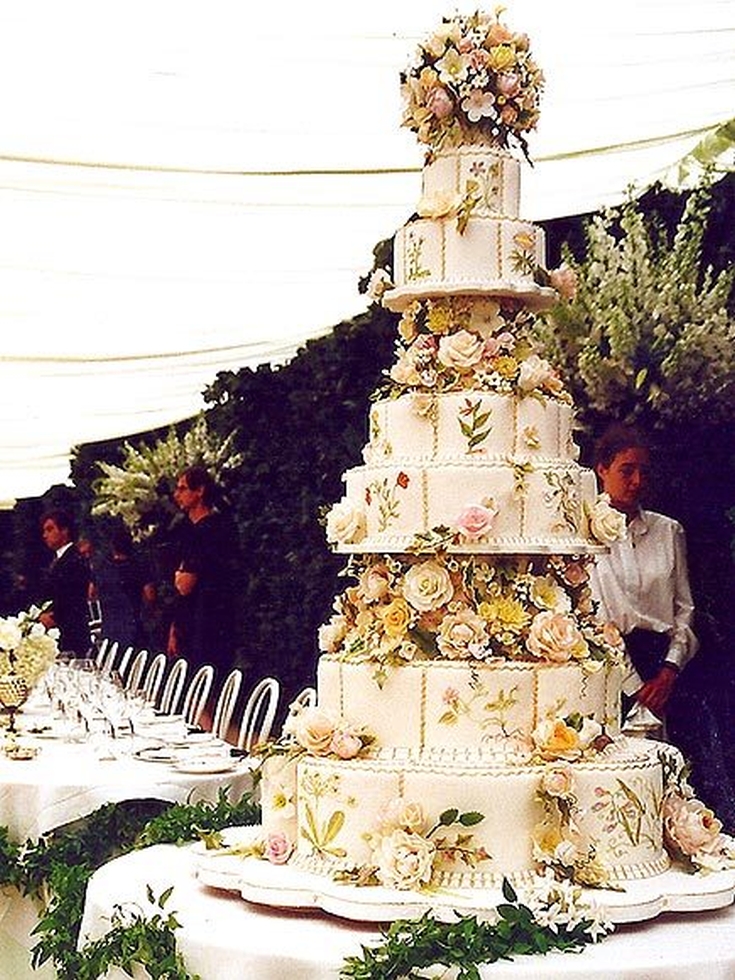 Crown Prince Pavlos of Greece and heiress Marie-Chantal Miller did something special for their July 1, 1995 wedding, and served no less than 300 smaller cakes, on for each of the tables, alongside the official, main cake. Their showstopper cake was an eight-tiered centerpiece made by baker Colette Peters. It was inspired by a fine china pattern from their royal collection.
12. Prince Rainier and Princess Grace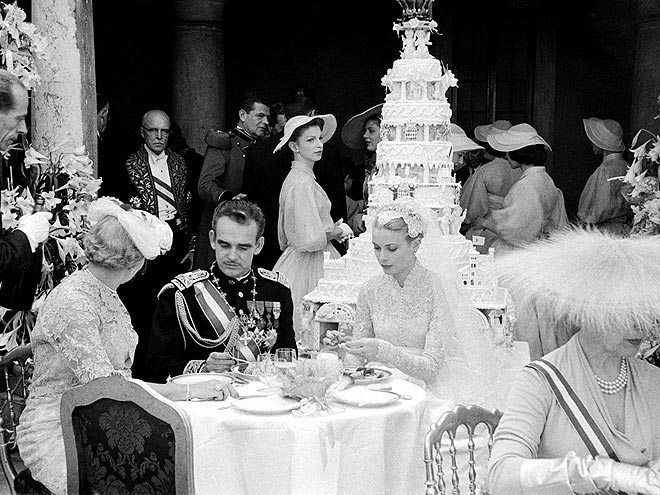 When the iconic Hollywood star and beauty Grace Kelly married the Prince of Monaco Rainier on April 19, 1956, their six-level wedding cake was fit for a future princess. The newlyweds got it as a gift from the pastry chefs at the famed Hôtel de Paris in Monte Carlo. The upper two tiers had a built-in cage with a pair of live turtledoves, which were released when they cut it using Prince Rainier's sword. Also, it was topped with a revolving miniature of the couple, which played "Ave Maria" and Mendelssohn's "Wedding March."