Looking for a fun and unique way how to celebrate your friend's upcoming bachelorette party? Why not consider purchasing some custom t-shirts? T-shirts are the perfect way to show your support for the happy couple and have a little fun at the same time. In this article, we will discuss 9 different t-shirt ideas that you can use for your next bachelorette party!
Bachelorette party t-shirt ideas
Let's get something straight – it doesn't have to be a casual t-shirt. The party crew can have coordinated tank tops, hoodies, sweatshirts, or even blouses. But of course, it can also be a t-shirt if the bride would like it and the party setting allows a casual look.
So, here are some fun ideas on what to write on bachelorette party t-shirts or other clothing garments!
1. Sweet and simple – Bride tribe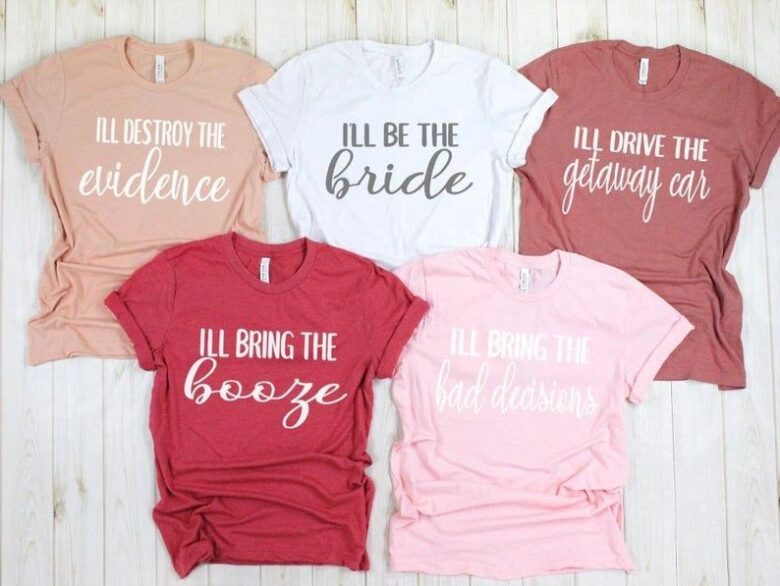 This is for a simple bachelorette who likes a custom t-shirt but doesn't want to get crazy. The fun part about this design is that the bride's t-shirt says "bride" and other participants' t-shirts have a print of "tribe". Not only is it descriptive of the participant's role in the party, but it also makes a great photo opportunity as it read well together as well as separately.
2. T-shirts not directly related to the wedding theme
If your bride doesn't want wedding-themed t-shirts – there are also a lot of options for that. The t-shirt can say "babe", "girl gang", "woman power" or anything else that characterizes the bride and the party. It can even not have any words, but a cute custom design. Just make sure the bride's t-shirt is in a different color to make her stand out! That way even t-shirts that don't have wedding-related text on them will feel appropriate for a bachelorette party!
3. Sassy t-shirts
If the bride and the girl gang are a little bit sassy and don't mind a little bit provoking t-shirt, there are some great options for that! For example, you can have a t-shirt that says "Bride tribe" but the "i"s are replaced by a hand that shows the fourth finger with an engagement ring.
Another fun idea is t-shirts with the text "Changing my last name, let's pop champagne!" You can make that the first part is on the bride's t-shirt and the second half – on the other participants' t-shirts.
Or a more provoking option – "Buy me a shot, I am tying a knot!" Just make sure the bride is ok with that and will see it as a funny t-shirt that she would like to wear.
4. Classic bachelorette t-shirts
If your bride is a classics lover, there are lots of t-shirts with classic bachelorette party texts as well. For example, Ann's bachelorette party; I said/she said Yes; Bride; "I do" crew; etc. To make them more personal, you can create a cute graphic design with these texts and maybe even sneak in the bachelorette party date.
5. T-shirts with a personalized message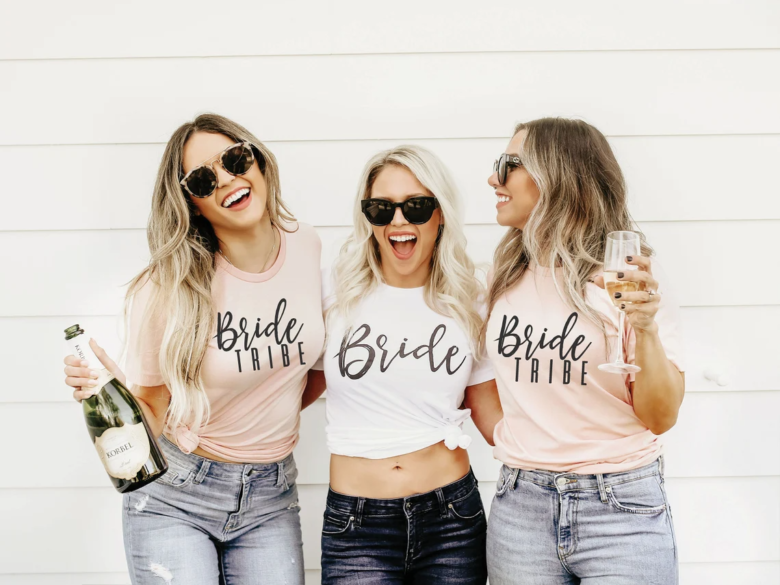 This is an opportunity to make your bride stand out and gift her a very unique and personalized item. A personalized message can be an inside joke, something the bride says often, or something related to her hobbies or work. Or what characterizes her and her fiance. If you know the bride well, this is a great option.
6. T-shirt with bride and wedding jokes
If your bride and her fiance have a great sense of humor, this is a fun possibility. But definitely make sure that they both are ok with some sassy jokes and bar humor. If you have cleared that it is ok to go crazy with the t-shirt text, grab that opportunity and add something funny to the shirt!
7. Disney bachelorette t-shirts
Is your bride a fan of Disney princesses? Then this is the perfect type of bachelorette t-shirt for her. Even better if you are going to Disneyland for her bachelorette party. Why not? The t-shirt can have a quote from her favorite animated movie, for example, "If I Do Marry, I Want It To Be For Love." – Jasmine. Or a simpler idea, the shirt can have just some Minnie the Mouse ears with the text "Bride to be".
8. T-shirts for a vintage lover
It is no secret that vintage clothing and vintage styles are having a comeback. If your bride is a vintage lover, vintage-inspired bachelorette t-shirts will be a great choice! The t-shirt can have a design with the feel of the era your bride likes the best. It can be anything starting from the 50ties. If you are creative, you can definitely figure out a way how to get an even earlier era on a t-shirt in a sensible way.
9. "A blast from the past" t-shirt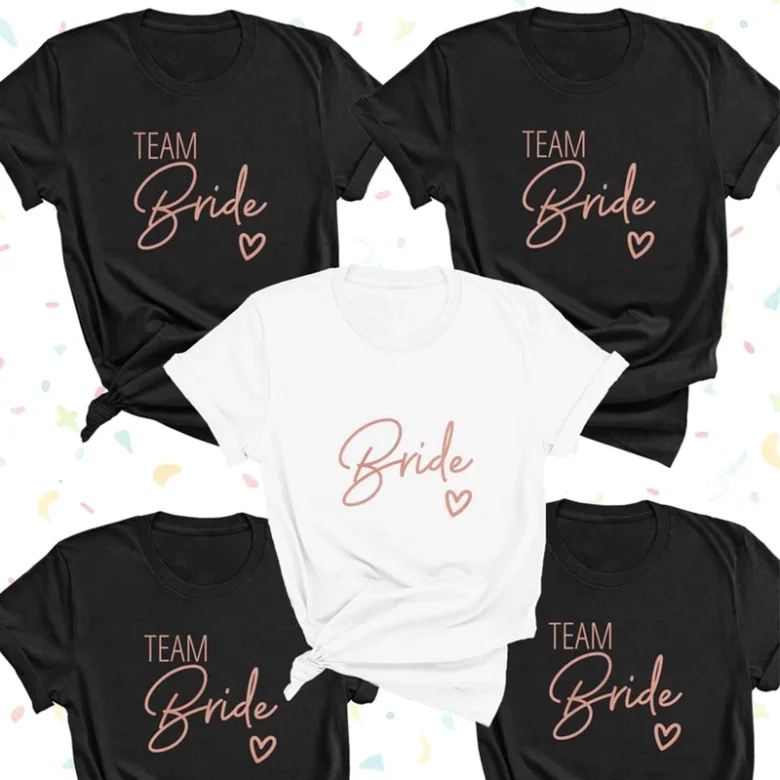 If your bride is a 90ties baby and her teen years were in 2000, there are a lot of amazing and fun quotes that were trendy at that time. This type of shirt is suitable for a bride who enjoys taking trips down memory lane or in cases if most of your bridal squad have grown up together. You can get a shirt with the popular saying "As IF" or one with the MTV's logo but instead of MTV it says MRS.
Printing the shirts
Whatever t-shirt option you choose, most likely you will need print on demand services to fulfill your order. A great print on demand supplier is printseekers.com. They have a few nice t-shirt options as well as hoodies and sweatshirts. You can even go untraditional and have matching tote bags for the bachelorette party!
Another way how to find a way to get custom-made t-shirts is to check Etsy. There are definitely offers for custom-made bachelorette party and other event shirts and accessories.
Conclusion
Bachelorette parties are for celebrating the bride and getting in some girl time. And custom-made t-shirt for the event can help bring the team closer as well work as a souvenir from the good times you will have. Just make sure you know the taste of the bride before you order custom t-shirts. Anyways, if you go with something classic you will never miss.