Every woman dreams of looking stunning on her wedding day as it will probably be the biggest one in her romantic journey, so she must be the day's highlight. Yet wedding dresses come in different varieties, and you will be spoilt for choice. Additionally, knowing the exact gown that will fit you can be challenging.
It's vital to know your body type when choosing a wedding dress as you don't want one that is too tight or too loose. It should be comfortable enough and fit you perfectly so you can glide through the day easily.
Here's a guide on how to choose the perfect wedding dress for your body type:
1. Hourglass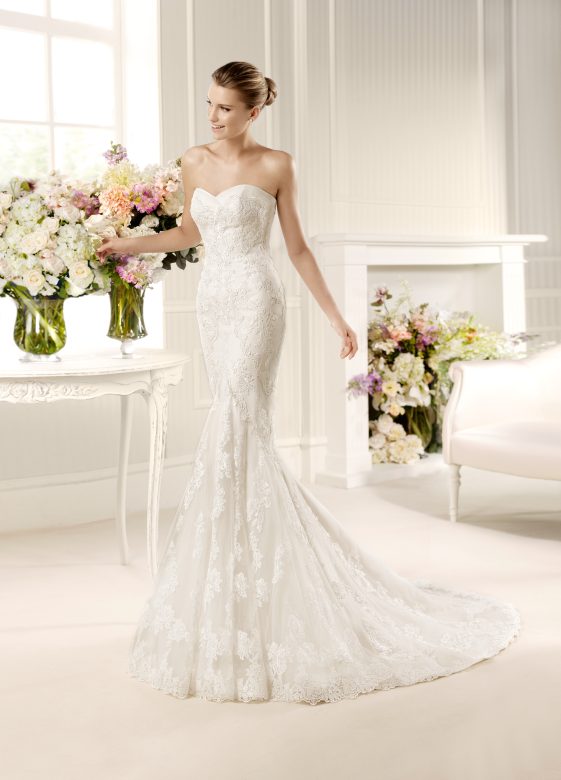 An hourglass shape is defined by a tiny waist, wider hips, and wider bust, all well balanced. It generally implies a curvaceous body shape. This body type is perfect for different wedding dress styles, like those from Le Bella Donna. You will fit nicely in a typical light gown because you already have a figure that will balance the dress, so there's no need to add any extra weight.
For your hourglass shape, a mermaid gown should be number one on the list. A fit and flare gown will be good for you if you want a simple wedding gown, too. A good V-neckline is also perfect for an hourglass shape as it is flattering, versatile, and easy to style with any dress.
Meanwhile, it would be best to avoid ball gowns, empire gowns, and princess-style dresses because you will likely appear overgrown in the dresses than usual. Most likely, such gowns will not fit perfectly and may cause discomfort during your special day.
2. Plus-Size
A plus-size body shape is about size 18 and over and has a defined waist, wider hips, and a large bust. For a plus-size body type, choose dresses that hug up that figure and one which will show the curves perfectly. A plunging neckline may go well with you compared to a high-neck dress.
While different wedding dresses would fit a plus-size woman, the recommended dresses are a mermaid dress, a ball gown, and a sheath gown. These are perfect for bringing out a bride's curves and showing all her prominent features that make the day all about her. When deciding between the mermaid, ball, or sheath gown, go with the dress that makes you feel confident and beautiful on your day.
3. Oval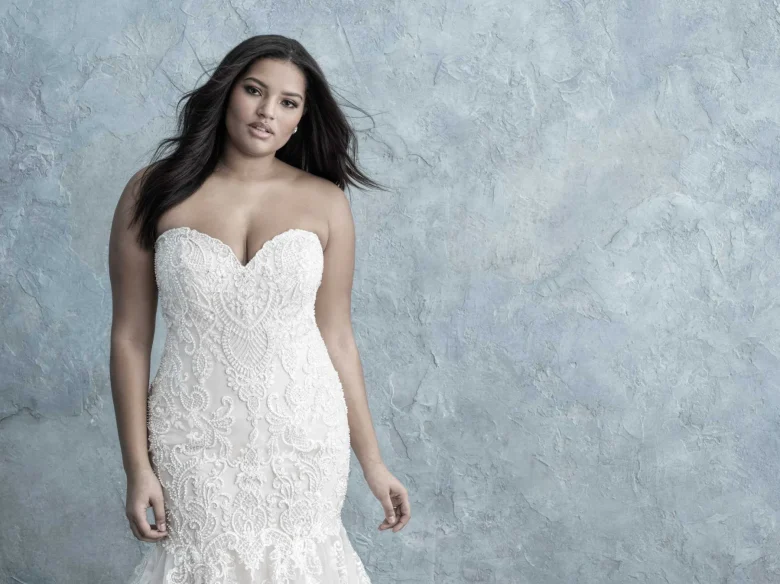 This body type is for those with larger busts and narrow hips. Brides will appear more stunning in a gown with a square shape than a mermaid gown. You can also choose dresses with flared skirts if you want to flaunt your figure. Another option for you is to select gowns with lower necklines that are more detailed around the bust.
Please do not go for dresses with high necks because they will not bring out the stunning look of your shape in the dress. It is also advisable to avoid gowns that focus on your waist as they will only end up with an undefined figure on your big day.
4. Pear
This body type is defined by narrow shoulders, curvy hips, and thighs. If you have such a body shape, your upper body is smaller than your lower body. Hence, you must dress well to flaunt the curves if you have a pear body shape. A perfect wedding dress for you would be closely related to an hourglass body type. Avoid empire dress styles because they may hide your curves, and you may look overgrown in them than in real life.
Ensure you choose wedding dresses that fit your figure and have a sleek silhouette. A mermaid dress would also suit this body shape. If you wish, you can also choose a corseted wedding dress because it is padded and has some thickness to enlarge your bust. Other brides can also consider a lightweight wedding dress for their big day, but ensure you get a padded dress to flaunt your curves.
5. Triangle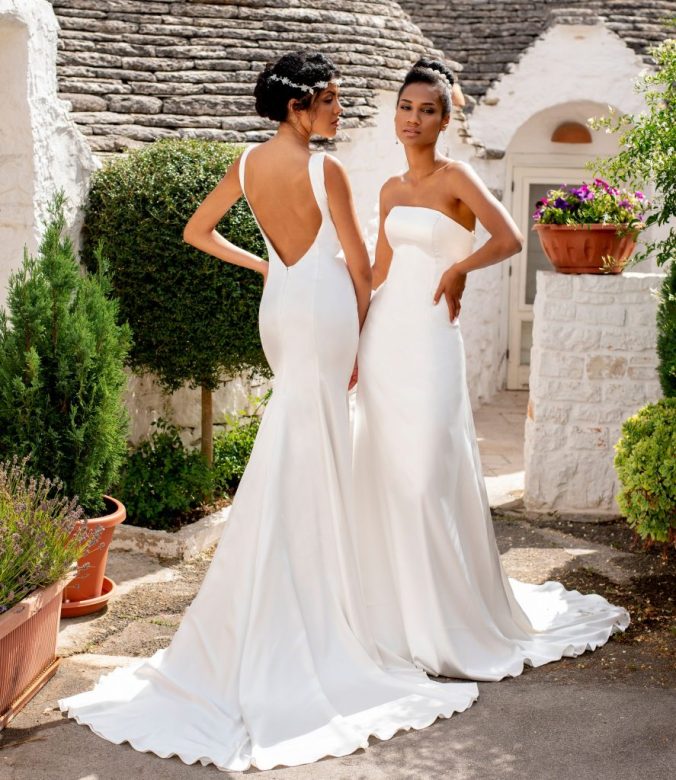 This particular body shape fits women with broader shoulders, a slim waist, and smaller hips. With such a body shape, you should avoid strapless, off-shoulder, or halter-neck dresses. Doing so will only emphasise your broader shoulders and have you looking mismatched all over. Likewise, avoid sleeveless and strap dresses as they will only leave you with undefined shoulders.
You can choose a V-neck dress as it will fully cover your upper body and perfectly define your look. You may also consider lace or embellishment dresses for a more balanced look that will have your visitors gushing.
6. Rectangle
This body type is also called the 'banana figure,' and is defined as having a straight figure right from the shoulders, waistline, and hips—all of which with nearly the same width. You can choose ball gowns and princess-style dresses if you have this body type because they have an entire bottom to enhance your shape and create a curved shape illusion. Such brides usually have tall and slender frames, so if you are one with such a shape, you can also consider a sheath gown or a slinky silhouette dress.
For this body shape, avoid anything that is figure-hugging for a wedding gown. This is because figure-hugging dresses will show your body as it is and will not leave a flattering look as you may appear taller, straighter, and even less balanced. Alternatively, you can consider bridal separates and other alterations in wedding dresses and see if it suits you.
Conclusion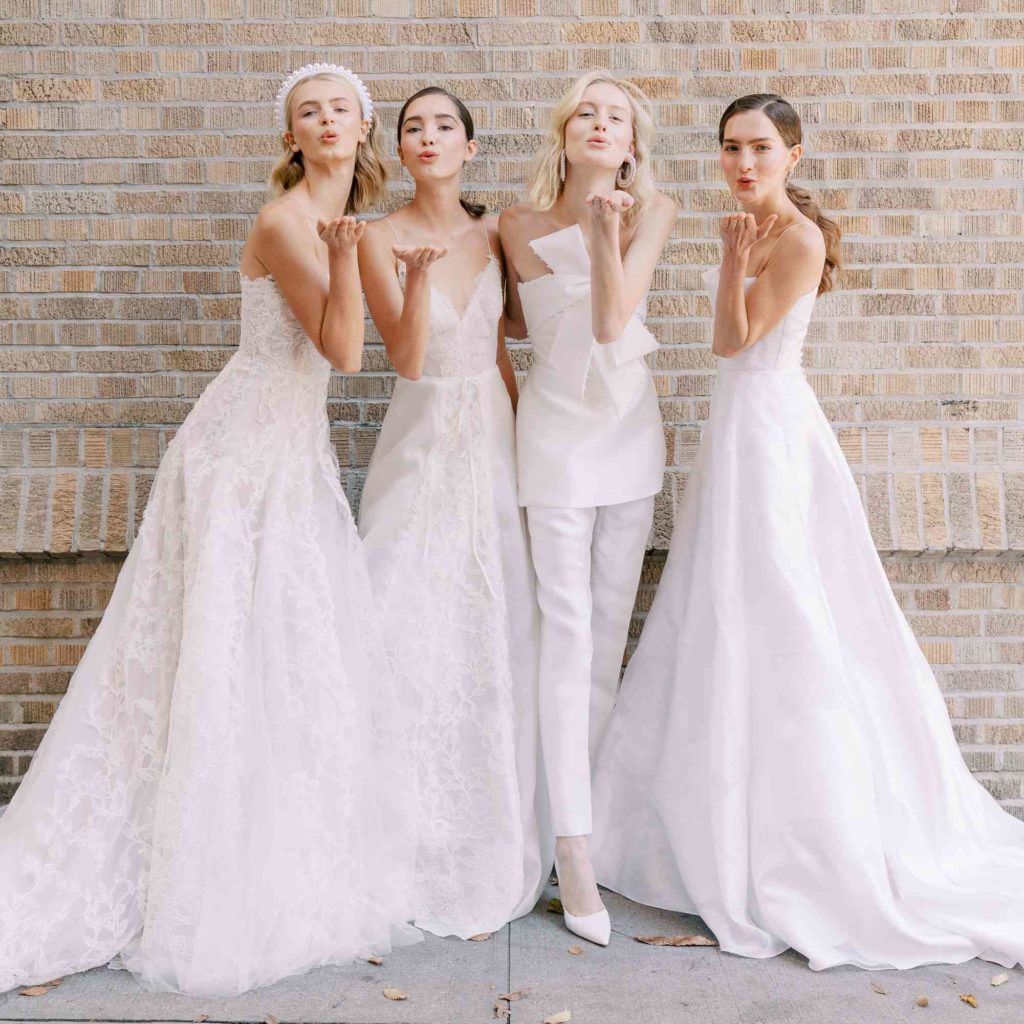 In the hunt for your wedding gown, try finding a dress that will fit you based on your body type and one that will enhance your curves. All that matters is to find one that will accentuate you on your wedding day. Shopping for a wedding dress is never easy, especially with the various options you can choose from nowadays—from different shapes to different colours and fabrics. Therefore, take your time as you pick the wedding gown of your dreams to ensure you'll look like the radiant bride you deserve.