Since we were little, many of us dream about our big wedding day. It's a day when two people come together and are united in marriage physically, spiritually, and emotionally. Currently, millennials are the largest cohort of pet owners and the past few years witnessed a trend of including dogs in weddings.
Below we discuss five creative ways to include your furry pups on your special day. Depending on their personality and temperament, it can influence their role and how involved they can get. It's your big day and your canine pup will sure make it a memorable one.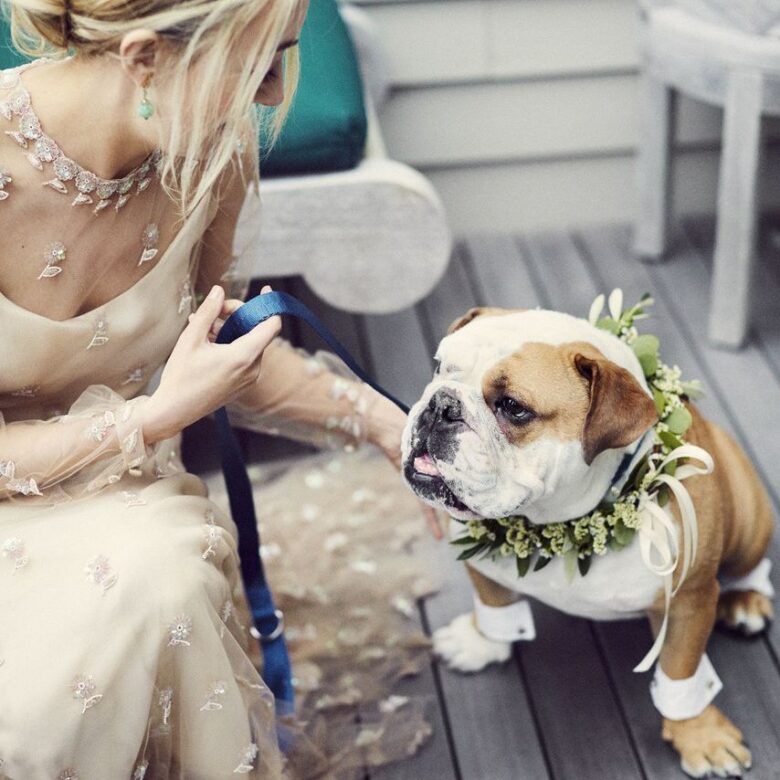 1. Flower Dog
Our furry friends love to hold things in their mouths, including their favorite stuffed animals. They naturally grab things with their mouth and bring them to us. It's their way of showing excitement or seeking our attention. Click here to learn more about doggie behaviors.
Make sure your wedding venue is pet-friendly so your fur pup can attend. As a flower dog, she can carry a basket of flowers in her mouth while the flower girl walks next to her and spreads the petals.
It's natural for dogs to sneak a taste so it's important to choose flowers that are safe for them. If your pooch has allergic reactions to certain types of flowers, do not use them in your wedding or place them in areas where your pup cannot reach them.
Some soon-to-be brides and grooms feel more comfortable when their pooch is on a leash to prevent running off or getting distracted during the walk. If this is the case, the ring bearer or flower girl could walk with her on a leash. If you're feeling creative and want to decorate their leash, try wrapping leaves and flowers around it.
If you'd like to capture unique and rare video footage of your wedding ceremony, you could attach a GoPro to your flower dog's back. It'll be fun to watch what happened on your wedding day from your pup's perspective.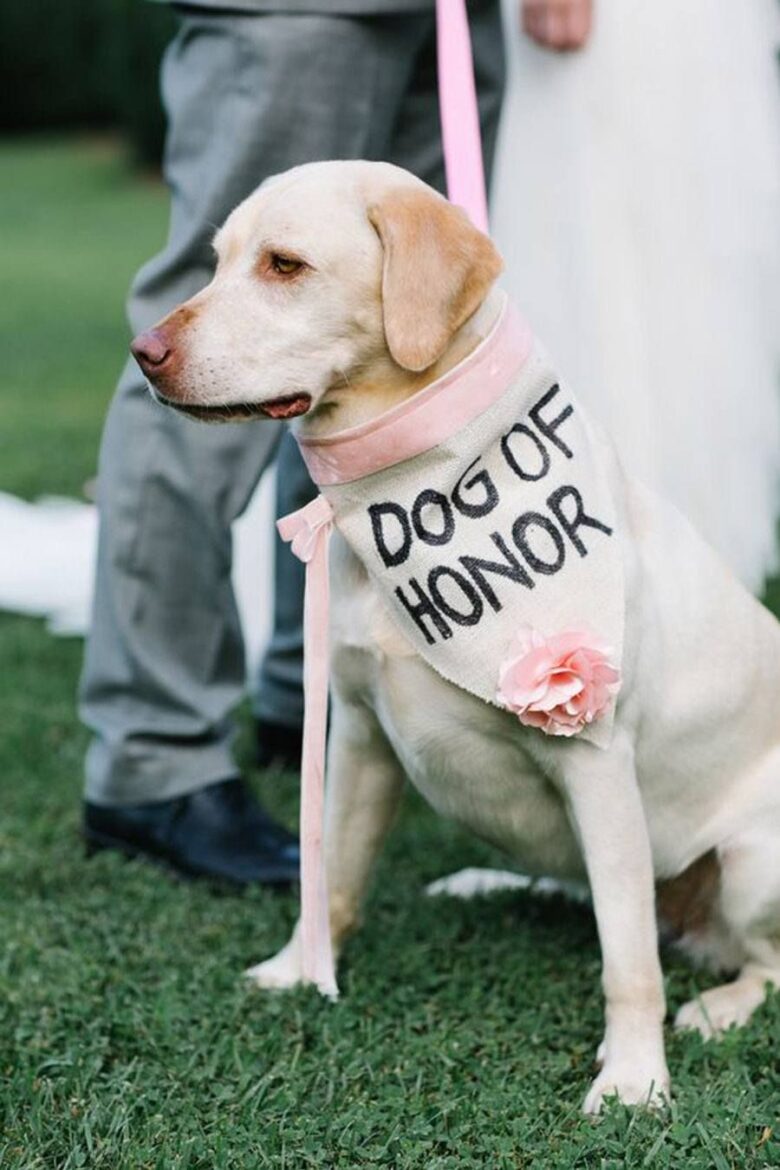 2. Ring Bearer
Having your pup serve as your ring bearer is not only adorable but also a crowd-pleaser. If you have an obedient and attentive dog that is comfortable near a crowd of people with a calm personality, they make the best ring bearer.
Since dogs don't have hands, they can't carry the ring pillow in their hands so you'll have to decide whether you'll be tying the pillow to the top of his collar or to a harness.
If you decide to go with the collar option, find one that matches the theme and colors of your wedding. Add some faux florals to the dog collar. Have the largest flower in the center of the collar and work your way out with smaller to medium flowers.
You can choose to have your dog wear a black and white tuxedo or a simple black ring bearer tuxedo bandana. Before the wedding, it's best if your pup tries both of them to see which one he likes best. He should feel comfortable wearing them. If he's not comfortable wearing it, do not force it on him.
Alternatively, your four-legged friend could wear a ring bearer harness. It's wise to choose a combination of white harness and pillow or any color that matches your wedding theme. To get a little bit creative, add some rhinestones or crystals to the white harness with hot glue. This will give his harness a pop of sparkle and grab the crowd's attention.
To top it off, you could get a ring of faux flowers that matches your bridal bouquet and drape it around your pup's neck. Faux flowers are preferred instead of real flowers since they are affordable and helps to prevent any allergic reactions.
Whether your four-legged friend is wearing a collar or a harness, we recommend using fake rings. This way if your dog gets distracted mid-walk or freaks out and runs off, you're not searching for the real ring. Tie the fake ring to his collar with a matching ribbon.
You could have your dog trot down the aisle by himself or have a flower girl next to him. Alternatively, if you're getting a wedding wagon, the flower girl could wheel him down the aisle.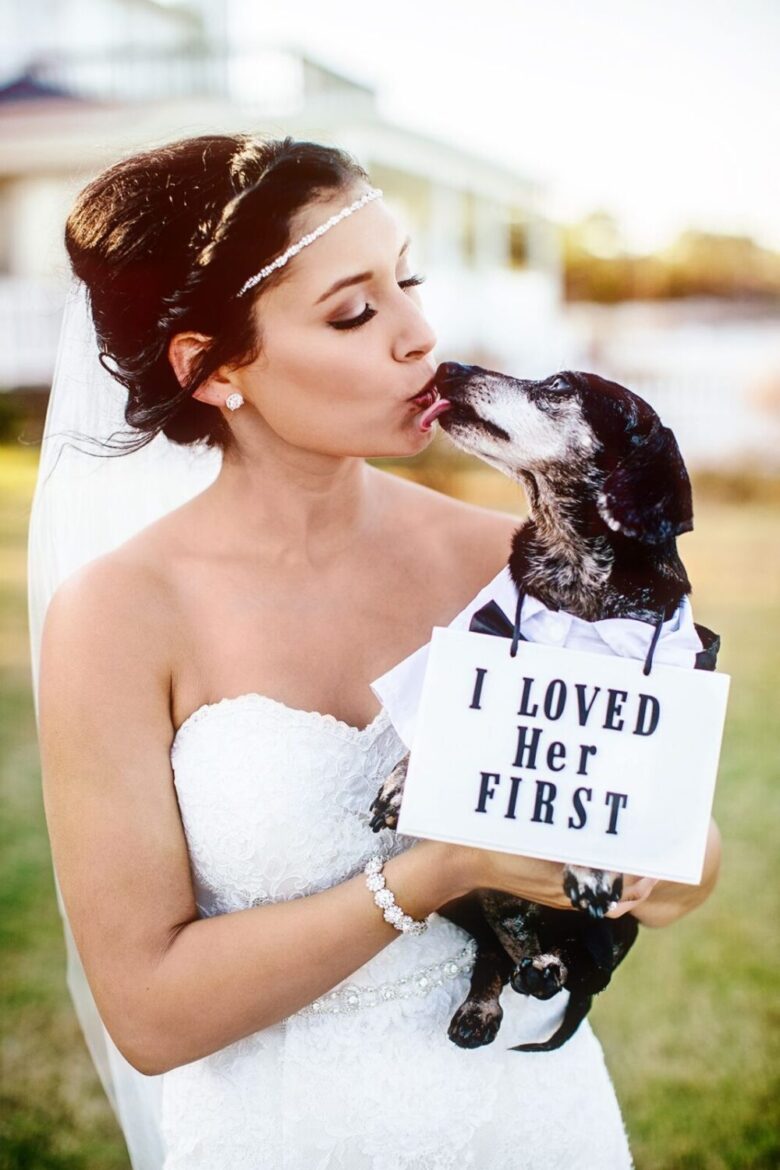 3. Sign Holder
If the wedding is outdoor, your pooch can wear a sign to announce that the bride is arriving. If your guests aren't sure where to go upon arrival, your furry friend could wear a sign that lists instructions on seating arrangements.
Some guests may not be able to bring their pets to your wedding for whatever reason. If this is the case, place a jar full of dog bone treats near your sign holder. The sign should invite guests to take a dog treat home for their pooch.
4. Carry Your Pup Instead of a Bouquet
Traditionally, a bride would carry a bouquet of flowers down the aisle. Switch it up! Instead of a bouquet, carry your furry friend down the aisle. Have your bridesmaids do the same.
You could dress up your pup in a white dress or tuxedo. If you have a blind dog and would like her to be included in your wedding, you could also carry her down the aisle.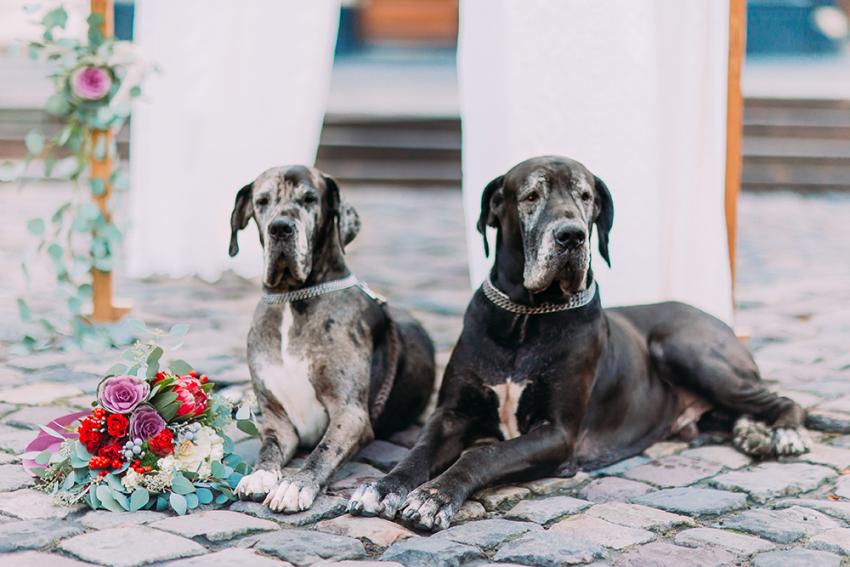 5. By Your Side During the Vow
For many pet owners, their loyal canine companions were their first love. As such, their furry friends mean a lot to them and deserve to stand up with them or sit in the front row when they recite the vows.
If this is the case, make sure to dress up your pup so he or she looks the part!
Conclusion
Dogs will be dogs so don't get upset if things don't turn out the way you imagined it. Even a well-behaved dog can misbehave if they're confused or anxious. They could unexpectedly pee in front of your guests or right before getting to the altar.
After the wedding, be sure to give your four-legged friends some time to rest and sleep. They could be tired and hungry. Designate a family member to bring your furry pup home as soon as you notice he or she is tired.